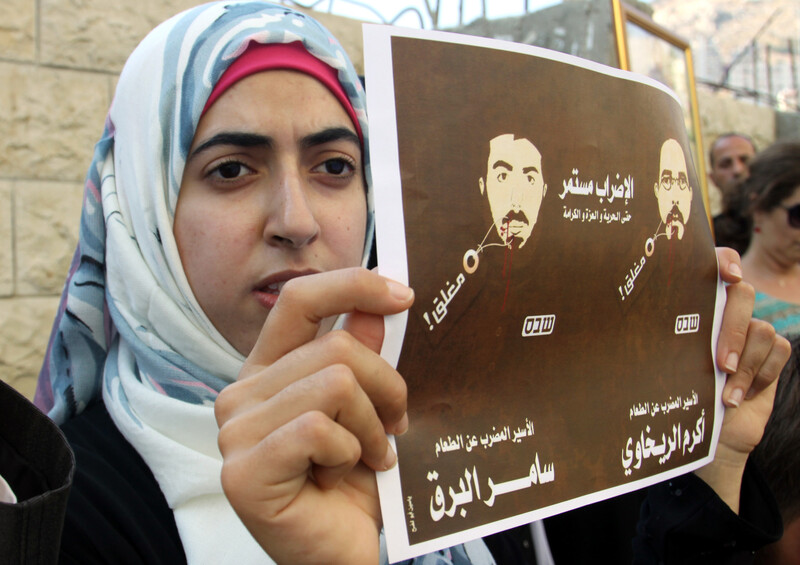 Palestinian human rights groups Addameer and Al-Haq today issued a statement of concern over the life of Ayman Sharawna, who is on his 88th day of hunger strike in Israeli prison. Sharawna has been held without charge or trial — a widely condemned practice known as administrative detention — since he was arrested in January, only a few months after his release during last year's prisoner exchange deal.
A lawyer with Addameer visited Sharawna on Monday and reported "a serious deterioration in his health," according to the rights groups:
In response to the refusal of the Israeli authorities to release him and to further escalate his strike, Ayman decided to stop drinking water for five days from 16-20 September, during which time he lost seven kilograms in weight. The deterioration in his health includes loss of sight in his left eye and the loss of all feeling in his right leg.
As previously reported, Ayman has already lost 80 percent of his vision in his right eye, which means that Ayman has become almost totally blind. He continues to suffer from severe kidney problems and has begun to suffer from partial memory loss. Ayman also continues to suffer from pain in his back, which remains untreated as the Israeli Prison Service (IPS) has said it will only give him pain relieving medication if he ends his strike.

According to Adv. Ziad [Addameer's attorney], Ayman did not want to start drinking water again but reluctantly did so out of fear for the deterioration in his health, particularly with his loss of eyesight and feeling in his legs. If he is not released, Ayman has declared that he will once again refuse water starting this Friday, 28 September. Ayman was re-arrested in January after being released in the prisoner exchange deal in October 2011. He is currently held without charge and the military committee has not yet reached a decision regarding whether or not Ayman will be returned to his prior sentence.
Sharawna is the remaining known hunger striker in Israeli prisons after Hassan Safadi and Samer al-Barq suspended their months-long strikes after an Israeli military judge ruled that Safadi's administrative detention order would not be renewed and after Egypt reportedly agreed to accept al-Barq if he is released and deported by Israel.
Addameer and Al-Haq stated today that they:
salute the courageous hunger strikes of Hassan [Safadi] and Samer [al-Barq] and hope for a just resolution to Ayman's case as soon as possible. Nevertheless, while the potential release of Samer from administrative detention should be welcomed, Addameer and Al-Haq are obligated to highlight their concerns with aspects of the proposed agreement that are fundamentally at odds with international law. Samer's proposed release is conditional on his deportation to Egypt.
Former administrative detainee Hana al-Shalabi was forcibly transferred to Gaza after her 43-day hunger strike earlier this year, separating her from her family in the occupied West Bank.
Samer al-Barq's story is one that involves injustice at every turn, as Shahd Abusalama reported for The Electronic Intifada earlier this month.
Al-Barq was a science teacher living in Pakistan when he was arrested there in 2003 and, according to testimony given to Amnesty International by al-Barq's brother, Samir, handed over to the US authorities. According to Amnesty, Samer al-Barq was "in a secret prison in an unknown location outside Pakistan," where al-Barq alleges he was subjected to torture.
Al-Barq was later detained in Jordan without charge or trial and denied contact with his family, according to Amnesty. He was handed over to Israel in April 2010, where he has been held in administrative detention ever since.
Al Jazeera reported last month that Israel imposed deportation as a condition for al-Barq's release, but that (until now) no country had agreed to accept him. (This is a predicament similar to that of stateless Palestinians in detention in the US, including Dr. Sami al-Arian, who took a plea deal in a trumped-up material support for terrorism case which conditioned his freedom upon deportation. No country has yet agreed to take in Dr. al-Arian.)
Tags