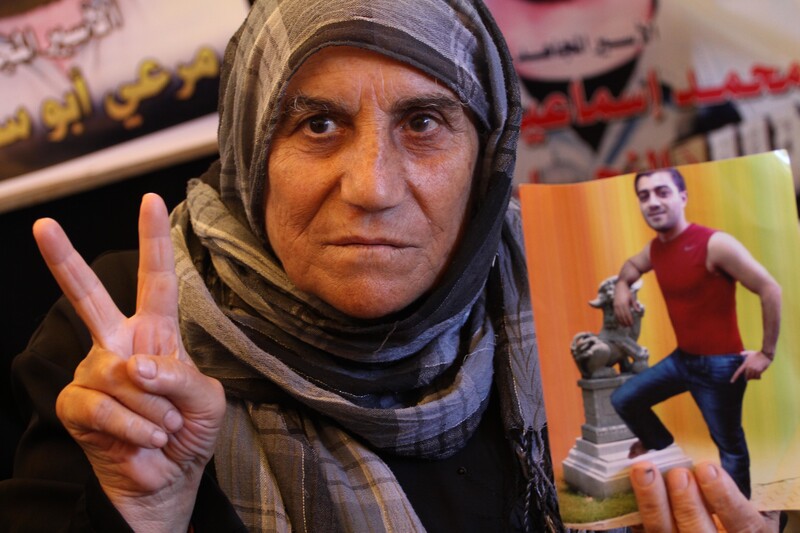 Two dozen Palestinians captured during Israel's invasion of Gaza this summmer remain in detention more than three weeks after the 51-day offensive ended.
While the men have had limited contact with their families, the legal team representing most of them says several have been tortured.
"They testified in front of our lawyer that they were subjected to torture by the Israeli interrogators," Issam Younis, director of Gaza's Al Mezan Center for Human Rights, told The Electronic Intifada on Monday.
Al Mezan represents 22 of the 24 detainees still held by Israel. "At least eight that were visited by the lawyer were subjected to torture," Younis added. "It doesn't mean the others were not."
Their treatment has included beatings with the butts of M-16 rifles, sleep deprivation for at least three consecutive days and handcuffing in painful stress positions, according to Younis.
Additionally, he said, "They were intimidated with threats that Israel would demolish their houses, kill their families and rape their wives."
Indefinite detention
The number of prisoners from the Gaza Strip held after the ground invasions has decreased since the height of the offensive, said Gavan Kelly from Addameer, a group supporting Palestinian political prisoners.
"There were two hundred people arrested from Gaza," he told The Electronic Intifada on Sunday. "Of these, 24 are still currently being held, one of whom is being held under the Unlawful Combatants Law, which allows for detention without charge or trial for an indefinite amount of time. The majority of these two hundred were questioned for a relatively short period of time ranging from a few hours to two or three days."
Israel has used the Unlawful Combatants Law to hold Palestinians from Gaza without charge or trial since 2005. During that year Israel removed its settlers and ground forces from Gaza, while continuing to keep the strip under occupation by, among other means, controlling its entry and exit points.
"In practice, the Unlawful Combatants Law contains fewer protections for detainees than even the few that are granted under administrative detention orders in the West Bank," states Addameer. Administrative detention is a practice used by Israel to indefinitely hold Palestinians without charge or trial.
Before detaining Samir al-Najjar in Khuzaa, a village in southeastern Gaza, Israel last used the measure to hold Mahmoud Sarsak, a football player on Palestine's national team.
Sarsak, who hails from Rafah — a town near Gaza's border with Egypt — was detained for three years. He was released on 10 July 2012 after a 92-day hunger strike.
Execution fears
Since its launch of a military offensive in the occupied West Bank on 12 June, Kelly added, Israel has captured approximately 2,500 Palestinians, including 1,000 in the West Bank, another 800 in Jerusalem alone and 500 inside present-day Israel.
Israel has withheld information on those detained in the Gaza Strip from official Palestinian bodies as well as human rights organizations.
On 6 July, the Palestinian Authority Minister of Prisoners' Affairs Shawqi al-Ayasa said in a statement that while "the occupation army, during its current aggression on the Gaza Strip, has detained dozens of Palestinians and taken them to unknown locations," his ministry had yet to receive their identities, locations or conditions.
The lack of disclosure, al-Ayasa added, had led to "growing fears that some of the prisoners have been executed."
Weeks later, The Daily Beast reported evidence of an apparent mass execution of six prisoners by Israeli forces in Khuzaa.
The massacre may have targeted captured fighters from the al-Quds Brigades, the armed wing of Islamic Jihad, it was reported.
Whereabouts unknown
Five Palestinians remain unaccounted for, Kelly said. "Nobody knows their whereabouts and the Israeli Prison Service denies holding" them.
And Israel has hardly been forthcoming about those its forces admit to holding, Palestinian and Israeli human rights groups have said.
"All of them were banned from receiving any visits at the beginning," Younis of Al Mezan explained. "They were even banned from receiving visits from their lawyers. Their names were released only recently."
Claims against the 22 detainees he represents have yet to reach their counsel, he added. "We did not receive the list of charges yet," he said.
Dalia Kerstein, director of the Israeli human rights organization HaMoked: Center for Defense of the Individual, told The Electronic Intifada on Sunday she had yet to receive information on them.
"We would love to have some kind of inquiry about what happened to the people who were brought here — who they are, whether they were tortured, what means were used against them," she said.
The Israeli high court rejected HaMoked's petition for the release of detainees' names after a hearing in which it did not allow representatives of the group to speak.
Tortured for four days
The father of Muhammad al-Agha, captured in the Gaza district of Khan Younis on 17 July, told the Electronic Intifada last week that the family had minimal contact with his son.
Zwayyed Hamdi al-Agha said that his son, Muhammad, "called from Ashkelon [in southern Israel] after he insisted on notifying his family." That was on the night of his detention.
"He has contacted us three times since," al-Agha added. "One time was through the International Committee of the Red Cross, and two were through his lawyer."
Israeli forces detained Muhammad, a student of Islamic studies at Gaza's University College of Applied Sciences, during a ceasefire Israel had agreed to uphold.
"Muhammad was going to visit a friend near a farm in al-Qarara," his father said. "Both of them were captured. He was going to check on his friend and their farm."
After his capture, Kelly said, Muhammad "was tortured for four straight days in Ashkelon detention center. He is now being held in Eshel prison."
Zwayyed al-Agha said that his son has not been given any reason for his detention. "They told him it was classified. They called it a 'secret file' and didn't specify the charge," he said.
Zwayyed al-Agha, himself held by Israel for three years starting in 1973, said Muhammad's detention reflected the experience of Palestinians under an Israeli blockade.
"Although this was the first time Muhammad was captured, all my children have suffered as I did," he said. "They have experienced it at the borders, every time they try to travel. We have been living for eight years under siege, the worst years of our lives."
And in the context of Israel's offensive, he explained, its treatment of his son was hardly an anomaly.
"They kill animals," al-Agha said. "They burn trees. They destroy [apartment] towers. They even kill innocent children. Why? What is their fault to be killed?"
"We will stay alive," he added. "We will do our best to prove to the world that we can stay alive and rebuild our Gaza. We know what freedom is, and what is rightfully ours."
Joe Catron is a US activist in Gaza, Palestine. He co-edited The Prisoners' Diaries: Palestinian Voices from the Israeli Gulag, an anthology of accounts by detainees freed in the 2011 prisoner exchange. Follow him on Twitter: @jncatron.
Tags