Nearly two hundred Palestinian administrative detainees, held indefinitely without charge or trial on Israeli military court orders, have announced plans to launch a mass hunger strike for their freedom this Thursday.
The news came as demonstrations across Palestine and events worldwide commemorated the 40th annual Palestinian Prisoners' Day
Thousands marched from an exhibition at Saraya square, the former site of Israel's Gaza central prison, to rally outside the International Committee of the Red Cross' Gaza office.
After the demonstrations, Ibrahim Baroud, freed from Israeli captivity a year ago, spoke with The Electronic Intifada at his home in the northern Gaza Strip's Jabaliya refugee camp.
Among hundreds of thousands of former Palestinian prisoners in the Gaza Strip, Baroud is notable not only because of his 27-year detention, which makes him one of the longest-held Palestinians, but also because of his mother's efforts during his absence.
In 1995, nine years after her son's capture by Israeli forces, Ghalia — also known as Um Ibrahim — held a sit-in at the courtyard of the International Committee of the Red Cross office with Handoumeh Wishah, or Um Jaber, who had four sons in prison at the time.
Initially small, their presence persisted week after week, year after year, persevering through political transitions and military offensives, and growing into the core of prisoner support activities in Gaza. The sit-ins have now become a local focus of political unity.
Women protest
Over the years, Um Ibrahim led women from the courtyard in a series of protests, many of them confrontational, to highlight the prisoners' issue. These ranged from disrupting Palestinian Authority Minister of Foreign Affairs Nasser Al Qidwa with a fiery speech in 2005 to pelting United Nations Secretary-General Ban Ki-moon's convoy with shoes and stones as he entered the Gaza Strip in 2012.
The sit-ins continue today as relatives and supporters of prisoners, many of them mothers and wives of detainees, pack the Red Cross courtyard every Monday morning. Their numbers swell with efforts to free prisoners — whether through political negotiations, hunger strikes or prisoner exchanges — or offenses against them by the Israeli Prison Service.
Um Ibrahim remains a constant presence, sitting in the front row and often leading the crowd in chants.
"Prisoners were never mentioned in the Oslo accords," Ibrahim Baroud said Saturday, referring to the peace agreement signed by Israel and the Palestine Liberation Organization twenty years ago. "This was a disappointment to us, and a failure of the Palestinian leadership."
Now 51, Ibrahim, a member of the Palestinian Islamic Jihad movement, was freed on 8 April 2013 after completing an Israeli military court's 27-year sentence for armed resistance to the occupation.
"According to the Geneva conventions, when a conflict ends, the first thing that should happen is the release of prisoners by both sides," he said.
"In the prisons, we knew this, so we expected to be freed. How can a leader leave his soldiers in the prisons of the enemy?"
Sit-ins and strikes
The exclusion of the rights of prisoners from the Oslo accords sparked a rise in activities to support them, including the launch of the sit-ins in 1995, he said.
Additionally, Israeli forces had blocked his mother from visiting him earlier that year, Ma'an News Agency reported in 2010.
The prohibition, which cited unspecified "security concerns," ended only after the mass Karameh ("Dignity") hunger strike in 2012.
To settle the strike, Israel agreed to allow the resumption of prison visits by families of Palestinian prisoners from the Gaza Strip, all of them banned for more than six years.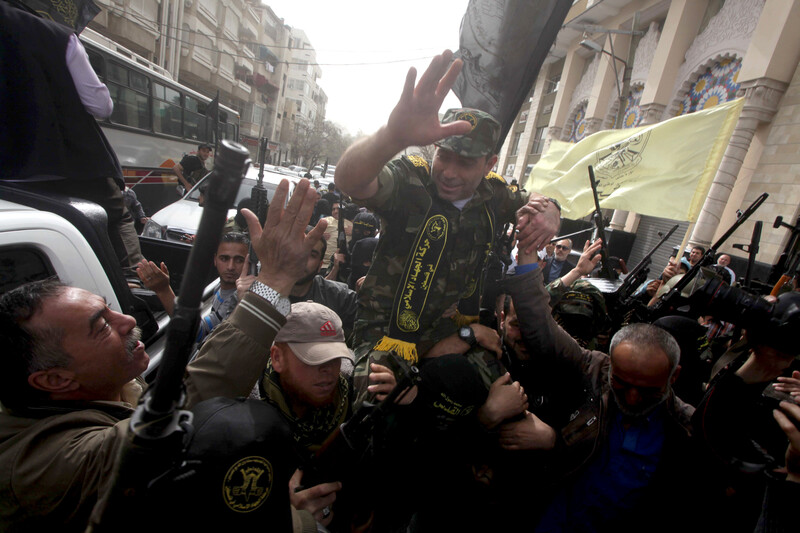 "Me and my fellow prisoners would follow the sit-ins every Monday," Baroud said. "We would watch for our families on television."
"The sit-in was a tool for communication between prisoners and our families, especially during the six years we were deprived of seeing them."
Because of his mother's long absence, he said, "I was more curious than the others to see her."
Baroud's father died three years before his release, during the ban on visits from the Gaza Strip.
"Of course I am sad"
Since the implementation of the Karameh agreement in 2012, irregular prison visits by Gaza families have resumed, although some individual security bans remain and Israel continues to prohibit children older than sixteen from visiting their detained parents.
As Baroud spoke on Saturday, activities to mark Prisoners' Day, which had begun several weeks earlier, continued across the Gaza Strip.
Blocks away, the Popular Front for the Liberation of Palestine (PFLP), a secular Marxist-Leninist political party, held a boisterous wedding party for Omar Massoud, a former prisoner freed on 30 October after 21 years of detention.
Massoud, a fighter for the PFLP's Red Eagle armed wing, was freed in the second group of veteran prisoners which Israel promised to release at the start of its recent negotiations with the Palestine Liberation Organization.
By 29 March, when the fourth group was scheduled for release, Israel announced that it would not free them without a Palestinian agreement to extend the talks a further six months.
"They delayed his release for the fifth time," Najat al-Agha, a prisoners' mother also known as Um Diyaa, said Saturday at her home in the southern Gaza Strip's Khan Younis refugee camp.
First, she said, her eldest son Diyaa al-Agha was omitted from the 2011 exchange of 1,027 captive Palestinians for an Israeli soldier held by the Hamas movement's Ezzedeen al-Qassam Brigades, after initial reports of his inclusion.
"Then he was supposed to be freed in each of the four batches" of the recent release, she said.
Um Diyaa is a constant presence alongside Um Ibrahim at the Red Cross.
Her son Diyaa, a Fatah fighter sentenced to life by a military court for assassinating an Israeli officer at a Gaza Strip settlement in 1992, is held with his brother Muhammed in the same section of Nafha prison.
"Of course I am sad," Um Diyaa said. "But I still have hope for his release. I always sit by the telephone, waiting for a call to relieve me with an answer."
Israel reneges agreement
Israel's failure to release Diyaa al-Agha and 25 others marks the second time it has reneged on a commitment to free many of the same prisoners. The 1999 Sharm el-Shaikh Memorandum with the Palestine Liberation Organization stipulates that Israel must release Palestinian prisoners arrested for offenses prior to 13 September 1993 and arrested prior to 4 May 1994.
On 28 July, the Israeli cabinet committed to releasing all remaining pre-Oslo prisoners in four stages, in exchange for the Palestine Liberation Organization refraining from recourse to UN or other international bodies, such as membership and litigation at the International Criminal Court, for the nine-month duration of the current negotiations, Israeli website +972 reported.
The Israeli government's breach of last year's agreement to release prisoners even met criticism from officials of the United States, which had brokered it. Israeli newspaper The Jerusalem Post reported US negotiators "expressly calling the decision a violation of the original deal" in exchanges with their Israeli counterparts ("US: No Palestinian prisoner release is violation of terms of talks," 29 March 2014).
"This is an Israeli obligation," Ibrahim said. "The prisoners we are talking about, those of us captured before Oslo, should have been freed twenty years ago."
But, he adds, many prisoners had lost faith in a negotiating process reliant on Israeli assurances by the 1999 Sharm el-Sheikh Memorandum, and held little hope for their release under its terms.
"We knew about Israeli tricks, and that they would not free all the prisoners they promised," Baroud added.
Like Omar Massoud, Baroud recently married, on 15 March. And like his mother, he often attends events to support prisoners.
According to the Addameer Prisoner Support and Human Rights Association, Israel held 5,224 Palestinian political prisoners on 1 March. They include 183 administrative detainees, 210 children, 11 Palestinian legislators and 21 women.
"I cannot say these activities are sufficient," Baroud said of events to support them on Prisoners' Day and during the rest of the year.
"They have to be wider and stronger than this. They do not equal the sacrifice of the prisoners, who paid a high price for their cause … But even if the level of these activities is not as high as prisoners expect, they still have a positive impact on the prisoners."
"Prisoners are waiting"
Efforts to free prisoners must encompass a range of strategies, he said.
"The political and military attempts to free the prisoners should coincide. Whoever wins the battle, it will be good for the prisoners. But the work must be done by all."
Multiple parties share this duty, he added.
"Many prisoners are counting on the resistance to free them. The resistance has a major responsibility for the prisoners. We saw an example of this in the Shalit exchange [in 2011].
"Prisoners are waiting for the Palestinian leadership to do their duty, whether in the West Bank or the Gaza Strip, and whether the Palestinian Authority or the factions."
On Saturday, Al-Monitor reports, the PLO's Central Council will meet in Ramallah to decide its response to Israel's refusal to free Diyaa el-Agha and 25 others on 29 March.
Meanwhile, on Prisoners' Day the Hamas movement renewed its commitment to armed struggle for the release of prisoners, as did the PFLP and Palestinian Islamic Jihad.
"We confirm that the struggle will continue until the liberation of the whole land of Palestine, until the liberation of every single prisoner, and as long Israel practices this policy against our prisoners of using them as a card for pressure and a method of political blackmail," Palestinian Islamic Jihad spokesperson Dawood Shehab told The Electronic Intifada.
"This obliges us as Palestinians to use all methods and options in order to liberate our prisoners," he added.
Inside the prisons, plans for protest actions, like the administrative detainees' hunger strike planned for Thursday, continue.
These differing approaches reflect the broad support the prisoners' movement enjoys across the geographic and political divisions of Palestinian society, Baroud said.
"The issue of detainees is the one that could explode the situation here."
That support will also continue to be reflected in the banners, flags and signs — yellow, green, black, red, representing the different Palestinian political streams — that fill the Red Cross courtyard every Monday morning.
Joe Catron is a US activist in Gaza, Palestine. He co-edited The Prisoners' Diaries: Palestinian Voices from the Israeli Gulag, an anthology of accounts by detainees freed in the 2011 prisoner exchange. Follow him on Twitter: @jncatron.
Tags