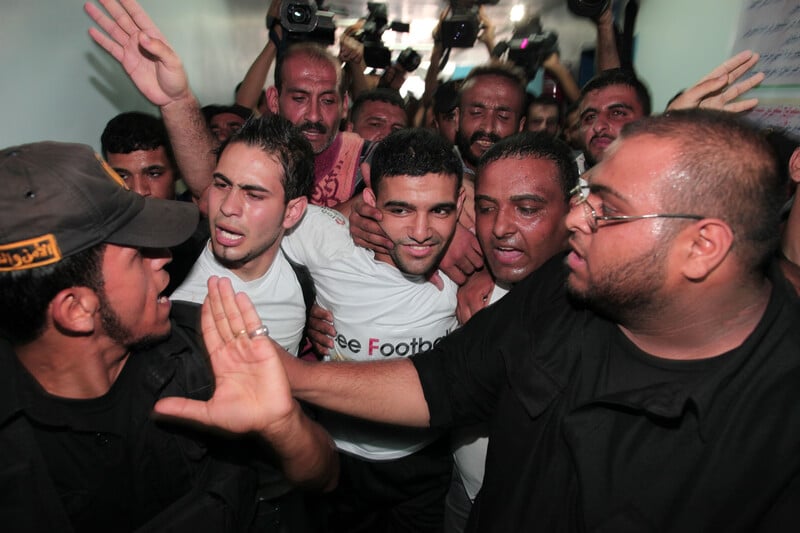 Palestinian footballer Mahmoud Sarsak was greeted joyously in Gaza today as he returned home from the Israeli prison where he was held for three years without charge or trial and without visits from his family.
According to AP, Sarsak was taken to hospital in Gaza where, "he emerged from an ambulance and kissed his parents and siblings."
Sarsak staged an epic three month hunger strike that brought him to the edge of death, which he ended last month after Israel met his demands and agreed to free him on this date.
Sarsak, a member of the Palestinian national football team, garnered worldwide support, including from international players' association FIFPro, FIFA boss Sepp Blatter, and numerous world-renowned football players and athletes.
In IBTimes video report shows many more images of Sarsak's return home.
"Alive and victorious" – but other hunger strikers remain
Seventy-eight days into his hunger strike, Sarsak published a poignant "final distress call" along with fellow prisoner Akram Rikhawi. In an unforgettable sentence that spurred global action on the prisoners' behalf, the men wrote:
there is still enough time and the support that comes late is better than that which does not come at all. It is better that you receive us alive and victorious rather than as lifeless bodies in black bags.
Today, Mahmoud Sarsak returned home alive and victorious to the joyous embrace of his mother. But Akram Rikhawi remains in Israeli jail in increasingly desperate conditions, along with at least two other hunger strikers.
Mahmoud Sarsak's victory and return is a joyful and amazing achievement that deserves to be celebrated. But even as Sarsak's release is celebrated, Rikhawi remains at risk of death.
Tags