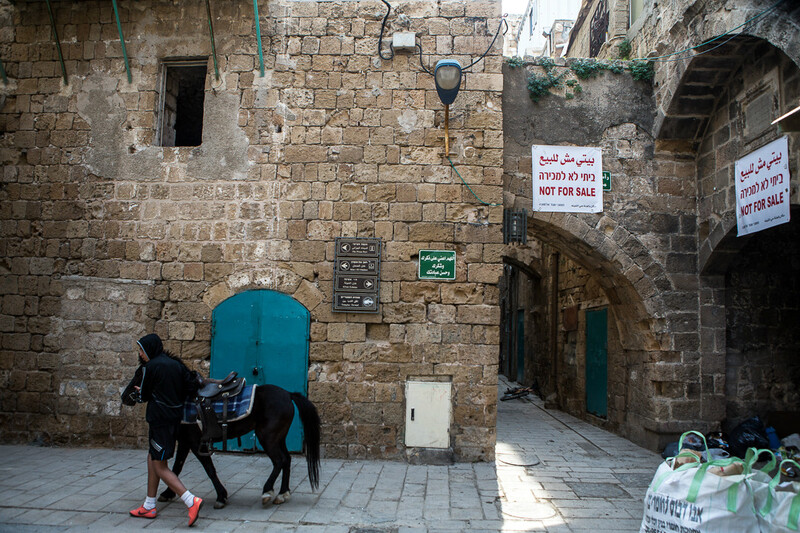 Alaa Moussa remembers a time when Akka's old city looked much different.
Over the last decade, he has watched his hometown's fabric change significantly: new restaurants, bars, hotels and youth hostels are now wedged between the historic stone buildings, homes and cultural landmarks.
Situated on the northern coast of the Mediterranean Sea in present-day Israel, Akka (known as Acre in English and Akko in Hebrew) "is different now," Moussa, the 30-year-old owner of El-Mursa, a popular Palestinian seafood restaurant, told The Electronic Intifada.
"From the alleys of the old city to the coastal line, everything is changing. There is no comparison to when I was young. Even the history is being changed."
Much of the city's architecture dates back to the era when historic Palestine was under control of the Ottoman Empire.
The old city is also home to several mosques, khans (ancient inns), Turkish baths and a citadel, most of which are built atop structures that testify to Akka's past as a crusader town.
These cultural treasures led the United Nations Educational, Scientific and Cultural Organization (UNESCO) to designate the old city as a "world heritage site" in 2001.
Yet local Palestinian residents accuse Israel of aiming to push them out of the old city so that it can be Judaized.
State-owned housing management companies are dishing out eviction orders as Israeli and foreign development companies buy up blocks of homes and undertake development projects across the city.
"Too dangerous"
Although Jewish Israelis make up more than 70 percent of Akka's total population, the old city is almost exclusively home to Palestinians.
Residents told The Electronic Intifada that state-owned housing management companies, such as Amidar and Akko Old City Development Company, regularly deny their applications for housing renovations. During inspections, the homes are subsequently deemed too dangerous to live in and the residents are given eviction orders.
Amidar has been given responsibility for property belonging to Palestinian refugees who were displaced during the Nakba, the ethnic cleansing of Palestinians that preceded and followed Israel's establishment in May 1948.
Legal battle
Omar Shannawi, 44, explained that he and his sister recently won a local court case against Amidar. After a nine-year legal battle, the company was forced to pay for renovations in their two-room home in the old city.
"Amidar wouldn't let us do renovations in our home by ourselves or bring our own contractors," Shannawi told The Electronic Intifada, adding that the company "charges us unaffordable prices for simple fixes."
Shannawi, who owns a local coffee shop with his sister, added that his recent success was not the norm: most of Akka's residents cannot afford to take on Amidar in lengthy court cases or simply give up and search for more accessible housing.
Although Amidar is supposed to foot the bill for home repairs, "the house is falling apart already," said Shannawi.
His sister Shahro recalled that while their elderly mother was slowly dying of cancer several years ago, Amidar refused to adequately fix several leaks in the apartment that dripped water on her at night throughout the winter season.
Klay Amara, an employee at the local municipality, confirmed that "Amidar rarely approves applications for home renovations and improvements in the old city."
"Renew the Zionist idea"
Many homes in the al-Mablata area of the old city have been purchased by Ayalim, an Israeli organization, and transformed into housing for Jewish university students.
The organization says its goals are to support Jewish students with "Zionist values" in order to "revive and renew the Zionist idea in the 21st century."
It seeks to achieve this goal through the "establishment of student and entrepreneur villages" in the Galilee and Naqab (Negev) regions of present-day Israel.
"There are currently 30 students living in five renovated structures in the old city [of Akka]," according to Ayalim's website.
"The social life in the village aims to take advantage of the diversity found within [Akka] and focuses on activities attractive to both Jews and Arabs alike with the aim of fostering co-existence from the ground up."
Tensions over plans to push Palestinians out led to week-long riots in 2008, which left 14 Palestinian families displaced from their homes.
Five homes were burned to the ground and dozens of Palestinian homes and shops were damaged ("Recipe for a riot," Middle East Research and Information Project, 15 November 2008).
Activists and human rights groups warn that the threats of expulsion and gentrification are not limited to Akka.
More than 1.5 million Palestinians are citizens of Israel, constituting some 20 percent of the total population. Spread out in villages, towns and cities across the country, they suffer from dozens of discriminatory laws that limit their access to land and housing.
"Too difficult to stay"
The state is actively trying to Judaize the remaining Palestinian parts of Israel, according to Nadim Nashif, director of Baladna, a Haifa-based advocacy group.
"There is basically the same pattern in Akka that the Israeli establishment is using in Haifa or even Jerusalem," he said, adding that the goal "is to make it too difficult for people to stay."
In Akka, however, it is much more difficult for Palestinian residents because their population center is concentrated in the old city, Nashif explained.
In the nearby city of Haifa, at least two neighborhoods that predate Israel's establishment are facing impending evacuation and demolition.
In Wadi al-Siyah, over sixty people live in eight homes that the Haifa municipality plans to raze in order to make way for a nature reserve.
The al-Mahatta neighborhood, home to around 150 persons from 33 families, may also be removed and replaced by nightclubs, bars and cafes designed to bring in increased tourist revenue.
A similar process has sent living costs sky-high in Jaffa in recent years, pushing indigenous Palestinian residents out and forcing them to search for affordable alternatives.
Abdel Hakim Mufeed is a spokesperson for the northern branch of the Islamic Movement in present-day Israel.
"There is a continuous plan that comes from the government, Amidar, and Akko Old City Development Company to kick Palestinians out of their homes," he explained to The Electronic Intifada.
"They want to change the face of cities like Akka," Mufeed added.
"Not for sale"
Plastered on the stone walls of dozens of homes are signs warning that the old city's Palestinian homes are "not for sale." Dozens of Akka-based activists have also rallied to preserve the city's cultural heritage and support local residency rights.
After the municipality tried to auction off the Khan al-Umdan (Arabic for "Caravanserai of the Pillars") — a historic inn built in 1874 under the rule of Ahmed Jazzar Pasha — to be transformed into a 200-room boutique hotel, residency rights campaigners waged a long legal battle that resulted in the plan being halted.
Mufeed stated that Akka is an integral to Palestinian identity in present-day Israel: "We do not need to keep residents in their homes here to protect Akka. It is this city protects our history on this land."
With thanks to Dena Shunra for translation from Hebrew.
Patrick O. Strickland is an independent journalist and frequent contributor to The Electronic Intifada. His writing can be found at www.patrickostrickland.com. Follow him on Twitter @P_Strickland_.
Tags