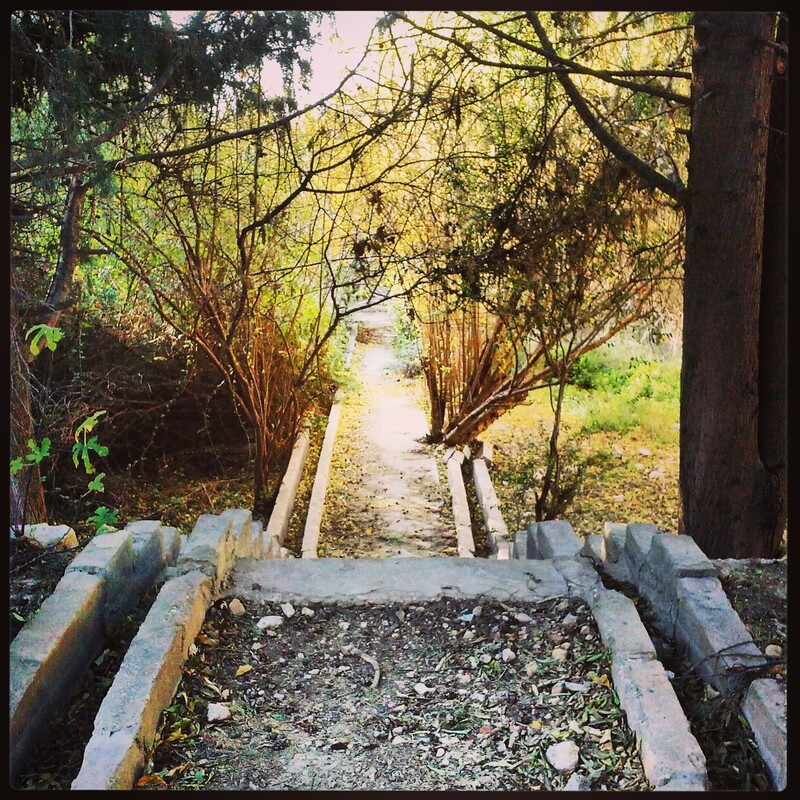 A local authority plans to demolish a Palestinian neighborhood in Haifa, a coastal city in the Galilee region of present-day Israel.
"One day, two years ago, there was an order from the municipality on our door," Tawfiq Abbas told The Electronic Intifada. He was born and raised in Wadi al-Siyah, a valley on the outskirts of Haifa.
Abbas' extended family includes more than sixty members, twenty of whom are children. The family holds Israeli citizenship.
"No one actually talked to us. They just left a paper that said we have ten years to leave, according to the municipality and the interior ministry," he said, adding that all eight homes in the area would eventually be demolished.
Wadi al-Siyah predates the 1948 establishment of Israel. Though it was once a vibrant place with a public swimming area and a large public garden and orchard, Abbas and his family are the last ones left. Only meters away are the crumbling remains of homes, buildings and pathways that once belonged to past residents.
Abbas and his family are being threatened with eviction because of the city's plans to gentrify the area and generate a larger income for the local municipality.
"My family has documents proving that it has lived here for over a hundred years, but now Israel wants to remove us by any means possible."
Behind Abbas' home, his grandfather was born in a cave in the early 1900s, though the exact year is not certain.
Following Israel's establishment, the state imposed harsh conditions on Wadi al-Siyah's residents.
"There used to be several families here, but now ours is the only one left," said Abbas.
"After 1948, Israel didn't give the neighborhood any services. There was no electricity, water, lights or paved roads."
Despite their constant presence, Haifa's municipality has only provided Wadi al-Siyah's remaining residents with access to water and electricity in the last 15 years. At that point, the municipality also ordered that the residents no longer use the local water well.
Few services
Though all the residents pay municipal taxes, few other services are provided: there are still no paved streets or lights on the dirt path, public transportation does not serve the area and Abbas walks more than a kilometer each day to take out the trash. The lack of lighting makes going out after sunset dangerous, Abbas explained, due to a large wild boar population.
"The city has plenty of money to provide us with services," he said, pointing in the direction of a large shopping mall within plain sight of Wadi al-Siyah. "But instead they just want us to go."
Abbas and others want to work with the municipality to find an alternative plan that establishes their neighborhood as a recognized part of the city and prevents their eviction. Yet they have met consistent rejection from Haifa's municipality, including a number of lawsuits intended to push them out of Wadi al-Siyah.
"We're not going anywhere because there's nowhere to go. Even if the state came and offered us millions of dollars, we would refuse. It's not about money," Abbas said.
Abbas and four other landowners in Wadi al-Siyah are challenging their eviction orders in a hearing expected to take place in early January. They are receiving legal assistance from the Mossawa Center, a Haifa-based advocacy group for Palestinian citizens of Israel.
Due to the close vicinity of popular hiking routes and two fresh water springs, Haifa's municipality intends to turn Wadi al-Siyah into a nature resort. For some, the area also has religious significance, believed to be the spot that Elisha — a prophet in Jewish, Christian and Islamic traditions — drank from the springs.
There is also a nearby Jewish cemetery that has been expanded several times, taking the land of former residents and forcing one family to live in the cemetery for a period of time.
In the place of the Abbas family's homes, the city will renovate the area to make it a profitable nature reserve for locals and tourists.
Broken promises
Jafar Farah, director of Mossawa, told The Electronic Intifada that Haifa's current mayor, Yona Yahav, promised to recognize Wadi al-Siyah and include it within the boundaries of municipal services like neighboring areas. The city planning council made similar assurances, but in the end neither the mayor nor the city planners followed through with their promises.
"We have appealed on behalf of the residents to the city planning council several times, asking them to recognize Wadi al-Siyah's legitimacy," said Farah. "They refused each time, so we are taking the case to court."
Abbas is doubtful that the court will deliver justice. "There's no hope," he said. "They say this is a democracy and we have equal rights, but Israel plays with the laws to use our citizenship against us when it helps them and ignores it other times."
Another Palestinian neighborhood of Haifa, known as al-Mahatta, is also slated for demolition in order to make way for a new railway that connects the city's mountaintop to the coast.
Similar gentrification projects, Farah said, "are also going on in Wadi Salib and Wadi al-Nisnas," referring to historically Palestinian neighborhoods.
"Just like in Wadi al-Siyah, the city did not consult the local residents," Farah added.
Since its 1948 establishment, Israel's policies have sought to strategically settle areas in order to break up Palestinian geographic contiguity and implant Jewish-only settlements, agricultural collectives and military installations. For Palestinian citizens of Israel, this has translated into housing demolitions, land confiscation and restrictions on land purchasing and municipal expansion, among other measures.
Nadim Nashif is director of Baladna, a group that works for Palestinian youth in Israel. He told The Electronic Intifada that gentrification of Palestinian neighborhoods in Haifa is part of a broader series of policies aimed at removing the indigenous Palestinian residents across present-day Israel.
Like in occupied East Jerusalem and the broader West Bank, the end goal is to establish new Jewish-only areas or expand existing ones.
Ethnic cleansing as state policy
"This is the Nakba continuing," Nashif said, alluding to the forced displacement that preceded and followed Israel's establishment in 1948. "This is one of the many kinds of ethnic cleansing taking place across the country.
"It's a state policy that takes different forms and has different excuses but it also comes from the policy of ethnic cleansing. Not just the Naqab [Negev] region, but we see home demolitions in Umm al-Fahim, Majd al-Krum, and elsewhere," he explained, referring to Palestinian towns in present-day Israel.
Abbas echoed these sentiments, saying that his family's eviction "comes from the same idea of oppressing Palestinians in the West Bank, Gaza and East Jerusalem. The same thing happens here."
Israel recently claimed to have shelved the Prawer Plan, legislation designed to make way for new Jewish-only settlements by removing tens of thousands of Palestinian Bedouin citizens of Israel in the southern Naqab region. Yet home demolitions have continued without pause.
On 26 December, Israeli forces raided and demolished the Naqab village of al-Araqib for the 63rd time since 2010 ("Israeli forces demolish Bedouin village in Negev for 63rd time," Ma'an News Agency, 26 December 2013).
The World Zionist Organization, which is linked to the Israeli government, recently announced a plan to settle 100,000 Jews in the central Galilee region as a way to "achieve a demographic balance with the Arab population," the Israeli daily Haaretz has reported ("WZO pushing new Jewish towns to 'balance' Arab population in Israel's north," 1 December 2013).
Abbas promised that he and his family would stay in Wadi al-Siyah no matter the court's decision. "We were here before this state and its laws … we're going to stay on the land of our grandfathers and great-grandfathers."
Patrick O. Strickland is an independent journalist and frequent contributor at The Electronic Intifada. Find his writing at www.patrickostrickland.com, and follow him on Twitter @P_Strickland_.
Tags