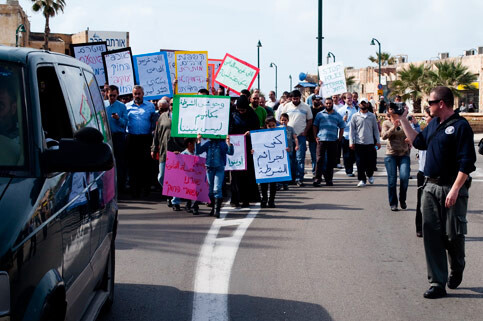 Amidst the crater-filled roads, crumbling art deco houses, Jewish-Israeli filled hummus joints and flashing blue lights of passing cop cars, Palestinian citizens of Israel are struggling to grasp onto the last neighborhood of Jaffa to remain a Palestinian majority — Ajami. Long before Jews settled Tel Aviv in pursuit of the Zionist dream in the late 19th century, Palestinian Jaffa was a bustling port city shipping tons of goods to cities throughout the globe. Now the port is nothing more than a quiet docking station for fishing boats and yachts.

During the 1948 war, more than 90 percent of the Palestinian population was expelled from the city. Since then the process of Israeli colonization has continued, and during the last decade has been driven by the market through commercial along with municipally-sponsored development. Today, Tel Aviv and its classy boutiques, cafes and trademark Bauhaus condominiums, is expanding southward to Jaffa. As Israeli Jews, mostly of European descent, trade Tel Aviv for its cheaper counterpart, Palestinian citizens of Israel are witnessing evictions, rising rent, Jewish-only housing, severe policing, and a city policy that has seen Arabic street names changed to Hebrew ones.

The small and fractured Palestinian community largely fears political action, believing it will drive away customers from outside Jaffa. During the "day of rage" in mid-March, youth took to the streets with rocks and fire across the occupied West Bank and Gaza Strip out of fury over Israel's actions at Palestinian holy sites. Meanwhile, in Jaffa, the biggest national news to make headlines was when rocks were hurled at a city bus, cracking its back window.

The next night, a few dozen Jaffa residents, identifying with their Palestinian brethren in occupied East Jerusalem who are also being displaced from their homes, congregated at the corner of Yeffet and Dr. Ehrlich streets with signs and Palestinian flags. At the demonstration, police were out in full force with a bus, van and at least four patrol cars circling the site that locals commonly call Gaza Park. Protesters, including a handful of children under the age of 10, stood on the sidewalk, peacefully chanting anti-occupation slogans and singing songs in Arabic.

A community under siege

Before 1948, Palestinian workers would gather at that park to catch taxis and buses to Gaza, less than an hour's drive from Tel Aviv. The community coalition decided to return to calling the site by its historical name during last year's assault on the Gaza Strip. But on this past 17 March, instead of being able to freely catch a ride to Gaza, Samieh Jabbarin was driven away in a police van to lie in jail overnight. Jabbarin is a Jaffa resident and part of a broad coalition of community members fighting aggressive development in the city.

Not 15 minutes before being hauled away from Gaza Park by police to the massive high-rise police complex looming over the invisible line separating Jaffa from conjoining Tel Aviv, Jabbarin explained that "The Zionists understand that they haven't succeeded in eliminating the Palestinians and so they are taking from them any means they have of leading a normal life."

Jabbarin was released a few months ago from nearly a year under house arrest in his parents' home in Umm al-Fahm. Jabbarin's arrest on 17 March at the small solidarity protest is one instance of the continued attempt to erase the expression of Palestinian identity inside Jaffa and surrounding central Israel. According to cops on the scene, Jabbarin was detained for leading an illegal demonstration.

Just one week prior, Jabbarin, a theater actor-director with springy graying curls and a permanent glint in his eye, marched with Jaffa residents to that same police station where he was taken on 17 March to protest police brutality. As officers monitored the crowd of about 300 protesters, Jabbarin told me that the targeting of Palestinian residents by police adds to the unease felt by the marginalized community, giving them just one more reason to flee.

Rasha Assaf, legal advisor for the Jaffa Popular Committee for Land Allocation and Housing Rights, also attended the anti-police brutality demonstration. Assaf is a young Palestinian woman raised in Israel's northern region of the Galilee. Currently living in Jaffa, she is creating an organization to educate Palestinian residents about their rights.

After the demonstration, at Dina's Cafe in Jaffa, Assaf explained that about a year ago, a wide cross-section of society came together to form the Jaffa housing coalition. With groups ranging from the popular committee, the Orthodox Institute, the Islamic movement and Labor Party members, it hasn't been easy finding common ground. But Assaf doesn't want to point fingers publicly at any one group. She believes the community needs unity to move forward and the coalition is a huge step in that direction; for some groups it's the first time they've been in the same room for years.

Until recently, every Friday the coalition united to protest outside the yeshiva in Ajami. The Jewish rabbinic learning institute with links to the settlement movement was established a couple years ago on a street now named Yanush Korchak, just blocks from the Peres Center for Peace. The "peace center" is placed atop the remains of an old Muslim cemetery. On a political tour of Jaffa last summer, popular committee member and local historian Sami Abu Shehadeh joked, "When Peres thinks of peace I want to show what exactly he's thinking about."

Assaf explained that "Gentrification in Jaffa is aggressive and draconian and when combined with Judaization in a place like this, where there's a concentration of such a low economic level of the population; it tears at the fabric of the community." For the small, weak community the housing coalition allows them to present "one voice" to Israel, against Palestinian displacement in Jaffa.

The walls of Dina's Cafe are stacked with books, journals and magazines in English and Arabic, and a few in Hebrew. Owner Dina Lee swaggered over, asking if she could listen in on our conversation, which came back to strategies that have been successful in thwarting development in Jaffa. Assaf and Lee both agree: the second Palestinian intifada, which began in September 2000, put it to a halt. Dina says no one would eat or shop in Jaffa for at least a few months. Scared of stone-throwing and massive demonstrations, investors became hesitant to buy up land in Jaffa as well.

"I heard Jewish friends of mine saying we won't go there because we want to punish the people of Jaffa," Lee added. About business people, she said: "Tourists came to eat hummus and buy groceries here, so they thought any struggles would hurt business."

In the geographic, political and economic center of the country, said Assaf, "there is a strong incentive to divide the Arab community and make it fragile." She added: "I'm afraid by the way that they deal with people here. It's not like in the Galilee. It's like military rule."

Back at Gaza Park, Jabbarin had emphasized this as well, discussing how one activist was threatened that her face would be burned if protests in Jaffa went on. Jabbarin isn't scared to point fingers at part of the Palestinian community's elite in Jaffa, putting them into two categories: merchants who have historically been complicit in the occupation because it's in their interest to maintain the status quo; and those "brainwashed" into believing they're "just random Arabs" living in Jaffa — disconnected from their identities and the larger Palestinian community. Some of them even pay token visits to housing coalition meetings, said Jabbarin.

"I don't like renting to Arabs"

"The struggle for housing rights is long and difficult," admitted Association for Civil Rights in Israel (ACRI) attorney Gil Gan-Mor, who describes himself as an eternal optimist.

ACRI has brought a high-visibility legal case against the Israel Land Administration for selling public lands to what appears to be a discriminatory private contractor — Bemuna. The suit has bounced from the Civil Court for Administrative Matters to the Israeli high court and back to the administrative court, till the judge finally dismissed the case in early February.

In early March, 25 petitioners — including Jaffa residents and organizations, and various Israeli human rights groups — appealed to the high court. Gan-Mor wrote the appeal, which he says will be heard urgently. Meanwhile, the infrastructure is being laid for the Bemuna apartment complex in Ajami since the court denied their request to pause construction during deliberation.

Nonetheless Gan-Mor believes they'll be victorious, citing a precedent-setting case in which ACRI stopped a housing development in north Tel Aviv that was intended exclusively for high-tech workers under the same argument.

While Bemuna argues that religious Jews living in Jaffa have unique needs specific to their community, Gan-Mor counters that Orthodox Jews in Israel are the mainstream and Bemuna has been quoted in the Israeli business magazine Globes saying they've agreed to allow secular Jews to rent flats, but they won't make the same deal with Arabs. In Jaffa, and across Israel, Jewish landlords continue to deny Arabs from renting.

A medical student in her twenties at Tel Aviv University told me she searched for months for an apartment to rent in downtown Tel Aviv. The Nazareth woman said landlords hung up on her, cited excuses, didn't return her calls, and in one case told her bluntly: "I don't like renting to Arabs."

Assaf told me that in the 1990s, Jaffa residents coordinated massive squatting of hundreds of abandoned art deco buildings. The city caved, signing a deal with the people considered the leaders of this movement — agreeing to provide affordable housing if the leaders convinced the activists to surrender. But Assaf said that while the community followed through with their part of the deal, they never saw the expected housing projects built.

Palestinian citizens across Israel, as well as those in occupied East Jerusalem holding Israeli residency status, are dealing with similar housing problems as those in Jaffa. In January, the rap trio DAM held a benefit concert in occupied East Jerusalem's Sheikh Jarrah neighborhood, where Palestinians are being evicted from their houses and replaced by Orthodox Jewish settlers. Rapper Mahmoud Jreri explained that local issues there were important because "The same thing is happening in my town, in Lydd," an impoverished municipality on the outskirts of Tel Aviv known for its drug-trafficking.

Jaffa residents are increasingly being forced out of the city into places like nearby Lydd and Ramle due to constantly rising housing costs in a city with no rent control, but even there prices are being pushed up. At this rate, Palestinian citizens of Israel could be purged from the country's nucleus altogether.

Carmelle Wolfson is an independent Canadian journalist based in Jaffa. She is co-editor of The Daily Nuisance.