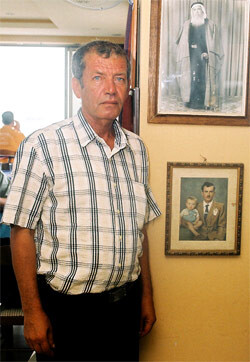 EIN HOUD, 5 August 2007 (IRIN) - Residents of Ein Houd village have been without electricity for almost 60 years but now Muhammed Abu al-Haija's house has been connected to Israel's electric grid.
"So far, I'm the only one with electricity," said Al-Haija, who, like the other 250 residents, is an Israeli citizen. "But I hope the whole village will get it soon."
Al-Haija said the villagers had been campaigning to be connected to the electricity grid for almost 30 years.
The Ein Houd villagers are internally displaced people (IDPs) from the 1948 War and their descendants.
During the war, the 900 villagers of Ein Houd, near the port city of Haifa, fled and once hostilities had ended, the Israeli military did not allow them to return home. Most ended up dispersed abroad.
Some, however, refused to leave.
Muhammed Abu al-Haija's grandfather, together with 35 other displaced families, established the village two kilometers up the picturesque mountain from the old site, which was subsequently inhabited by Jewish immigrants and turned into an artists' colony.
Villages not recognized
The case of Ein Houd highlights the plight of villages not recognized by the Israeli state, meaning they were not on the map.
An Israeli official said recognition of the village was a "political matter," which took time but was solved in the 1990s.
Once recognized, "it took many years for the master plan to be approved, mainly because of residents' complaints," said a spokeswoman for Israel's Ministry of the Interior. Once this was completed, she added, the electric company was able to begin its part, which ultimately led to the first house being connected.
Arab NGOs working in northern Israel, including "The Association of 40," estimate that several thousand Arabs in Israel's north still live without electricity and in some cases without running water. In the south, tens of thousands of Bedouins share a similar fate.
The Association of Forty is an NGO working for the recognition of Arab villages in Israel, which was established in 1988 in Ein Houd.
"As a result of this [lack of recognition], the villages are still lack the basic infrastructure. Today, there are approximately 100,000 people who are dispossessed or denied any basic services such as running water, electricity, proper education and health services and access roads," the NGO's website states.
"The state didn't recognize the village until 1992 — and that was only on paper. Only in 2005 did we get full recognition," said Muhammed, adding that the authorities tried to evict them and issued house demolition orders.
An Israel Electric Company spokeswoman said it would connect other residents of Ein Houd as soon as proper forms and inspections were completed.
Alternative energy sources
In the 1980s, the villagers sought alternative energy sources in solar panels and petrol-run generators. But the solar panels were very expensive and tended to break easily, they said.
"You need a large number of the expensive panels to run household items like washing machines or refrigerators," one told IRIN.
The financial strain is acutely felt by Jaber Abu al-Haija, who cannot afford a generator. His eldest daughter, Tasnim, aged 12, has chronic fevers and breathing troubles.
"She needs medicine which must be refrigerated. We have to keep them in the neighbors' homes," Jaber said. However, the biggest problem is her breathing disorder.
"We have a machine to help her breathe, but it works on electricity. When she gets an attack, we run to the neighbors' houses and they turn on their generators for us," he said.
"We live like it's 100 years ago," said Jaber.
Education has also been problematic in Ein Houd. For many years, children had to walk several kilometers to the nearest village to get rides to high schools in Haifa.
"When they connected us, the first thing we turned on was a light," said Muhammed, remembering how his eldest children did their homework by an oil lantern.
This item comes to you via IRIN, a UN humanitarian news and information service, but may not necessarily reflect the views of the United Nations or its agencies. All IRIN material may be reposted or reprinted free-of-charge; refer to the copyright page for conditions of use. IRIN is a project of the UN Office for the Coordination of Humanitarian Affairs.
Related Links