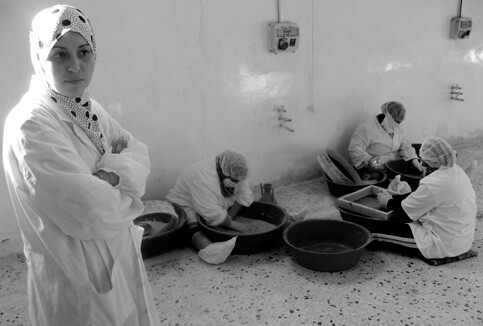 Life has never been easy in Ein al-Sultan camp, Palestine's smallest refugee camp. Nestled at the foot of the Mount of Temptation, just outside the historic city of Jericho, the camp's population currently sits at roughly 2,000. Established in 1948, the camp once accommodated 20,000 refugees, but the vast majority were forced to flee to Jordan during the hostilities of the 1967 war. Many of those who remained once relied on employment in Israel to make ends meet, but when the brutality of the occupation was intensified during the second Palestinian intifada most people lost their jobs because of the severe movement restrictions that were imposed. Today, poor socio-economic conditions, inadequate basic infrastructure such as roads and sewers, severe water shortages, all of which are compounded by the Israeli occupation, cause tremendous hardship for the refugees, who continue to be largely dependent on food rations and various other forms of international aid.

A portrait so acutely drenched in misery is difficult for anyone to confront, let alone those actually burdened by it. Fortunately, though, the spirit's resolve is an amazing tool for change and was the trigger for a remarkable group of women from Ein al-Sultan camp to come together a few years ago to devise an innovative way in which to break free from the shackles of their destitution. And so begins the inspirational story of Jericho's women's fair trade couscous cooperative.

The idea was born out of a longing to improve their situation and become independent. "Unemployment is very high and we can't always depend on our husbands. Sometimes they have work, and sometimes they don't. We want to be able to contribute," explained Zahra Abu Shrar, one of the co-op members. Armed with a brilliant idea but lacking the resources to launch it, the women approached the Palestinian Agricultural Relief Committees (PARC) about contributing the necessary infrastructure and logistical assistance. Without delay, PARC accepted and began working in concert to see this project come to fruition.

Now, two years later, the women are still beaming with pride. "This is our initiative. We care about it, and cannot imagine doing anything else," said Helen Abu al-Haija, one of the co-op founders and a 27-year-old mother of three who was born in the camp. Due to her extensive experience with local, grassroots organizations, Abu al-Haija was elected as acting supervisor of the co-op. She somehow finds time to dedicate her days to the co-op, her evenings and weekends to her family, and whatever spare time she has to completing her university degree. Everyone shares her strong commitment to the project as well as a common history and struggle that, as Helen explains, binds the women together as one "big happy family."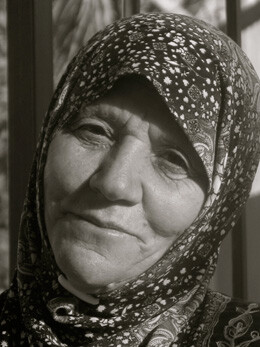 But apart from the obvious benefits of carving out one's own position in the world alongside one's kin, are the added perks of working in the fair trade industry. Everything down to the bare bones of the co-op is based on principles of justice — even the wheat acquired to make the couscous comes from the organic, fair trade wheat co-op in Jenin. The concept of solidarity is very important for the women, made clear by Abu al-Haija's confession that "if it weren't for the fair trade farmers, we wouldn't have this job." There is also the groundswell of solidarity and cooperation between the co-op and the international organizations that support their work by buying their high-quality couscous. "We feel the solidarity and we know our work is appreciated," Abu al-Haija explained, smiling proudly.

The women unanimously agree that since they've been working at the couscous co-op their lives have improved dramatically. For the first time "we're no longer dependent on humanitarian aid," said Abu Shrar. Not only are they now independently taking home their well-earned wages, but they are finally able to simultaneously provide opportunities once inconceivable to their children, and fix-up their run-down homes. Furthermore, their self-confidence has grown alongside their social status, which has been propped up by virtue of their fortitude, self-determination and goodwill.

A similar success once seemed promising in the Gaza Strip, where six women's fair trade couscous cooperatives shared the same dreams and aspirations as those of the Jericho co-op. More than two years ago, however, all six co-ops were forced to shut down thanks to the crippling Israeli blockade that prevented them from importing production requirements and exporting their produce. The closures had a direct impact on more than 400 persons whose lives depended heavily on their continued existence. More recently, after Israel's brutal three-week assault on Gaza, one of the co-ops in Sheikh Radwan was damaged beyond repair.

With a heavy sigh, Abu al-Haija explained that they would have liked to work alongside their sisters in Gaza. "All co-ops have the same objectives, are supported by the same organizations, and would like to work together," she said, adding that all the members of the Jericho co-op are with them and "hope the closure will end soon and that the couscous co-ops will open again." It's only a matter of time before the world realizes how insidiously cruel and vindictive the blockade has been and demands that it be lifted so that the people of Gaza can resume living their lives with dignity and integrity.

Having survived so much injustice and impunity over the past 60 years, most Palestinians know how important it is to defend and uphold concepts of justice and fairness. Fair trade, for this reason, has a unique niche in Palestine; all that is needed is a safe space to sow the seeds and the means to cultivate the yield. The will clearly already exists, as the women from Ein al-Sultan camp have so gracefully displayed.

Gen Sander currently lives in the occupied West Bank city of Ramallah. She works in the fair trade department of PARC and teaches photography in Aida refugee camp.