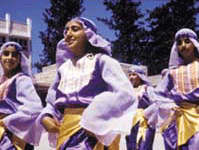 Ibdaa Dance Troupe, youth performers from Dheisheh refugee camp in Palestine, will be touring the United States this summer. The last time Ibdaa toured the

U.S.

was in 1999. The tour is sponsered by the Middle East Children's Alliance (

MECA

), a non-profit organization based in the

U.S.

with programs in Palestine, Israel, Lebanon and Iraq, emphasizing the need to educate north Americans about the Middle East and

U.S.

foreign policy and supporting projects that aid and empower marginalized communities.

In the summer of 2003, MECA is bringing back Ibdaa's youth, touring eight major cities in the U.S., among which Seattle, Washington DC, and New York. They will be performing at local theaters and visiting with communities.  Ibdaa hopes that they will meet as many people as possible to let their their voices for a just peace heard in these critical times of the history, and to build a bridge of friendship and solidarity.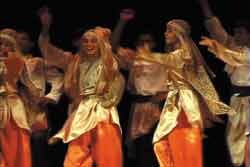 IBDAA

's youth dance troupe from Dheisheh refugee camp, located near the city of Bethlehem in the Israeli occupied West Bank, is a project of Ibdaa Cultural Center, which provides educational and cultural activities for the children and youth in the refugee camp. 

Dheisheh camp was established in 1949, after the expulsion and flight of more than 750,000 Palestinians following the creation of the state of Israel.  Those that fled to Dheisheh originated from 45 villages west of Jerusalem and Hebron, the descendants of whom comprise the 11,000 inhabitants of the camp today.  A resilient and active community, Dheisheh has a long history of struggle against oppression.  Until the Israeli army's withdrawal in 1995, the camp was surrounded with a high barbed-wire fence.  Soldiers and violent confrontations filled the alleys, killing tens of residents, while hundreds were injured, imprisoned and disabled for life.  During the peace process years, the worsening plight of refugees was largely ignored in the negotiation framework, bringing a sense of stagnation and desperation to the community.  Since the second Intifada (Palestinian uprising) began in September 2000, Dheisheh has been continuously besieged and invaded by the Israeli army, and losing a number of its residents in the violence.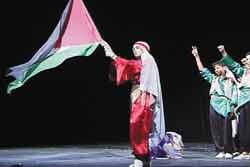 Ibdaa, which means 'to create something out of nothing', is a grassroots initiative of Dheisheh Refugee Camp.  Founded in 1995, Ibdaa serves over 1500 children and young people annually through various programs, while providing job opportunities to over 60 families in the camp.  Ibdaa's mission is to provide an environment for the camp's children and young people to develop their ability, creativity and leadership skills through social, cultural and educational activities that are not readily available in the camp.  Ibdaa strives to empower the children and instill in them confidence and strength to face their difficult future, while educating the international community on the Palestinian refugee issue.  Ibdaa's program includes a nursery, kindergarten, children's library, computer and Internet centers, restaurant, multipurpose hall, sports programs, community mural, women's cooperative, music courses, guesthouse, income generation projects, and scholarships.

IBDAA's youth dance troupe is made up of 18 young men and women, aged 15 - 18.  They perform dance pieces that tell the history, struggle and aspiration of Palestinian refugees by intertwining debkeh, traditional Palestinian dance, and theatrical choreography.

Since its founding in 1994, Ibdaa has performed in over ten European and Middle Eastern countries.  This tour will be Ibdaa's second visit to the United States, following their successful 5-city tour in the fall of 1999, sponsored by the Middle East Children's Alliance.
 
Tour schedule

For more information on the performance, to sign up as a volunteer, and to set up media interviews, please contact each city's organizer or MECA.
 
Tour Headquarters: Middle East Children's Alliance
Contact: Shirabe Yamada, Project Director, Email: shirabe@mecaforpeace.org

Uda Walker, Media Outreach and Public Relations,
901 Parker Street, Berkeley, CA 94710, tel 510.548.0542, fax 510.548.0543, www.mecaforpeace.org

July 2 - 12


SAN

FRANCISCO

BAY

AREA

Middle East Children's Alliance
510-548-0542, Email: meca@mecaforpeace.org
 

July 13 – 15


PORTLAND

Americans United for Palestinian Human Rights
Peter Miller, tel. 503-358-7475, peteskiToo@aol.com
 

July 16 - 19


SEATTLE

American-Arab Anti-Discrimination Committee, Seattle
Maha Boulos, tel. 206-229-3854, Email: maha@u.washington.edu
 

July 20 – 22


DENVER

The Arab Student Association – University of Denver
Mohammed Albow, tel. 303-733-4671, Email: malbow@du.edu
 

July 23 – 26
Location

TBA

July 27 - 29


WASHINGTON

,

D.C.

Jerusalem Fund for Education and Community Development
Jeff Mendez, tel. 202-338-1958, Email: jmendez@palestinecenter.org

July 30 – 31


PHILADELPHIA

SUSTAIN – Philadelphia, American Friends Service Committee
Ziad Abu Rish, tel. 215-241-7062, Email: sustainphilly@yahoo.com

August 1 - 2


NEW

JERSEY

New Jersey Solidarity Network
Charlotte Kates, tel. 973-297-0161, Email: info@njsolidarity.org

August 3 - 6


NEW

YORK

Ibdaa New York Group, tel. 718-369-6902, Email: ibdaa_ny@yahoo.com

Related Links