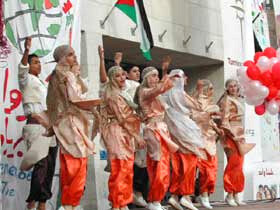 Ibdaa is a Palestinian youth dance troupe from Dheisheh refugee camp, near the city of Bethlehem in the Israeli occupied West Bank. Ibdaa is a project of Ibdaa Cultural Center (
www.dheisheh-ibdaa.net
), which provides educational and cultural activities for the children and youth in the refugee camp. The dance troupe is made up of 18 young men and women, aged 15-18.
Ibdaa performs dance pieces that tell the history, struggle and aspiration of Palestinian refugees by intertwining debkeh, traditional Palestinian dance, and theatrical choreography. Since its founding in 1994, Ibdaa has performed in over ten European and Middle Eastern countries, conveying their message for peace, and building a bridge of friendship and solidarity.
The Middle East Children's Alliance (MECA) is sponsoring the 2nd nationwide performance tour of Ibdaa, the renowned Palestinian youth dance troupe from Dheisheh Refugee Camp, West Bank, this July and August. Ibdaa's youth will tour eight major cities in the United States, performing at local theaters and visiting with communities, as they did in their successful 1st US national tour in 1999.
The current tour also features singer Michael Franti, the Destiny Arts Youth Performance Company, and Melanie Demore from Linda Tillery's Cultural Heritage Choir.
IBDAA U.S. TOUR — COMING DATES
Wednesday, July 23
MINNEAPOLIS, MN
7PM, Roseville Area High School, Roseville
Roseville Area High School,1241 West Country Rd. B2,Roseville MN 55112
Tickets: $10/ Call 612-250-8370 for reservation/info, or buyat the door.
��� For information contact: Chaouki Khamis American-Arab Anti-Discrimination Committee - Minneapolis
612-250-8370, CKhamis@americable.com
July 25 - 26
CHICAGO
For information contact: Voices in the Wilderness
773-784-8065, angela@vitw.org�or safaa@vitw.org
�
Monday, July 28
WASHINGTON, DC
7:30PM, The Lincoln Theater
1215 U Street, NW, Washington DC
Ticket Prices:$20 - Boxes, orchestra level floor,$15 - Orchestra level back, Balcony front,$10 - Balcony
Tickets available online at www.ticketmaster.com, by telephone from 10a.m. - 9:30p.m. daily,(202) 432-SEAT, (301) 432-SEAT, or (703) 573-SEAT, all TicketMaster outlets including Hecht's, Kemp Mill Music, and Tower Records. Also, if in DC, you may visit the Lincoln Theatre box office Monday-Friday from 10:00 am - 6:00 pm.
Sponsored by Jerusalem Fund for Education and Community Development
202-338-1958, jmendez@palestinecenter.org
Thursday, July 31
PHILADELPHIA, PA
7PM,� Community College of Philadelphia - Bonnell�Large Auditorium
17th Street (between Spring Garden�& Callowhill Streets).� Doors opne at 6:30PM.
Tickets $15, and info: SUSTAIN � Philadelphia, American Friends Service Committee
215-241-7062, sustainphilly@yahoo.com
Saturday, August 2
NEWARK, NJ
7PM, Rutgers University, Multi-Purpose Room in�Paul Robeson Campus Center
350 Martin Luther King Jr. Blvd., Newark
For info, contact: New Jersey Solidarity Network
973-297-0161, info@njsolidarity.org
August 3 - 6
NEW YORK
Ibdaa New York Group
718-369-6902, ibdaa_ny@yahoo.com