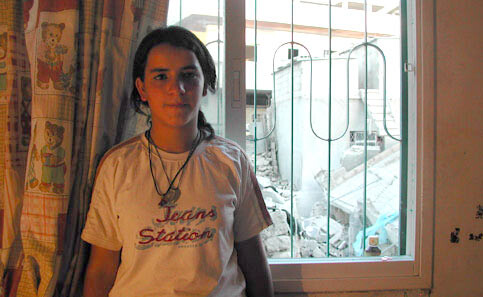 It feels like someone I know has been killed, as I stand in the midst of a half-destroyed home. Young men are carrying shelves and couches down the cracked staircase. Relatives are helping to pack clothes.  This house for the family of seven was full of life until last week. It smelled of home-baked bread and aroma of coffee, echoed vibrant discussions and brotherly quarrels, and was filled with sound of Arabic music and children reciting homeworks. The place is now almost empty.

Although the house is still standing, the engineers have declared it was too fragile and dangerous, as its foundation has severely been damaged in the explosion by the Israeli army last week.  Impact of the bombs left its fatal marks everywhere; cracks run through every surface, windows and doorframes are blown out, walls are crumbling. As people continue to empty the house for the second and final demolition, this time by workers of UNRWA, I think of countless days and nights I spent here for the last five years since I have become a close friend of the Hammash family —- rolling stuffed grape leaves with the mother and daughers, conversations on the rooftop over mint tea, laughers and tears. A space packed with love and memory, built with modest dreams and years of hard labor, has been taken away by unjust force.

Miyasar, mother of the family, is crying. Although there is almost nothing left to be done, she cannot leave the place. She leans on a broken window and mumbles, "This house was my dream. Now, everything is gone." When Israeli army dynamited her next-door neighbor's house last week, her house that was connected to theirs was damaged beyond repair. Her fear has become a reality, after countless sleepless nights and constant anxiety since the summer, when the army began demolishing with an unprecedented pace those houses belonging to families of political prisoners.

The Night of Demolition

At around 1AM on December 1st, Miyasar woke up to the sound of Israeli army vehicles and soldiers arriving to her street. Miyasar, who had developed a habit of waking up to a slightest sound at night, immediately shook Azeez, her husband, and urged him to get dressed. There was no need to wake their children up, because in the matter of minutes the soldiers were already banging loudly on the entrance to their building and smashing windows facing the street. The family hastely got dressed, while the soldiers barked an order in broken Arabic for everyone to leave the building.

In the chill of night air, the family descended from their third-floor flat to the street, together with two other families that lived in the same building. According to the neighbor who witnessed it from further down the block, the street was full with about 50 soldiers and more than 20 army vehicles of different kinds, including an engineering unit and a heavily armored intelligence vehicle with surveillance equipment. The soldiers announced with laughter that they came to demolish the house of Musa Hammash, Miyasar's next door neighbor and extended family. Musa's two young sons are in Israeli prison for an alleged involvement with violence. When Azeez said it was not a matter for laughing, the soldiers screamed at him to shut up. Then, to Miyasar's horror, they took her 13-year-old son as a human shield, to check if the building had indeed been cleared of people. At the same time, the soldiers were forcing people out of their homes in the entire neighborhood. About 10 families, from grandparents to newborns, were collected and brought to a house a short distance away. Its occupants had been woken up by the soldiers, and were to accommodate more than 60 unannounced, horror-stricken guests for the night.

The soldiers then announced that the men of the soon-to-be demolished houses were given half an hour to retrieve household items. Azeez rushed back to the house, to salvage whatever possible. They also tried to move as many things as they could from Musa's house, the direct target, to Azeez's house, which they hoped to be saved from the worse.

Miyasar recounts the next three hours of fear and helplessness, as they sat among the house full of people, watched by Israeli soldiers. She and her terrified teenage children waited for the worst moment as the engineering unit was installing dynamite charges with cold calculation and cruel precision. At around 4AM, the army moved away from their home and detonated the explosives via remote control. The blast ripped through the air, knocking over and smashing countless water tanks on rooftops, and shattering hundreds of windows in the neighborhood. Cinder blocks from Azeez's unfinished top floors flew to all directions, landing on faraway spots in the refugee camp. The explosion was so strong it was heard as far away as in Al-Khader village in the south and the city of Bethlehem in the north.

It was when the people in the room started to shout at the soldiers. "I didn't want to speak to the soldiers until then," said Miyasar. "But when I heard the explosion, something inside me snapped. I shouted and shouted, and even as they threatened to shoot me, there was nothing I could do with my despair."

After the army took off, content with the success of their work, the people came out to the street littered with debris and glasses, and wet with leaking water from rooftop tanks. Miyasar's building was still smothering in the air smelling of gunpowder, the unfinished top floor dangling over the street. Musa's house had been destroyed beyond recognition. Miyasar's house, although somewhat intact, had all its windows shattered, furniture damaged and collapsing, and holes and cracks everywhere on ceiling and walls covered with soot and debris.  The explosion gave damages to 25 homes in the neighborhood. Three families living in the building, a total of 16 people, lost their homes.

The Aftermath

Miyasar and Azeez started to build this home in 1990, and worked on it little by little as their meager income allowed. When the house became equipped with minimum necessity in 1996, the family of seven moved in. For any refugee family who were stripped off of their land and livelihood, owning a home of their own has significance beyond the basic human need for shelter. The Hammash family, who fled their village of Beit Attab in 1948 leaving everything behind, is now refugees again.

The Dheisheh community has come together, as it always has in times of hardships, with quick, through, and solid support for the family.  Day and night, residents of the camp visit a mourning tent pitched outside the demolished building to offer consolation and solidarity.  Neighbors prepare bitter coffee for mourning around the clock, and a cooking shift is organized to bring warm food to the family. The relatives have taken the family in to their homes for the time-being. Friends are helping with finding a temporary housing, moving arrangements, and obtaining emergency assistance from UNRWA.  Yet, Miyasar's children are coping with the trauma and new unstable reality with great difficulties. With their sense of security collapsed, one acts tough by day and breaks down at night, while another is unable to sleep at all.

And I mourn the home that was the source of my joy and consolation during the last five years I've worked in the camp. The Hammash family's ability to give willingly when there is little to themselves, their dignity and respect for humanity, their strength and ability to smile in the face of unimaginable and endless difficulties under the occupation have always inspired and humbled me. I was given and learned so much in their house. For the first time, I see their spirits broken, in the tears of Miyasar and the eyes of Azeez that lost their characteristic sparks. And their home is only one of the more than 3,000 houses that have been destroyed by Israel during this Intifada.

Related Links