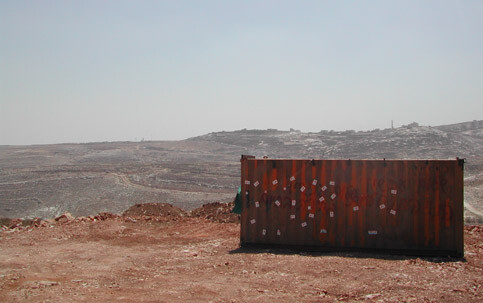 List of required resources (per trailer):
Manpower: 10 people
Vehicles: 1 crane-truck for lifting and loading, 2 additional cars for assistance
Cost: $1300 for the truck rental, plus gas
Will and wit
The government says it is an extremeley difficult task. Those illegal hilltop outposts are just so impossible to remove. Each time IDF tries they are met with such violent resistance from settlers, as one may have seen it on evening news. Even if they are an obstacle to peace, required for the removal under the Road Map and other agreements, and even at the cost of international criticism, those outposts are left to grow, further unabling a viable peace.
"If the government says can't do it, why don't I show it's easy and possible?" A thought occured about a year ago to Dror Etkes, Coordinator for the Settlement Watch Project at Peace Now. "I will pick up a trailer from an outpost and dump it in front of the Ministry of Defense, to make my point."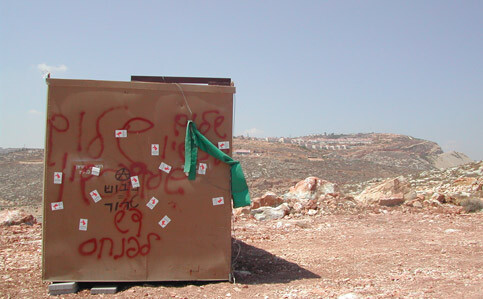 The time was ripe in the evening of September 7th. At around

9PM

, Etkes and 9 other activists from Israeli left, including 3 refuseniks, drove up to a newly elected outpost east of Ramallah, on a hilltop overlooking Palestinian villages of Burqa and Deir Dibwan. A single trailer had been placed a couple of weeks ago on a hill near Migron, a second largest illegal outpost inhabited by about 40 families. Right under the nose of the settlers, Etkes and fellow activists picked up the trailer with a crane, loaded on their rented truck, and drove away without being spotted.

Two hours later, the trailer was unloaded in front of the Ministry of Defense building in Tel Aviv, where hundreds of activists demonstrated and celebrated. They named the tralier "Karnei Pinoui (Horn of Dismantlement)" mocking Karnei Shamron, one of the largest West Bank settlements. The event, however, was much downplayed by the media.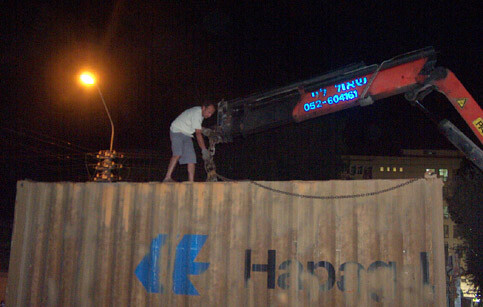 "I was so estatic people said I was beaming like the moon," said Etkes. The day after, he was interrogated for 4 hours at the police station. "No settler ever gets interrogated for placing an outpost illegally, though," he said.

Etkes is a leading expert on the settlement movement, monitoring and documenting the latest developments as he drives around on a 4WD to the remotest areas of West Bank on a regular basis, making aerial observations on a small aircraft as part of his routine. He is frequently requested to brief for the press, diplomats, and international organizations on his knowledge, findings, and analysis.

Etkes sites that the number of illegal outposts is nearing 100 and counting. Elected on hilltops of West Bank, their locations are not randomly picked but are strategically chosen to comply with Israel's larger political plan of land annexation and cantonization of Palestinian communities. "An outpost usually starts out with a trailer or two, but gets developed with accompanying infrastructure, to quickly turn to a settlement," says Etkes.

The Migron outpost and the trailer in question, for example, is an attempt to build up a territorial contiguity in the area connecting the settlements of Kochav Ya'acob and Psagot, and the Route 60, a bypass road connecting settlements.

Standing next to the trailer with a panoramic view spreading in front of one's eyes, it is easy to see this rusty container is another dot to connect a ring of settlements on the surrounding hills, fortified by the road system that isolates Palestinian villages from one another in the area east of Ramallah.

Etkes returned to the site 2 days after the action. The trailer, as in the case of other removed outposts, had been returned to its original location by force. Nevertheless, he succeeded to make his point to the public. "It's not that the government can't remove these outposts, they just don't want to. But they now have no excuse if we were able to do it."