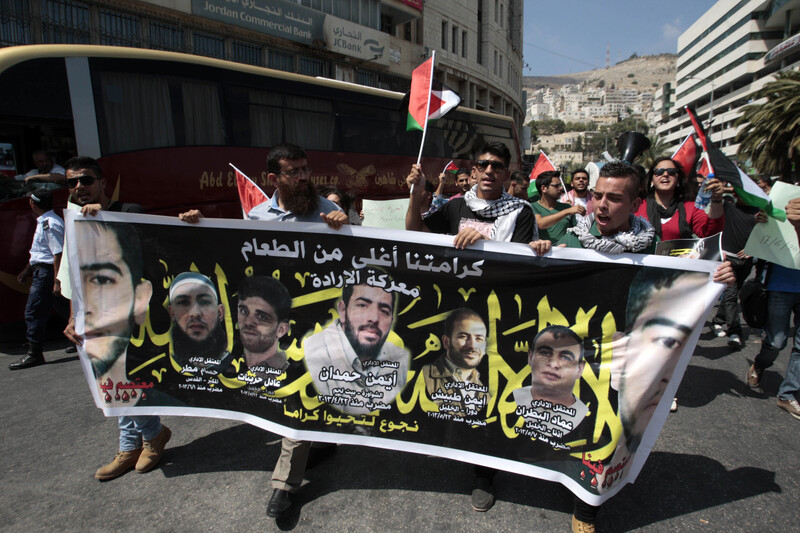 Like more than one hundred other Palestinians held on "secret evidence," Israel is detaining political prisoner Ayman Hamdan without charge or trial. In response, he launched a hunger strike that has lasted more than 110 days.
Hamdan is one of nine remaining hunger strikers from a group that included 23 prisoners on hunger strike in July. According to recent statistics reported by the prisoners support group Addameer, 136 prisoners, including Hamdan, are being held in administrative detention — indefinite detention without charge or trial.
Over the last two years, many Palestinians detained inside Israeli prisons have gone on hunger strike to protest their administrative detention orders.
"Hamdan is being held in a room with three guards at all times, and he's tied to the bed by his right arm and left foot," Jeanne Aouda Zbidat, a lawyer with Addameer, said in an interview. Zbidat visited Hamdan earlier this month.
Although Hamdan's health is generally good when compared to his fellow hunger strikers, Zbidat said that "he is on a constant IV [intravenous drip], and takes vitamins, minerals, and sugar. Thus far, there are no problems with any internal organs, but he suffers from headaches, nerves and fatigue."
Noting that Hamdan had lost approximately 25 kilos (55 pounds) in the last two years, his brother Daoud told The Electronic Intifada that "[Ayman] was already a man with a steadfast and strong personality. But after Israel put this pressure on him, there's no doubt he's stronger."
Originally from the village of Shawawra near Bethlehem, 30-year-old Hamdan, who is married with two children, was arrested in August 2012 when Israeli occupation soldiers surrounded his home in the early hours of the morning.
"When the soldiers arrested Ayman this time, they didn't enter the house. They called him from outside and told him to get dressed and tell his children bye," Daoud said.
After being taken to Ofer military prison in the occupied West Bank, Hamdan was issued a six-month administrative detention order whereby he could be held on secret evidence without trial or charge. The order was renewed in February 2013.
Targeted for student activism
"Ayman was studying business at Bethlehem University, but he hasn't been able to finish because he's been arrested so frequently," Daoud explained, adding that Ayman has been in and out of Israeli prisons for more than a decade — including a 30-month sentence and a series of previous administrative detention orders.
"Occupation forces targeted him because of his membership in a student organization affiliated with Islamic Jihad," Daoud said. "He helped other students, and helped organize student elections and raise awareness about what the Israeli occupation is doing to us. That's why they targeted him."
Daoud had also been in prison for more than seven years over his alleged involvement with Islamic Jihad. "We are a total of seven brothers, and six of us have been in prison," he said. "Our father was even arrested once and interrogated about our brother Mohammed and his political activism. He was held for three days."
Their brother Ahmed, who was released a few weeks ago, was in prison since May 2010 on a series of administrative detention orders. Another brother, Mohammed, was arrested in 2008 and served a six-year sentence.
"New revolution"
According to Daoud, Ayman was put "in a cell with other prisoners who were not on hunger strike who ate in front of him."
This was a form of punishment, he said, because "Israel is scared of hunger strikers: this is a new revolution. There's an intifada in the prisons, but unlike what's going on in Egypt, no one sees it."
While acknowledging that the Palestinian Authority's ministry of prisoners had provided "great support," Daoud accused the PA of failing the hunger strikers. "Mahmoud Abbas and Saeb Erekat are participating in negotiations with the Israelis and the Americans, but they aren't standing next to the prisoners," he said.
"When we were in prison, our father was only able to visit twice a year because the Israelis didn't give him permits for more than that," Daoud added.
"All of the brothers are forbidden from visiting Ayman, and so is his wife," said Daoud. "Our father died on 28 April and our brothers weren't permitted to call him to say goodbye" as his health waned during his final days. Nor were they able to call their mother and siblings after he died.
As punishment for Ayman Hamdan's ongoing hunger strike, Israeli prison authorities have transferred him to several different prisons, including Meggido and Ramon, making it difficult for approved family members to visit.
"It's been about eight months since [Ayman's] children have visited him in prison," said Daoud. Before that, the last time they saw their father was when "they watched him being arrested in front of them. Making the children see the arrest and then not be able to visit their father is a strange type of violence."
Constant observation
In a recent message that Ayman sent to Daoud, Ayman said that he was under constant observation, including during restroom visits. Additionally, he reported that he had been prevented from using the restroom more than once as well as forbidden from praying a handful of times.
Ayman Hamdan is frequently visited by intelligence officers who try to persuade him to abandon his fast, said Zbidat. "Sometimes they tell him he'll be in prison for a long time if he doesn't quit [the strike], others come to him and say that this is going to be his final administrative detention so he should stop the strike."
Mohammed Rimawi and Abdullah Barghouti, prisoners who gave up their strikes this month, were threatened repeatedly with force-feeding.
According to Addameer, after five soldiers reportedly beat Rimawi, a hospital official told him "as long as he is conscious nobody can force-feed him but once he loses consciousness doctors can do whatever it takes to keep him alive, even without Rimawi's permission."
As of early July, Israel's justice ministry was drafting a bill to legalize the force-feeding of hunger strikers. "This proposed bill is a reflection of the desperate situation Israel now finds itself in and it seems that force-feeding is the only way Israel can deal with the ongoing hunger strikes," Addameer representative Gavan Kelly told The Electronic Intifada.
Zbidat, however, doubts Hamdan will be force-fed. "I don't think Israel would dare force-feed [the prisoners] now because they know how much protest would follow."
Like all the administrative detainees, Hamdan "is demanding to be released or have a decent trial," Zbidat said. "He says only in the presence of a lawyer and with a signed agreement will he give up his hunger strike."
According to Addameer's latest data, there are currently 5,071 Palestinians in Israeli detention. Some 193 of these prisoners are children, 41 of whom are under 16 years old.
"It's an ongoing cycle," Zbidat said. "The prisoners face all the same violations by Israel. Some of the men … have been beaten and tortured. It's nothing new, but it deserves much more attention."
Daoud Hamdan called for international solidarity with his brother. "There needs to be popular support in Palestine and the rest of the world for the prisoner's intifada," Daoud said. "We're not thinking about the negotiations right now. They're bringing home 104 prisoners, but that's not enough."
Patrick O. Strickland is an investigative reporter for Mint Press News. His writing has appeared in Al Jazeera English, Truthout, AlterNet and elsewhere. Follow him on Twitter: @P_Strickland_.
Tags