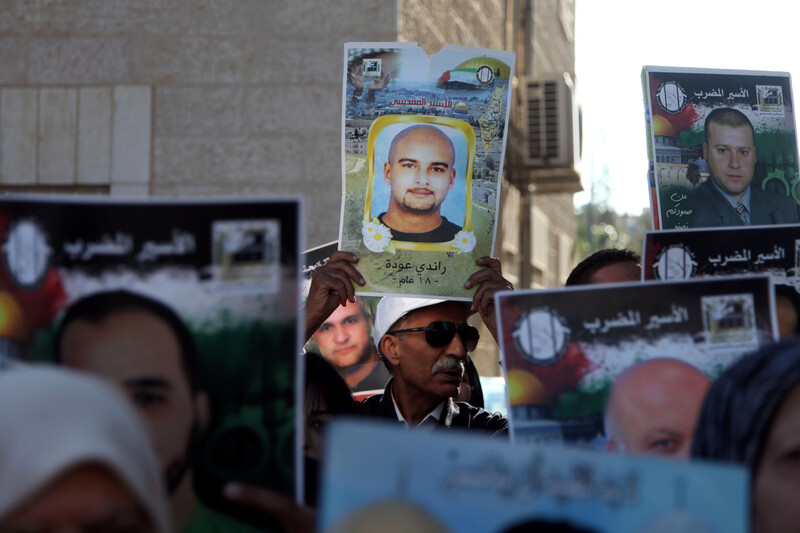 Dozens of Palestinians held without charge or trial by Israel ended their 63-day-long hunger strike protest yesterday — marking the longest hunger strike in the history of the Palestinian prisoners movement.
Palestinian and Israeli human rights groups stated today that approximately eighty of the hunger strikers are still hospitalized and shackled to their beds.
Meanwhile, the Israeli government is set to push through legislation which would permit the force-feeding of hunger strikers, a threat wielded by Prime Minister Benjamin Netanyahu in an attempt to break the two-month strike.
United Nations experts yesterday called on Israel to abandon the draft law, describing the plan to break the hunger strike as "cruel and inhuman" treatment.
Gavan Kelly of the Palestinian human rights and prisoner advocacy group Addameer told The Electronic Intifada last week that the force feeding tactic amounted to "torture … on an industrial scale."
Kelly added that "since the second half of 2011, not one day has passed where there hasn't been at least one Palestinian on hunger strike. And the Israelis have failed to deal with the hunger strikes … we consider that their way to deal with the hunger strikes is through introducing force-feeding."
In a short video published yesterday, Hassan Jabareen, the founder and general director of the Palestinian human rights group Adalah, explains the goal of the mass hunger strike and Israel's motivation to break it:
Torture
Though the details of any agreement to end the mass hunger strike remain unclear, what is certain is that Israel will continue to trample on the rights of the thousands of Palestinian political prisoners in its military occupation jails.
On the occasion of the International Day to Support Victims of Torture, Addameer today called for a United Nations investigation into Israel's "gross violations of the Convention against Torture and to hold it accountable in the International Criminal Court."
More than one hundred Palestinian political prisoners have died in Israeli detention since Israel ratified the United Nations Convention against Torture in 1991, Addameer states.
The widespread, systematic use of torture against Palestinian prisoners includes, as Addameer describes, "shackling prisoners in stress positions, beating them, holding them in isolation or solitary confinement, and sleep and sensory deprivation."
Palestinian children arrested by Israeli forces are also routinely subjected to torture.
Addameer adds:
in early 2014, 14-year old Rasheed Risheq was attacked by Israeli occupation soldiers and police in front of a supermarket in the Al-Wad neighborhood in occupied Jerusalem. About ten soldiers jumped on him, choked him to shackle his hands and legs, and held him on the ground while they beat him on the head, punched him in the face and kicked him in the legs and stomach. He was then interrogated rigorously and at length, during which he was strip-searched, held naked in isolation, subjected to severe threats on his family, and denied food all in an attempt to force him to confess and sign an affidavit in Hebrew, a language he does not read or understand.
According to Addameer, 75 percent of Palestinian children are physically abused during their arrest.
Psychological torment
The Israeli military court system's widespread use of administrative detention, "which allows for the indefinite detention of Palestinians without charge of the right to stand trial" based on secret files that detainees and their lawyers are forbidden from seeing, is "a form of psychological torture," according to Addameer.
Addameer states:
Salem Badi, who has spent over 6,100 days under administrative detention, testified to the psychological pain caused by the policy: "Administrative detention is a nightmare that keeps detainees and their families waiting to be shocked by continuous renewals of the administrative detention orders." Badi, who participated in the most recent hunger strike, also testified to the severe forms of the hunger strikers were subjected to, including brutal physical attacks, solitary confinement and threats of force-feeding. Hunger strikers have testified in the past that the doctors tending to them dangled feeding tubes in front of them to intimidate and coerce them to break their strike. The policy against hunger strikers, which includes both torture sanctioned by law and daily practice, is used to try to limit the political gains of the hunger strikers.
Israeli law outlaws the use of torture, but a loophole allows for the Israeli Security Agency (ISA) to consider an individual as a "ticking-bomb" case in "situations of necessity" so they can exert "moderate physical pressure" in order to obtain information from them. This policy, which is in direct violation of CAT [the United Nations Convention against Torture] is used extensively against Palestinian prisoners. Over 90 percent prisoners have stated that they were subjected to some form of physical or psychological torture during interrogation or detention. Arafat Jaradat, a young father of two was found dead in his prison cell just days after he was arrested from his home in Sa'eer, Hebron. He had several broken ribs, deep bruising on his body and other injuries that confirmed his torture.

Jaradat is one of 73 Palestinian prisoners who has died of direct torture in Israeli jails, and one of 23 who had died since Israel ratified CAT. At least 27 prisoners have died from medical negligence, including Maysara Abu Hamdiyeh, who was denied treatment in 2013. Fifty-four prisoners have been killed during their arrest raids or during raids in the prison, such as Ziad Julani, 41 years and from occupied Jerusalem, who was killed point-blank during the arrest in 2010 and Mohammad Ashkar, who was killed by Israeli Special Forces, who shot at the prisoners indiscriminately during a raid in Ketziot prison in 2007.
According to Addameer's figures, there were nearly 5,300 Palestinian political prisoners held by Israel as of 1 May, including nearly 200 held without charge or trial under administrative detention orders.
That number has swelled in the last two weeks as Israeli forces arrested an estimated five hundred Palestinians as part of a wider assault following the 12 June disappearance of three Israeli teenagers who were hitchhiking in the West Bank.
The Israeli daily Haaretz reported on Monday that the Israeli army plans to issue two hundred new administrative detention orders to Palestinians arrested during the military campaign. This will double the number of administrative detainees, making it "the highest number since July 2009," according to Haaretz.
Five Palestinians, including a child, have been killed by live fire during the raids on refugee camps, villages and cities throughout the West Bank.
Tags