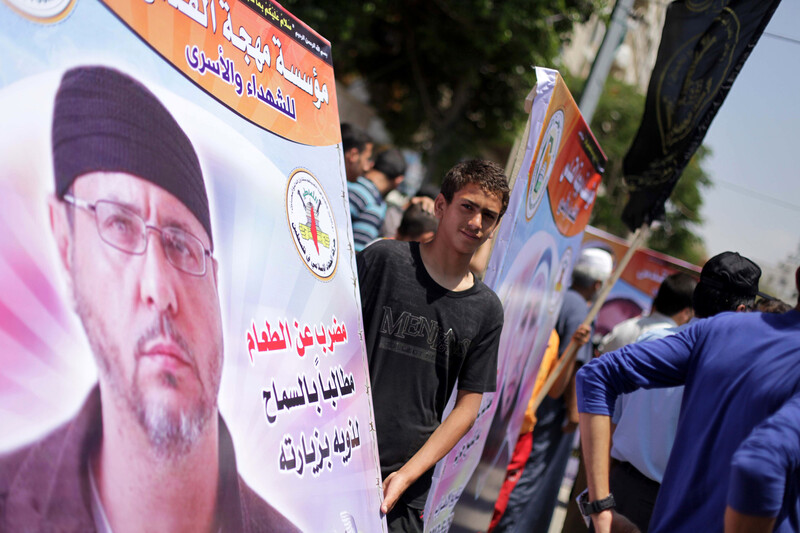 A lawyer with the Palestinian human rights and prisoner advocacy group Addameer says that five Israeli soldiers "savagely beat" a hunger striking prisoner on Monday after he asked why he was being transferred to another section of Soroka Hospital, where he is being held.
Mohammad Rimawi, along with two other hunger striking prisoners, has refused food for 99 days, Addameer stated today. Rimawi stopped taking vitamins, water and minerals on Sunday, and "is suffering from severe problems in liver and kidney function, general weakness, fatigue and dizziness and is unable to walk without assistance."
After the attack, Rimawi was shackled to a bed and was visited by an Israeli officer who threatened to force feed him — an often painful and widely condemned practice — and threatened to move him to solitary confinement "without providing any medical treatment until he dies in his cell," according to Addameer.
Lack of international pressure
When Rimawi complained about the attack, the officer reportedly told Rimawi that Israeli forces can treat him as they wish "due to the lack of international attention on his case, particularly from Jordan."
Along with the two others who have refused food for 99 days, Rimawi holds Jordanian citizenship. According to Addameer, the Jordanian hunger strikers "are demanding to be released from Israeli prisons to serve the remainder of their sentences in Jordan in line with previous agreements between Israel and Jordan."
Israel currently enjoys normal diplomatic relations with Jordan after the 1994 Wadi Araba Treaty signed by the two countries, an effort that coincided with the Oslo accords between Israel and the Palestine Liberation Organization.
The two other hunger strikers with Jordanian nationality — Abdullah Barghouti and Alaa Hammad — are in critical condition.
According to Addameer, "Barghouthi is shackled to a bed by his right hand and his left foot and is guarded by three Israeli soldiers. Like his fellow hunger striker [Mohammed Rimawi,] Barghouti has been threatened with force feeding should he fall into a coma."
Addameer adds that on Monday, Alaa Hammad "fainted and remained unconscious for five hours, without the guards calling a doctor. After finally receiving treatment Hammad regained consciousness."
The World Medical Association guidelines on the treatment of hunger strikers forbid the use of coercive measures, and specify:
Physicians or other health care personnel may not apply undue pressure of any sort on the hunger striker to suspend the strike. Treatment or care of the hunger striker must not be conditional upon suspension of the hunger strike.
Hunger strikers isolated, punished
Last month Addameer stated that it along with other human rights groups "are consistently being denied access to the hunger striking prisoners, both from denied applications and by indirect means, such as transferring the prisoner to another location on the date of an approved visit."
On one such occasion, Addameer was approved to visit five hunger strikers but was only allowed access to two: "the other prisoners were transferred without notice on the day of Addameer's visit, thereby denying them their right to legal counsel and further isolating them from the outside world."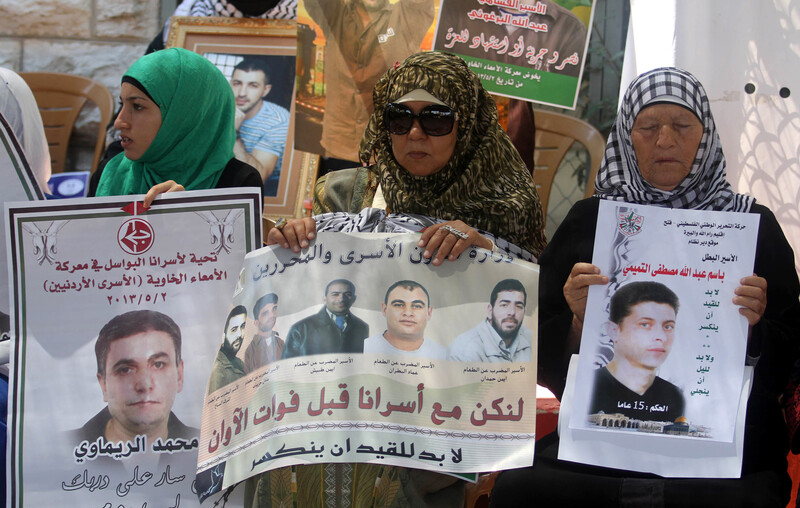 There are currently twelve hunger strikers in Israeli prisons and Israel has used various tactics to try to break their will. Ayman Tbeisheh, who is protesting being held by Israel without charge or trial under indefinitely renewable administrative detention orders, told Addameer he was held for five weeks in isolation in a two by two windowless cell with a mattress on the floor. Tbeisheh says that five other strikers, including Mohammed Rimawi, have been held in similar conditions.
Addameer also states that hunger striking prisoners "have reported that they are continuously transferred to different cells, subjected to night inspections, not allowed clothing, sheets, family visits and any contact with others except for a one hour recreation period in the yard. Those who are on hunger strike in protest of administrative detention have been promised verbally that they will not receive a renewal order, but the IPS [Israeli Prison Service] refuses to document the agreement in writing."
The rights group Amnesty International has previously condemned such punitive measures during the ongoing waves of Palestinian hunger strikes in Israeli prisons since September 2011, stating that "Such treatment is strictly prohibited under the ICCPR [International Covenant on Civil and Political Rights], and the Convention against Torture, to which Israel is a state party. It is also a violation of the requirement under international humanitarian law of humane treatment."
In a joint statement condemning the force feeding of hunger striking prisoners in Israeli prisons, at Guantanamo Bay detention camp and California prisons, where a historic mass hunger strike is underway, Palestinian and Israeli human rights groups report:
The Government of Israel is currently drafting a proposed bill that would allow the force-feeding of Palestinian political prisoners on hunger-strike. The proposed bill by the Justice Ministry as well as security and intelligence agencies is clearly designed to subdue the prisoners. We believe that medical decision making, both professionally and ethically, should not in any circumstances be regulated and controlled by political interests or security agencies.
Ill prisoners attempt suicide
Two ill Palestinians in Israeli prisons recently swallowed more than 40 pills at Ramle prison clinic in an attempt to take their own lives, Ma'an News Agency reported yesterday, citing the a statement issued by the Palestinian Authority's ministry of prisoners affairs.
The prisoners "were disappointed after their cases were not included in the ongoing negotiations with the Israeli government seeking to free detainees ahead of resuming peace talks," according to the ministry, which added that there are 18 seriously ill Palestinian prisoners hospitalized at Ramle prison clinic. The ill prisoners have petitioned PA leader Mahmoud Abbas to prioritize their cases in any talks with Israel to release prisoners.
Protests erupted earlier this year when Palestinian prisoner Maysara Abuhamdia, who suffered from cancer, died in Israeli custody. Abuhamdia, 64 years old, died shackled to a bed in the same hospital where Mohammed Rimawi was beaten this week.
Abuhamdia accused Israeli prison authorities of "intentional negligence" of ill Palestinian prisoners in a letter that he wrote before his death.
Another Palestinian died in Israeli custody this year; young father Arafat Jaradat passed away after being interrogated by Israeli intelligence agents following an arrest at his home seven days earlier in the village of Sair near Hebron in the occupied West Bank.
Tags