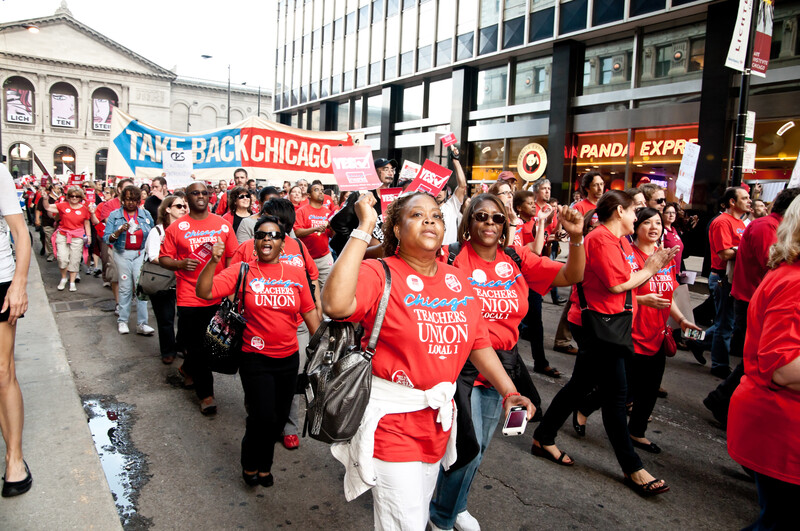 Teach For America (TFA) is best known for dispatching hundreds of idealistic college graduates to work in inner cities across the United States each year, but it also sends selected members on free, religious-themed tours of Israel.
Called The Reality Israel Experience, the TFA-sponsored trips bring idealistic young American teachers into contact with Israeli politicians and military personnel while "introducing [TFA] corps members to Israel's education and social justice systems."
According to testimonies featured on Reality Israel's official website, participants are at times led by a "military tour guide," visit with Israeli military educators at an army base "near Jerusalem" (in the occupied West Bank?), and enjoy "ATV off-roading all over the Golan Heights," an Israeli-occupied region of Syria.
The Reality Israel Experience is largely a project of Lynn Schusterman, the wealthy widow of the oil and gas tycoon Charles Schusterman. Since taking control of her husband's fortune, she has established a reputation as one of America's most aggressive backers of pro-Israel campus advocacy, funding campus-oriented ventures like Birthright Israel and The David Project.
As publicly-funded, privately-operated charter schools expand their reach and their wealthy advocates gain increasing influence over public education, boundaries between religion and state have blurred. This has opened avenues for ideologues like Schusterman to advance their political and religious agenda among a population of needy and impressionable children.
With an eye on promoting Israel advocacy in public schools, Schusterman has begun injecting millions into TFA, the advance guard of the education privatization movement.
Backed by billionaires
Since its birth in 1990, TFA has become a Wall Street-backed behemoth at the forefront of a movement that is rapidly placing large sectors of America's public education into private hands.
With at least $350 million in assets, including substantial support from billionaires like Bill Gates, Eli Broad and the heirs to the Walmart fortune, TFA has taken advantage of education reforms introduced under President George W. Bush and accelerated under the administration of Barack Obama. Thousands of its corps members are being moved into cities where certified, union-affiliated teachers are being laid off by the thousands.
Unlike certified teachers, TFA members must only complete a five-week summer training program before they enter the classroom. They work for lower salaries than certified teachers and must accept weaker health and pension benefits, a prime arrangement for libertarian-minded governors and mayors seeking to hollow out the public sector.
Since TFA requires only a two-year commitment from its teachers, more than half of TFA members leave their positions after a brief stint in the classroom. Some take advantage of a TFA partnership with Goldman Sachs to seek jobs at the investment firm, which recently paid much of a $247 million settlement with homeowners victimized by foreclosure abuse.
As a revolving cast of inexperienced, culturally uninitiated teachers drift in and out of inner city classrooms, many schools have been thrown into chaos.
Dissent is building within the ranks of TFA, with some veterans openly conceding that they were used as foot soldiers in a concerted assault on unions and public schooling.
But the organization's recruitment efforts remain strong; over 10,000 members hold TFA jobs across the country, taking advantage of opportunities for personal advancement not available to their certified colleagues.
Among the most coveted perks available to TFA members is Reality Israel, an all-expenses-paid, ten-day tour of the Holy Land. Unfortunately, not every teacher has what it takes to qualify.
Embracing Israeli discrimination
Though a few gentiles have been accepted to Reality Israel, its application process clearly offers preferential consideration to Jews. According to Reality Israel's website, participants are required to "have affiliations with or interests in Jewish life." Such language is likely to deter non-Jews, especially Muslim and Arab TFA members.
The criteria for acceptance seems to contradict TFA's stated non-discrimination charter, which claims to adhere to "a policy of equal treatment and opportunity in every aspect of its relations with its applicants, corps members, and staff members."
Even if they are accepted to a Reality Israel trip, Arab and Muslim-American teachers may be denied entry to Israel by the country's interior ministry, which deports as many as 100 American citizens per year, mostly for unexplained "security" reasons. Tellingly, most Americans rejected for admittance through Israel-controlled frontiers are non-Jews — Muslims, Arabs and non-Jewish peace activists.
One of the most highly publicized deportation cases was that of Nour Joudah, a 25-year-old Palestinian-American teacher at the Quaker-affiliated Friends School in the occupied city of Ramallah.
Last January, when Joudah attempted to return to Ramallah after a trip to Jordan, she was interrogated by Israeli security officers and sent back.
A month later, when she tried to enter again, she was detained and asked to list the names of every Palestinian she knew in order to build surveillance files for the Israeli security agency Shin Bet. When Joudah refused, Israeli forces deported her.
"As far as my students," Joudah told The Electronic Intifada after her deportation, "they've been following everything, every minute, and they are totally devastated."
TFA national spokesperson Steve Mancini responded to my question about whether Reality Israel's admissions policy squares with TFA's non-discrimination charter by claiming that Reality Israel is "open to all Teach For America corps members, regardless of their ethnicity and religion (see eligibility requirements). While the trip is designed for those who have affiliations or interests in the Jewish community, a significant number of accepted applicants do not identify as Jewish. During their two weeks in Israel, participants are exposed to a variety of different perspectives on equity and social justice."
Mancini added that TFA provides "identity-based leadership experiences" to other corps members, including summits for African-American males and Latino staff and alumni.
He did not respond to my questions about whether TFA was aware that Reality Israel participants tour through territory illegally occupied by Israel.
"Replace parts of the local culture"
According to Adam Simon, who helps oversee Reality Israel trips as associate national director of the Schusterman Foundation, Israel presents TFA corps members with "a microcosm of all the issues we have in the US, the same challenges around minority populations, the transfer of knowledge between generations, the opportunity disparity."
In this peculiar reading of shared US-Israeli values, the mostly African-American communities ("minority populations") that TFA operates within assume the role of Palestinians, a restive "challenge" to the enlightened, orderly Israeli majority, while the mostly white, highly educated TFA members are designated as civilizers imparting their values to the backwards natives.
Many TFA members work in charter schools like the Harlem Children's Zone and Knowledge Is Power Program's No Excuses program, which was founded by TFA alumni.
These schools operate according to a model "that teaches students not just how to think, but also how to act according to what are commonly termed traditional, middle-class values," according to David Whitman, now the lead speechwriter for US Secretary of Education Arne Duncan. "[While] these schools reinforce middle-class mores, they also steadfastly suppress all aspects of street culture," Whitman explained approvingly, marveling at the strict regime of discipline imposed on the black and brown students.
In a disturbing op-ed that likened residents of Harlem to Voodoo-practicing Haitian earthquake victims, the neoconservative New York Times columnist David Brooks echoed Whitman, cheering paternalistic charter schools for rooting out African-American cultural traditions through the imposition of "middle class" values ("The underlying tragedy," 14 January 2010).
"It's time to promote locally led paternalism …," Brooks wrote, "… the programs that really work involve intrusive paternalism. These programs, like the Harlem Children's Zone and the No Excuses schools, are led by people who figure they don't understand all the factors that have contributed to poverty, but they don't care. They are going to replace parts of the local culture with a highly demanding, highly intensive culture of achievement — involving everything from new child-rearing practices to stricter schools to better job performance."
Brooks concluded that the only way to enforce change on "progress-resistant cultural influences" was through "major traumas" like earthquakes.
A union-busting "colonial project"
Though no earthquake struck inner-city America as Brooks apparently wished, the destructive impact of Hurricane Katrina prompted the firing of 7,500 education workers in New Orleans, the conversion of most of the city's schools to charters, and a nearly 20 percent decline in the share of black teachers working in the district. Meanwhile, TFA expanded its operations in the city, moving about 300 new members into teaching positions.
"I think the best thing that happened to the education system in New Orleans was Hurricane Katrina," US Secretary of Education Arne Duncan remarked.
In Chicago, where Mayor Rahm Emanuel has shuttered nearly fifty public schools, mostly in predominately African-American neighborhoods, approximately 850 teachers and staffers have lost their jobs. The man-made disaster has been a boon to TFA, which is pouring into Chicago with hundreds of non-union replacement teachers. "The added influx of TFA corps in the city means they now compete head-to-head for jobs with traditional teachers," noted journalist Emily Brosious.
"TFA basically now is a replacement worker organization," Branden Rippey, a Newark, New Jersey-based public high school teacher and leader of his city's New Education Workers caucus, told me. "They are a scab-running company; they lay off tenured teachers and bring in scab workers. The [TFA] kids are so young, they haven't had experience, they haven't had conflict with their bosses, they don't understand what's happening and don't know what they're being used for."
Echoing criticism of TFA heard in cities across America, Rippen described the organization as the spearhead of a "colonial project" that is throwing schools and communities into chaos.
In some cases, TFA members work in gleaming charter schools that occupy space seized from traditional public schools still operating under the same roof. School reformers call the practice "co-location." Dave Levin, a TFA alumnus and the Knowledge Is Power Program's co-founder, highlighted the propaganda value of co-location with a revealing comparison.
"Sometimes the tensions of co-location — a door or a line down a hall separating the two sides — are like Israel and Palestine," Levin told journalist Steven Brill. "But when you have visitors and see the two sides, you really don't have to say much about what this is really about" (Steven Brill, Class Warfare: Inside the Fight to Fix America's Schools).
Public funding to promote Israel
In 2009, the first year of Reality Israel, Schusterman began investing heavily in the charter school movement, donating $2 million to TFA and later establishing a TFA institute in her hometown of Tulsa, Oklahoma that aimed to transform the city into "the epicenter of the education reform movement." The move complemented Tulsa Public School Superintendent Keith Ballard's firing of around 300 public school teachers, who were mostly replaced with TFA corps members.
A year before Schusterman began supporting education privatization, Michael Steinhardt, the hedge fund manager who commits millions each year to Birthright Israel, and who has declared, "There were no Palestinian people," initiated an effort to establish a network of Hebrew-language charter schools that promoted Israel on the public dime.
By 2010, Steinhardt's 35-year-old daughter, Sarah Berman, was in charge of the Hebrew Charter School Center, a charter network that drew support from public financing and from wealthy ideologues like Schusterman, who has contributed at least $250,000 to schools operating in its sphere.
According to the principal of Brooklyn's Hebrew Language Academy — the first charter in the center's nationwide network — the school's goal "is to foster a love for the country of Israel in all of its diversity."
Reporters Nathan Guttman and Naomi Zeveloff of the Forward reported that the Israeli flag stands beside the American flag in classrooms of the Hebrew Language Academy (45 percent of the school's students are non-white). Despite criticism from the New York Civil Rights Coalition, which accused the charters of skirting the constitutional separation of religion and state to "transmit cultural values and identity," the publicly-funded network has expanded across the country.
One new school in the Hebrew Center's network, the Kavod Elementary Charter School in San Diego, California, was founded by Jennie Starr, an official with the American Israel Public Affairs Committee (AIPAC). In 2011, Starr highlighted the new academy as a kind of pro-Israel activism mill, writing, "A passionate, Israel-oriented, Hebrew speaking community will almost certainly support Israel and stay connected to Judaism."
According to a 2011 segment on Public Radio International's program The World, this is how children at the Hebrew Language Academy in Brooklyn begin each school day:
[Teacher is heard saying]
"Hands at your side like a soldier…"
[Students begin to sing.]
PRI reporter: It's not just any song … it's the Hatikvah, the Israeli national anthem.
As the billionaire-backed, bipartisan movement for education privatization sets its sights on inner cities across America, pro-Israel ideologues like Schusterman are riding the momentum. And it seems that little can stop them from imposing their agenda, not even the US constitution.
Max Blumenthal is an award-winning journalist and bestselling author. His next book, Goliath: Life and Loathing in Greater Israel, will be published by Nation Books in October.
Tags