Last month, dozens of alumni and former staff members of an elite Jerusalem high school stated their refusal to serve in the Israeli military, and called on future graduates of the Israel Arts and Sciences Academy to reject the draft.

"Refusing to serve in the Israeli military is not an easy choice, but a moral stance against a collective mood manifested in racism and violence on every street these days," the refusers' letter states.

"It is a choice to withstand the pressure coming from one's home, friends, professional environment and the media, and to not take part in the crimes done in our name."

"The military serves as an enabler to a separation-regime based on the notion of an ethnic superiority of Jews over Palestinians," the letter adds.

"Today, after the most recent massacre in Gaza, a horror committed in our name against nearly two million people – half of whom are children and teenagers – we choose not to remain silent," the letter says.

One of the signers, activist and composer Amit Gilutz, was interviewed on RT by Abby Martin this week. Watch the video above.
Indoctrination
Gilutz speaks about the "significant role that the Israeli educational system has in the indoctrination of students to become obedient soldiers."
This indoctrination, Gilutz says, "starts in kindergarten" with the presence of "uniformed teachers."
Gilutz refers to the 2012 book Palestine in Israeli School Books, by Nurit Peled-Elhanan, which demonstrates how the Israeli educational system demonizes Palestinians.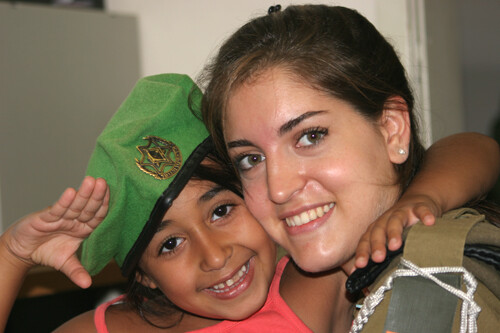 There is a "very high degree of cooperation" between the ministry of defense and the ministry of education, Gilutz says.
This includes "field trips to the occupied territories, normalizing the occupation by sending students to Hebron."
Schools that produce the highest numbers of military recruits are given financial incentives from the government, Gilutz explains.
Given this official atmosphere, Gilutz says that the letter writers wanted to try to reach young people directly.
"Look, the education you are receiving is at best a manipulation," he wants students to hear.
"You're only being given the tools to rationalize reality and accept your role in it as the oppressor, as someone who is about to take an active role in the dispossession of the Palestinians and the continued ethnic cleansing of Palestine and participating in the crimes of occupation and apartheid."
Students, Gilutz adds, are "not being given the tools to imagine something that is beyond and outside of this reality and to try to create change."
"A country that is based on the oppression and occupation of millions of people is not a normal country," he says, "and that needs to change urgently."
Tags