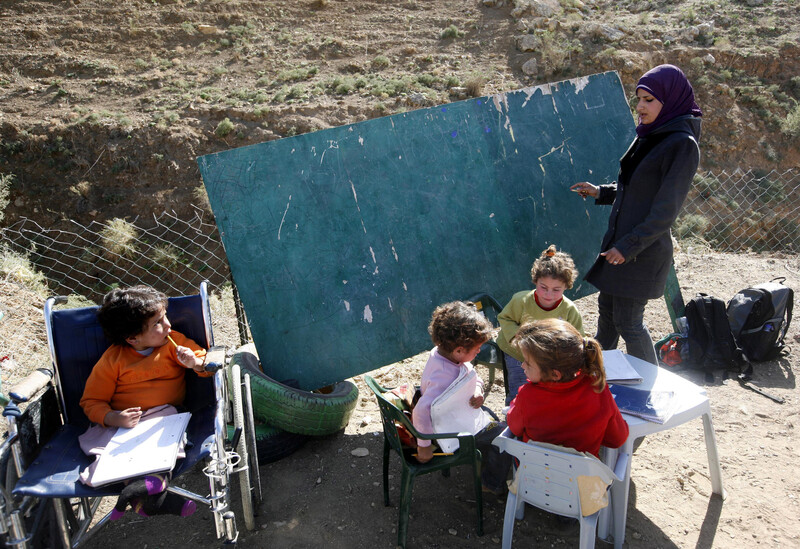 AL-FASAYIL, occupied West Bank (IPS) - "It's tiring," said 15-year-old Ibrahim, deep lines running across his forehead. "But there is no alternative." Ibrahim has been working full-time for three years already.
The eldest son in a family of ten children, he lives in the Palestinian village al-Fasayil in the occupied Jordan Valley, and is forced to work in the nearby Israeli settlement Tomer to help support his siblings. "I work from 6am to 1pm," he said. "And I get 70 shekels [$18 dollars] per day."
Al-Fasayil residents say that more than a dozen youths from the village, all under the age of 18, are currently working in Israeli settlements in the Jordan Valley. It is estimated that between 500 and 1,000 minors travel from other villages and cities throughout the West Bank to work in the area.
Most child laborers in the Jordan Valley make between 50 and 70 shekels per day and are employed to pick, wash and package fruit and vegetables grown in local Israeli agricultural settlements. They work long hours in difficult weather conditions throughout the winter and summer months, and receive no benefits or insurance against injuries.
"There are so few options in the Jordan Valley. Due to Israeli restrictions that are in place on economic and agricultural development, there's nothing. Palestinians can either stay at home all day or work in a settlement and be able to provide for their families," explained Christopher Whitman, advocacy coordinator at Ma'an Development Center, a Palestinian anti-poverty group based in Ramallah.
No minimum wage
Whitman said that while Israel must apply the same labor laws enforced inside its internationally-recognized borders to the West Bank territory it occupies, including the Jordan Valley, it fails to ensure that Palestinian laborers working in Israeli settlements get paid the Israeli minimum wage, or receive healthcare, sick days off and other employment rights.
"Israel has to follow the same laws as would apply in Israel. If you had Jewish-Israeli, Ashkenazi children working in settlements doing manual labor, there would be an upheaval in Israel against it," Whitman said.
"If they're under 18, they're only allowed to work a certain amount of hours in certain conditions. They're not supposed to be doing manual labor. Their rights need to be protected."
Almost 95 percent of the Jordan Valley is designated as Area C, which is under full Israeli military and civil control. Approximately 80,000 Palestinians — including 15,000 Bedouins — live in Jordan Valley, along with 9,400 Israeli settlers.  And the area counts 37 Israeli settlements, including seven "outposts" that are illegal even under Israeli law.
According to Israeli human rights group B'Tselem, "Israel has instituted in this area a regime that intensively exploits its resources, to an extent greater than elsewhere in the West Bank, and which demonstrates its intention: de facto annexation of the Jordan Valley and the northern Dead Sea area to the State of Israel."
Restrictions on building schools
A major component of this policy is the restrictions placed on Palestinian construction, as Palestinians can build in only five percent of the Jordan Valley. Homes, schools and virtually all other structures are built without permits, and these structures are therefore nearly all subject to Israeli demolition orders.
Restrictions on building schools have had a particularly devastating impact on child development in the Jordan Valley.
"A high number of Palestinian children are denied their basic right to education, or are forced to travel many kilometers by foot over dangerous terrain to attend school," a recent Ma'an report stated ("Parallel Realities: Israeli settlements and Palestinian communities in the Jordan Valley," Ma'an Development Center, April 2012 [PDF]).  
"Approximately 10,000 children living in Area C started the 2011/12 school year learning in tents, caravans, or tin shacks which lack protection from the heat and cold. Furthermore, nearly a third of Area C schools lack adequate water and sanitation facilities. In addition, at least 23 schools serving 2,250 children in Area C have pending stop-work or demolition orders," the report noted.  
For al-Fasayil resident Fatima, the mother of seven children, extreme poverty and few educational and job opportunities have left her concerned for the future of her family.
"My son was smart, but had to stop school to help his father," Fatima said, referring to her eldest son, 15-year-old Khalid. Khalid stopped going to school after completing the eighth grade, and was forced into working in a nearby Israeli settlement because his father is elderly and can no longer work to support the family.
"I hope that one day he can learn a trade, and I hope that my younger children can continue studying," she said. "I'm afraid. It's difficult."
Some of the names in this article have been changed.
All rights reserved, IPS - Inter Press Service (2012). Total or partial publication, retransmission or sale forbidden.
Tags