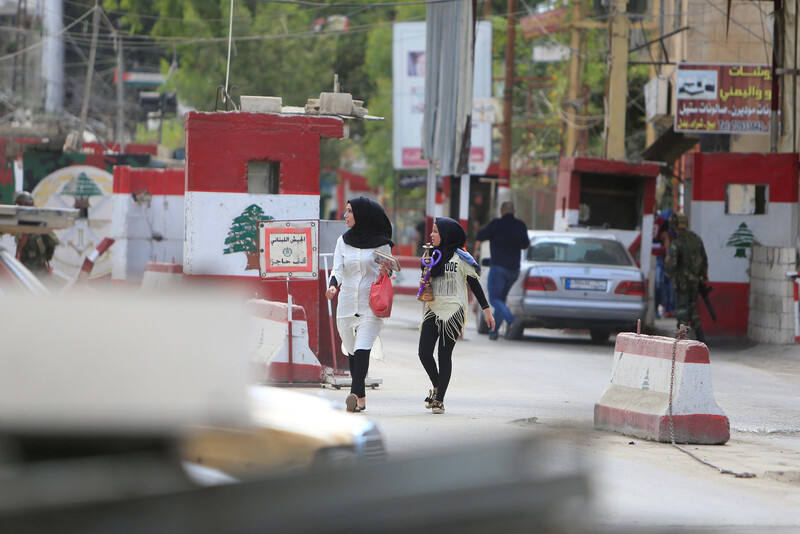 For young people in Ein al-Hilweh, Lebanon's largest Palestinian refugee camp, there are few glimmers of hope for a better life.
Like many of his peers in the impoverished community – not far from the coastal city of Sidon in the south – Khaled, 17, dropped out of school years ago. But unlike many of his peers, he hasn't taken up arms in exchange for a monthly stipend from one of the camp's many political factions, saying he would "rather play video games and spend time with friends."
Instead, he takes electrical engineering classes sponsored by international organizations as a means of escaping the danger in Ein al-Hilweh's narrow streets.
He's trying to make the best of a dismal situation, and hopes to one day find work as an electrician. But discriminatory Lebanese labor laws mean that Palestinians are effectively banned from working in many professions, forcing them into underpaid and precarious labor. According to ANERA, the American Near East Refugee Agency, two-thirds of Palestinian refugees in the country live below the poverty line.
"My family and friends live in the camp, I want to stay with them, but I want a normal life also. This is very difficult," Khaled said.
Many other young men in Ein al-Hilweh have found regular stipends from the militias of the camp's political factions. Representatives of different groups, armed with assault rifles, patrol various neighborhoods, demarcating the lines of control. It's dangerous work, but it provides a paycheck.
Indeed, the latest flare up of armed violence left three dead – one of them reportedly assassinated – and at least five injured in December.
Security threat
Lebanon, meanwhile, treats young people like Khaled as a security threat.
In November, the army, with the initial agreement of Palestinian factions, broke ground on a project to wall off the camp.
The plan was put on hold after a public outcry, many comparing the concrete wall complete with watchtowers with the more massive one Israel has built in the occupied West Bank.
Like Israel, Lebanon claims security as justification for its wall, as militants have taken refuge from the army in Ein al-Hilweh in recent years.
But for residents of the camp, the wall is a visible symbol of their undesirable status in Lebanese society.
Zafer Khateeb grew up in Ein al-Hilweh, and now works as an activist and director of Nashit, a foundation which runs educational programs for youth and facilitates dialogues to try to overcome bitter sectarian divisions in the camp.
He has opposed the wall since the project was announced.
"They [the Lebanese government] want to encourage the spirit of extremism. To make people feel tension and risk … but they know the groups in the camps don't have the capacity to make a big problem. There are already many guard posts, the Lebanese army can control the whole area outside the camps. There is no need to make a wall, but it will make them look stronger."
As for the committee which oversees the internal affairs of the camp, Khateeb said, "They benefit, because they can get support from the military. Palestinians need to clean [out] their own extremists … but they don't care for this, just for control."
Both the Lebanese military and representatives of the Palestine Liberation Organization refused to comment on the conditions of security coordination deal.
Activists like Khateeb feel that the Palestinian administration depends on the support of the Lebanese government to maintain political and military control in the camps, making them less interested in building popular support. The security coordination, for example, allows Palestinian security forces to jointly control checkpoints in and out of Ein al-Hilweh with the military.
According to Khateeb, increased security measures will do little to improve conditions in the camp. "There is already the mentality of a ghetto here, the feeling that the outside hates you," he said. "It makes daily life very difficult."
Vulnerable
That reality is especially hard on youth.
Ayah, 17, said her photography class is one of the few places in the camp where she feels safe.
"I want to work in a photography studio," she told The Electronic Intifada, "but only outside the camp. Inside it is too dangerous to stay in the store alone. Sometimes you must stay there for a whole night because there is fighting and you cannot go out in the streets."
Political and economic reform is the only way to improve these conditions, said Abdelnaser El-Ayi, director of the Lebanese Palestinian Dialogue Committee, a liaison group between the Lebanese government and Palestinian factions.
"A refugee who is vulnerable outside of the system, who is not registered, who is not receiving services, will really be a security problem, a social problem."
Economic and social integration, however, runs counter to Lebanon's historical treatment of Palestinian refugees – those who were expelled from their homeland by Zionist militias in 1948 and their descendants.
The ongoing war in Syria, meanwhile, has seen 1 million people from that country flee to Lebanon. At least 1.5 million Syrian and Palestinian refugees are registered in Lebanon, and an unknown number live in the country without papers.
Like with the Palestinian refugees before them, the government has resisted any measure to integrate newly arrived refugees, most of whom are Sunni Muslims, into Lebanese society, for fear it would disrupt the country's volatile confessional political system.
The Lebanese military has imposed curfews on refugees on several occasions, and in several instances there have been mass arrests of Syrians.
Discrimination
Palestinians who fled the same violence as Syrian nationals are meanwhile treated differently and have a much more difficult time entering and staying in the country.
Kinana and Juman, 24 and 29, sisters from Yarmouk, fled to Ein al-Hilweh along with their family after fighting broke out in the Damascus-area camp. Their brothers have made the crossing to Europe, in order to find jobs, and to avoid conscription to the various militias fighting in Syria.
"Our brothers are in Europe, and we want to join them, or go back to Syria. But now we cannot leave, and we cannot leave our parents. But there is no life for us here."
Juman said she avoids political affiliations and conflicts. "I am only looking for work, nothing else. It is more dangerous here than even Yarmouk."
Nada, 19, a photography student, told The Electronic Intifada that the security deal between Lebanon and the Palestinian factions doesn't make her feel any more secure.
"I feel safer going to class, I feel safer outside the camps, but sometimes it takes almost an hour to leave via the checkpoint," she said.
"You have [the] privilege to leave easily if you are connected to Palestinian security," she explained, referring to sectarianism and corruption in the camp. "If I could change one thing about Ein al-Hilweh, the factions would get along better. Then this would be easier."
Her classmate in the ANERA-sponsored course, Khalil, added, "If you are part of Fatah, you can only be in some parts of the camp," referring to the secular party of Palestinian Authority leader Mahmoud Abbas. "You can get along with anyone if you are not part of a faction, but then you cannot go to them for opportunities."
Khateeb said Nashit is trying to find ways for non-affiliated residents of Ein al-Hilweh to express dissent against the wall, but he is skeptical of how much of a difference it will make.
"[Nongovernmental organizations] don't have the ability to prop up the camp, and the Lebanese government doesn't help at all. [Nongovernmental organizations] could be a voice for the people here … but the PLO [Palestine Liberation Organization] factions don't ask from us."
Clare Maxwell is a freelance journalist and media activist reporting on environmental and social justice movements in the Middle East.
Tags