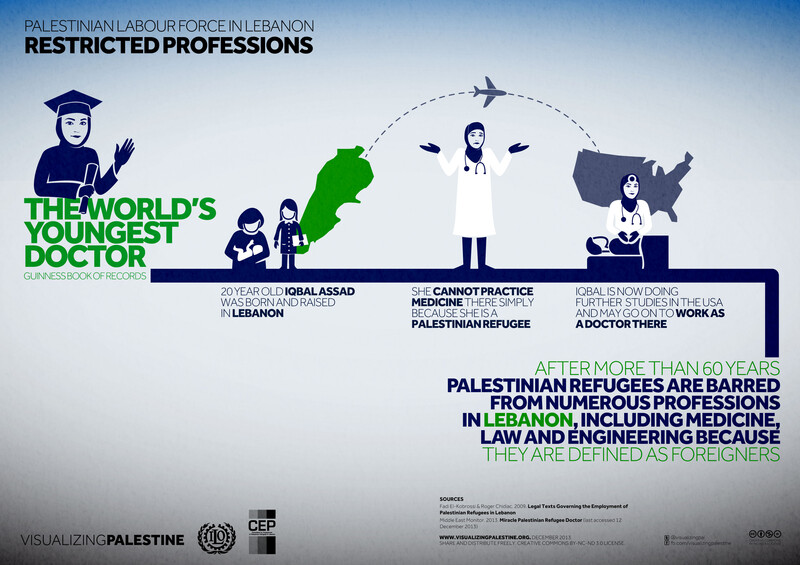 After more than six decades of forced displacement, Palestinian refugees in Lebanon find themselves largely excluded from the formal labor market. As a result of discriminatory laws and biased attitudes, most Palestinians face precarious working conditions and economic hardship.
In Lebanon nowadays, when asked why they are paid less, many refugees can only reply "because I'm Palestinian." Why are you banned from practicing more than 70 professions? Why can't you travel? Why can't you own property? Why were you arrested at every security checkpoint? Why won't Lebanese hospitals treat you?
The answer is always the same: "because I am Palestinian."
In the last 66 years of forced displacement caused by the Israeli occupation of Palestine, Palestinian refugees in Lebanon today survive but are deprived of the freedom to really live.
Visualizing Palestinian plight
Creative organizers have recently gotten together with the Visualizing Palestine initiative to publish facts and statistics via infographics to shed much-needed light on the socioeconomic situation of Palestinian refugees in Lebanon.
This series of four infographics — based on the latest International Labor Organization research — offers an overview of the key issues facing the Palestinian refugee labor force in Lebanon, including their exclusion from high status professions and social security health benefits.
One the graphics highlights the situation of Iqbal Assad. Last year, at the age of 20, she became the world's youngest doctor.
But, as a Palestinian refugee in Lebanon, she couldn't practice. Medicine is among several dozen professions from which Palestinian refugees are barred.
These infographics were created in partnership with the ILO and the Committee for Employment of Palestinian Refugees in Lebanon.
Struggle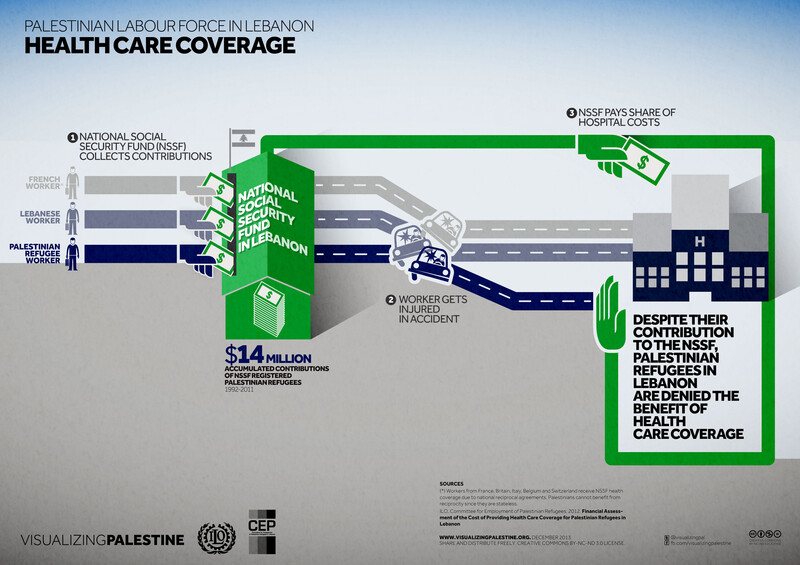 To be a Palestinian in Lebanon in 2014 is a struggle to remain alive. One hopes for the least exploitation possible while surviving.
Palestinians, alienated by the Lebanese political and official discourse, are treated either as a burden, a threat, or potential agents provocateurs plotting to ruin Lebanon from inside their sunless refugee camps.
Dehumanized in the eyes of the Lebanese public, Palestinians remain isolated in their camps. They continually fend off the fire of Lebanese sectarian politics that might vent Lebanese frustration and demonstrate chauvinistic nationalism by destroying yet another Palestinian camp (as was done to Nahr al-Bared in 2007).
The most important question inside the Palestinian refugee camps is one which also has only one answer: what do you want?
The answer rings out: to return to Palestine and live in dignity.
Restrictions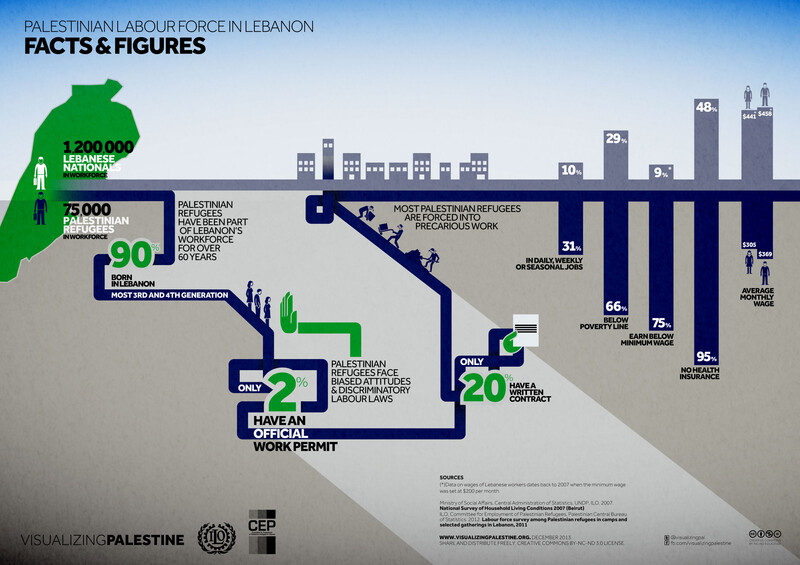 The struggle for return remains alive as thousands of Palestinian refugees continue to survive daily. But it is a hard life of endurance.
The "lucky" few who manage to leave Lebanon risk it all as they are trafficked by sea to Europe. As for the ones left behind, their life remains shackled under strict Lebanese laws and restrictions. Because of the harsh restrictions on professions, people do whatever they can to make a living.
Hayat Masri, a 26-year-old single woman, has been a sales clerk at a perfume and cosmetics shop in the Tarik Jdideh neighborhood of Beirut for five years. She lives a few minutes away from her home in Shatila refugee camp.
"I started this job after I dropped out of university," Hayat told The Electronic Intifada. She realized she had wasted her time. "I had to help my mother shortly after my two brothers immigrated to Germany." She lives with her mother in a one-bedroom apartment.
As a Palestinian, Hayat had no ability to bargain for a decent salary, so she had to take whatever was offered to her. She said her first three years at work were tough. "I was making 50,000 LBP [$36] per week until two years ago when I stood up to my boss and demanded a raise. It became better as my salary jumped to 100,000 LBP [$66] per week."
Heavy burden
Hayat is of the fortunate ones in the camp — she has a fixed income and some money sent from her brothers in the diaspora, who contribute whenever they can spare a dime or two.
The majority of men in Palestinian camps carry the heavy burden of having to put food on the table starting at a young age. Palestinian fathers, fiancés and brothers wake up to a daily struggle and hustle inside and outside their camps.
Squatting in one sunny spot on a narrow damp ally in the Shatila camp was Emad, 24, a freelance bricklayer. Emad had not had a single day of work in the last three months. A master of his profession, he spoke in despair.
"I started laying bricks when I was thirteen. Nowadays, I'm lucky to score three to four jobs a year that will pay the price for my experience," he explained.
Due to a boom in the real-estate and construction markets, which are taking advantage of an abundant labor force caused by fleeing Syrians and Palestinians from the war in Syria, construction has seen a surge recently.
But Emad laments that "when Lebanese contractors see that [a worker] is Palestinian, they offer to pay a fixed labor rate regardless of expertise, which used to be 20,000 LBP [$13] per day two years ago — and now is between 15,000 [$10] and 10,000 [$7]."
"Daily labor rates have dropped recently because of an abundant labor force made by the fleeing Syrians and Palestinians from the war in Syria."
The plight of Palestinian refugees in Lebanon is so severe that it is not easy to visualize, imagine or contextualize the daily suffering.
Yet these infographics help us to understand a situation that is too often hidden from view.
Moe Ali Nayel is a freelance journalist based in Beirut, Lebanon. Follow him on Twitter @MoeAliN. More Visualizing Palestine infographics can be found at visualizingpalestine.org.
Tags