Palestinian refugees in Lebanon have been trying to remain outside the consuming fire of Lebanese politics.
Since the 2007 destruction of Nahr al-Bared refugee camp by the Lebanese army in the north of the country, Palestinian refugees have learned to quickly take preemptive measures to avoid a repeat of that disaster.
In 2007, militant Islamic fighters Fatah al-Islam, who had been employed by local Sunni sectarian politicians as potential proxy fighters, hid out in Nahr al-Bared camp. An armed confrontation with the Lebanese army ultimately led to the army destroying the camp, home to nearly 30,000 refugees.
A similar threat is today looming over Ein al-Hilwe camp, near the southern city of Sidon. That camp is home to more than 80,000 Palestinian refugees.
In recent months, Lebanese media have increasingly been claiming that various Lebanese Sunni extremist figures with ties to al-Qaida's affiliate in Syria, Jabhat al-Nusra, and with the "Islamic State" group are hiding in Ein al-Hilwe.
Palestinians are again becoming a scapegoat, despite the fact that some of these extremist figures have enjoyed the backing of top Lebanese political figures.
Palestinians in Ein al-Hilwe are acutely aware that their camp could turn into another arena for Lebanese politicians to settle their differences.
Moreover, since right of return to Palestine is still denied to them and their land still occupied by Israel, in the current hostile Lebanese environment there is literally no place to go outside the camp, which is only one square kilometer in size.
Ein al-Hilwe is still housing refugees who fled the destruction of Nahr al-Bared, and who never saw a full process of reconstruction in their camp. Since 2011, the southern camp has also been sheltering a large influx of refugees from the civil war in Syria.
War in the north
The recent wave of defamation against the largest Palestinian refugee camp in Lebanon started on 24 November when Lebanese media circulated news alleging the entry of Shadi Mawlawi into the camp.
Shadi Mawlawi is a controversial Lebanese operative who was arrested in 2012 by the Lebanese general security on charges of recruiting fighters in the northern city of Tripoli to fight the regime in Syria. He was also accused of facilitating financial support for Islamic groups in Syria.
Following the arrest of Mawlawi in May of that year, protesters in Tripoli took to the streets demanding his immediate release. Mawlawi was soon released and met with then Prime Minister Najib Mikati at the latter's private Tripoli home, affirming his credentials with the Sunni polity.
In September, Mawlawi, now openly an Islamist firebrand, made a local TV appearance announcing his support for Jabhat al-Nusra. On 24 October, following Friday prayers, Mawlawi, his supporters and other militant groups clashed with the Lebanese army for three days in the historic market of Tripoli. This small war spread all the way to Akkar, the most northern district of Lebanon, where the militants were thought to have fled afterwards.
In the last two weeks Ein al-Hilwe camp has become the subject of a torrent of accusations made by Lebanese security forces. Media outlets have alleged that the camp is hosting Shadi Mawlawi, sectarian salafi rabble-rouser Ahmad Assir, singer-turned-Assir-supporter Fadel Shaker (wanted for calling on Sunnis to defect from the army) and Salafi preacher and northern militia leader Khaled Hoblos — the four of them among the most wanted men in Lebanon.
Nonsensical allegations
In response, Palestinians took a collective deep breath, baffled by the absurdity of the allegations.
One Palestinian from Ein al-Hilwe, who asked not to be named, said news reports that Mawlawi paid a taxi driver $100 in Tripoli — who then "drove him across all the checkpoints from north to south" and into a camp in a state of lockdown by the Lebanese army — were laughable.
"Each time I step foot outside the camp the Lebanese army check my ID and search me head to toe. They want to convince us that one of the most wanted men in Lebanon casually strolled into the camp," the young man remarked. He further elaborated that the Lebanese army "even have female Lebanese soldiers on all the entrances searching women, especially those who wear a niqab [face veil]."
Following the latest accusation, the Lebanese military intelligence chief in the south, Ali Shahrour, summoned the Security Coordination Committee from Ein al-Hilwe camp to Zoaib military base in Saida and declared that Shadi Mawlawi was hiding in the camp.
(This camp-specific committee includes members of the Palestine Liberation Organization and members from other political factions in the camp which are not part of the PLO. The committee was created after Nahr al-Bared as a response to accusations that the camp was sheltering the remnants of Fatah al-Islam. It has been coordinating security matters with the Lebanese army ever since.)
The intelligence chief emphasized that Palestinian political factions should assume their responsibility over the security of their camp. He also insisted that Khaled Hoblos, Ahmad Assir and Fadel Shaker were all inside Ein al-Hilwe, despite the fact that it is common knowledge that Assir fled Lebanon following his battle with the Lebanese army in Abra Saida two years ago.
Following the security meeting, and without a shred of evidence, Lebanese media trumpeted the idea that the fugitives are residing in the camp and planning attacks against Lebanese army forces.
The most important details, however, were never mentioned in any report: how did these men manage to enter a camp enclosed by walls, topped with barbed wire, the gates of which are controlled by the Lebanese army? Not to mention precautions taken by the camp's Security Coordination Committee, which has been coordinating with Lebanese security forces.
Misinformation
An urgent campaign of reassurance that no wanted men were hiding in Ein al-Hilwe was launched by the Palestinian Supreme Security Committee — a PLO body tasked with supervision of Palestinian refugees' security in the camps in Lebanon, which is composed of members from all PLO factions.
The campaign was spearheaded by its chief, Sobhi Abu Arab, who shuttled between various Lebanese political groups and security figures saying as much.
Sheikh Abu Sharif Akel, a member of the security committee for Ein al-Hilwe camp and a spokesperson for Usbat al-Ansar — another non-PLO Islamic Palestinian faction, allied with Hamas — said at a meeting with the Mufti of Saida on 2 December that the camp would defend itself from any "evil" outside elements:
"We do not want either Shadi Mawlawi nor Ahmad al-Assir nor any of these names that carry trouble and problems into the camp," Akel said. 
"There is insistence by some Lebanese parties, who seem to have information not available to us, claiming that Shadi Mawlawi has entered the camp," he added. "We tell Shadi and others that the camp has its cause and destination and its compass is fixed towards Palestine … Go back to where you came from, the camp is a host only to those who care about Palestine."
Realizing the consequences of the accusations against the camp, Palestinians in Lebanon have refuted and denounced them, finding that staying neutral in the country can be a challenging feat.
"Security sources"
Despite the ongoing campaign of dehumanization of the camp, Palestinian refugees from Ein al-Hilwe have retaliated to the absurd allegations in kind.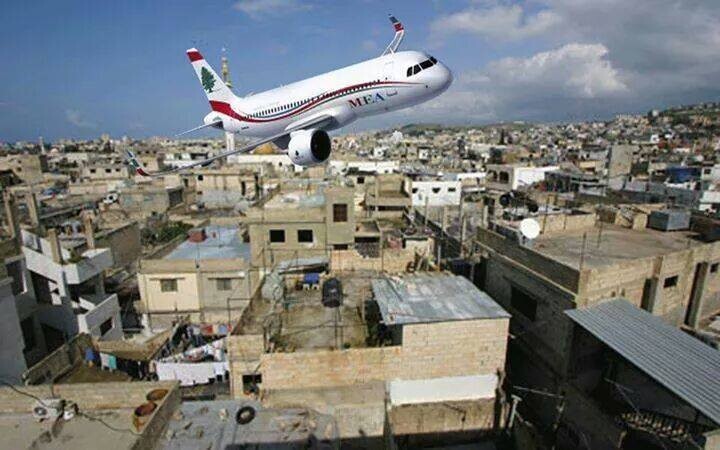 The caption to this image circulated on social media reads: "Al-Jadeed reporter: an exclusive picture of the airplane that transported Shadi Mawlawi to Ein al-Hilwe. PS: picture taken from inside a flock of pigeons."
Other efforts against the incitement against Ein al-Hilwe have proved more serious.
After the leftist Lebanese newspaper Al-Akhbar, citing unnamed "security sources," published an alarmist report stating that the camp is harboring some the most wanted men in Lebanon, a joint Palestinian security delegation composed of Islamist and national representatives headed to the Hittin neighborhood of the camp.
The commission made a surprise visit to the residence of Islamist activist Naim al-Naim. Following a detailed inspection the commission found no evidence to back up media allegations claiming Shadi Mawlawi and other wanted men were hiding inside al-Naim's home.
Countering infighting
Meanwhile an ad hoc initiative was organized by youth and civil society groups in the camp, who are keen not to be dragged into a repeat of the Nahr al-Bared tragedy. The youth initiative has staged protests and started media awareness campaigns to demonstrate that Palestinians remain neutral, and are not harboring any criminals wanted by the Lebanese state.
The Association of Palestinian Journalists in Lebanon meanwhile launched a petition titled "Your security is my security" and issued a statement rejecting media incitement against Palestinian refugees in the country.
Despite continuous efforts by Palestinian refugees in Lebanon to push back against scapegoating by the Lebanese media, dehumanization persists in Lebanese public discourse.
Palestinian refugees in Lebanon, stateless and shut out of the economy, wielding little power in the country, have proven a convenient target for the state's frustrations.
Moe Ali Nayel is a freelance journalist based in Beirut. Follow him on Twitter: @MoeAliN.
Tags