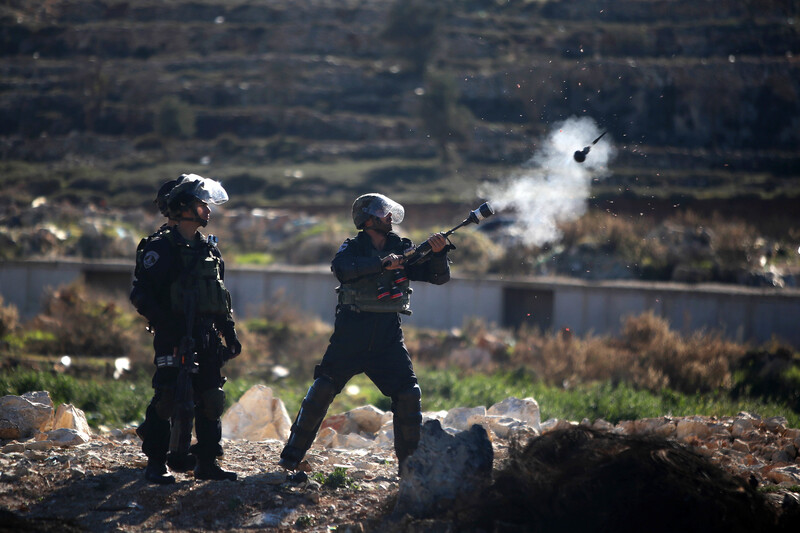 An old weapon appears to have re-emerged in Palestine.
Over the past six months, say activists in the occupied West Bank, the Israeli military has resumed the use of Indoor Barricade Penetrators, a form of high velocity tear gas 40mm projectile designed to deliver its payload inside buildings or homes and used during raids, demonstrations and clashes.
The use of such heavy duty tear gas projectiles fell by the wayside in 2013 after a number of high-profile court cases demonstrated how easily this particular form of delivery could kill or maim. However, a modified version is now employed across the West Bank, say protestors, and no matter what claims the military and manufacturers may make, these barrier piercing projectiles remain potentially lethal.
Israel has used them to deadly effect before.
In 2009, Bassem Abu Rahmeh was killed during the weekly protest in the West Bank of Bilin, after he was struck in the chest with an Indoor Barricade Penetrator.
Just a few weeks earlier, Tristan Anderson, an American volunteer with the International Solidarity Movement, was hit with a high velocity tear gas canister in the nearby town of Nilin. He didn't die, but was permanently paralyzed on his left side and suffered massive brain damage.
Recent injuries
Anderson and Abu Rahmeh are among the best known victims of such attacks: many others sustained injuries.
According to Murad Shtaiwi, head of the popular resistance committee in the village of Kafr Qaddum, there have been three moderate injuries from these projectiles since March alone. Ahmad Nasser, a medic working in the Ramallah district, has noted two injuries at clashes outside Ofer prison in the same time period. Nasser himself was also struck with one of the projectiles, but was not injured since he was wearing a bulletproof kevlar vest.
Indoor Barricade Penetrators are a more dangerous means of using tear gas for several reasons. As the name implies, they are not intended for use directly against individuals, rather they are designed to penetrate doors, windows and interior drywalls, and release their payload inside a building.
US weapons manufacturer Combined Systems, a longstanding supplier of tear gas to the Israeli military, makes special note that these "less lethal" weapons are intended for use on doors, windows and wallboard, and operators should take caution to avoid firing them in a way that risks hitting a person.
Like other kinds of tear gas, barrier penetrating projectiles are fired from a grenade launcher; however some models used by the Israeli military also have a secondary propulsion mechanism, which takes them further and faster. And unlike outdoor short range tear gas, it does not disperse gas until after impact. This means that protesters cannot see the trajectory of the projectiles until they are detonated, making them much more dangerous.
Harmful gas
In addition to the dangers posed as a high velocity projectile, activists from Ramallah and Nabi Saleh have also reported that the projectiles are more likely to carry an Oleoresin Capsicum- (OC spray — more commonly known as pepper spray) based gas than the more common, and less harmful, CS- (O-chlorobenzylidene malonitrile) based tear gas.
Manal Tamimi, an organizer in Nabi Saleh, cannot find a lab in the West Bank with the capacity to analyze the different types of tear gas. She told The Electronic Intifada that protesters who were exposed to gas from Indoor Barricade Penetrators exhibited symptoms consistent with OC gas, including immediate loss of motor control.
The renewed use of these tear gas projectiles has had a significant impact on demonstrations. In Kafr Qaddum, which Israeli soldiers raid on a regular basis, houses near the village's weekly protest route have installed metal shutters to protect their interiors. But this provides little protection against a projectile that can move at 122 meters per second.
In Nabi Saleh, where demonstrators try to walk from the center of the village to a spring located in a nearby valley which Israel has confiscated for settlers, there's little hope of ever getting close. The military can keep protesters at bay from a cool 500 meters with these tear gas projectiles, according to those who have taken part in the demonstrations.
Their renewed use was first noted in early 2016 by activists in Ramallah and came after a new wave of protest and deadly confrontation between Palestinians and the Israeli military that began in October last year.
Activists in Ramallah started to note the return of these tear gas projectiles during weekly demonstrations in Kafr Qaddum and Nabi Saleh and speculate that the army has chosen to reintroduce them because they serve a dual purpose: like live ammunition, it is long range and potentially deadly, thus keeping protesters farther away from soldiers than almost any other weapon. However, unlike live ammunition, deaths caused by high velocity tear gas can more easily written off as accidents.
The Israeli military declined to comment for this article.
For demonstrators who face these projectiles, the threat is very tangible.
"After the October uprisings, more Palestinians broke the wall of fear inside themselves. They began to take more risks," said Tamimi. "This prompted the Israelis to find a weapon that will not directly cause death. In the middle of all the chaos … they don't want more criticism."
Clare Maxwell is a journalist and human rights activist working in the Salfit region of the West Bank.
Tags