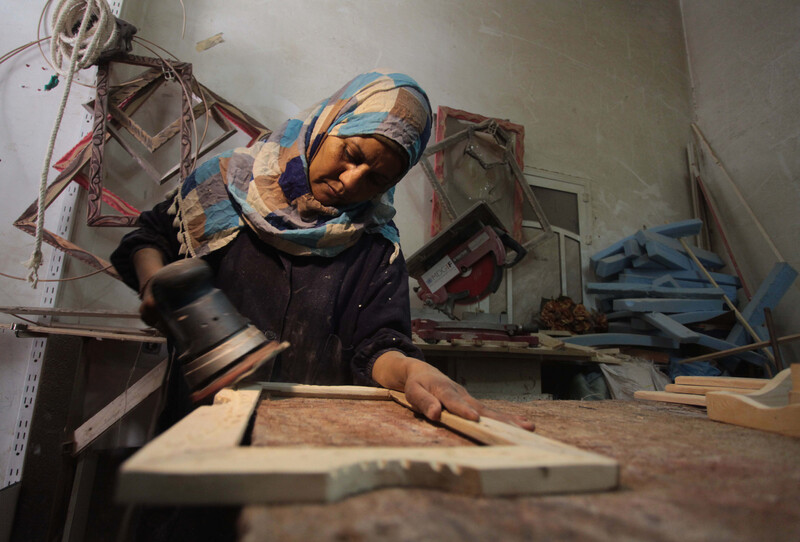 Five years ago, Soha Masri lost her husband because of an Israeli air strike on Gaza.
Becoming a widow placed her in financial peril. She had three daughters, all of whom had plans to study at university. How could she support them?
Masri, now aged 45, took the initiative of setting up a small poultry farm in Nuseirat refugee camp. She began selling the food produced on it to relatives and neighbors.
"It is not an easy job to take care of the chickens," she said. "But I try my best so that I can make enough to pay part of my children's expenses."
Many other women in Gaza are in a similar situation. Although men are usually the main breadwinners for their families here, their death or injury leaves their wives having to perform that role.
Manal Azizi set up an embroidery business for traditional Palestinian dresses after her husband was left paralyzed when Israel bombed Gaza for eight consecutive days in November 2012.
She lacked much of the equipment required at the beginning. "Yet I did not give up," she said. "The work goes on."
The 34-year-old has to take care of four children, as well as her husband.
Destitution and dependence
The United Nations Conference on Trade and Development (UNCTAD) recently described female unemployment in Gaza's formal economy as "severe."
Among Palestinian refugees — the majority of Gaza's inhabitants — 8 out of 10 young women do not have a regular job outside the home, according to an UNCTAD study.
The study states that Israel's 51-day offensive against Gaza in the summer of 2014 sent almost all people in Gaza "into destitution and dependence on international humanitarian aid."
UNCTAD predicts that the implications will be long-lasting. "Prolonged spells of unemployment deskill workers, rendering their education and training obsolete," its report states.
The problem of unemployment has also been exacerbated by the siege that Israel has imposed on Gaza since 2007.
It has prevented Palestinians there from selling goods outside the territory. Activities on which many women relied for income — such as flower exports — have been badly affected.
The Gaza-based Women's Affairs Center offers help to those wishing to set up small businesses. Each year it receives hundreds of applications for support but it has to prioritize just 10 projects. Most of those who approach it are either widows or divorced.
"During last year's summer war, many women lost their businesses — or their business lost a lot because of the fierce Israeli bombing," said Reem Nerib, a center spokesperson.
"We are faced with many problems in our efforts to assist destitute Palestinian women, particularly a lack of donations," she added.
"All I can do"
Naheel Awida, 38, gives private classes to children of primary school age at her home in al-Bureij, a refugee camp in central Gaza that was heavily shelled by Israel during July 2014.
She has five children and her husband has been unable to find full-time work.
"I have a university degree, but getting a job is almost impossible in Gaza nowadays," she said. "This is all I can do."
Despite the scarcity of aid for small firms, numerous women are displaying a spirit of enterprise.
Fatima Qalban, a 40-year-old mother of six, started a food business because her husband is too ill to work.
She supplies cakes and maftoul — Palestinian couscous — to supermarkets in the Khan Younis area of southern Gaza.
After a while, her business was able to provide a number of people with jobs. "I was really happy when some of my needy neighbors joined me in this project," she said. "It is better than waiting for other forms of support."
Isra Saleh el-Namey is a journalist from Gaza.
Tags