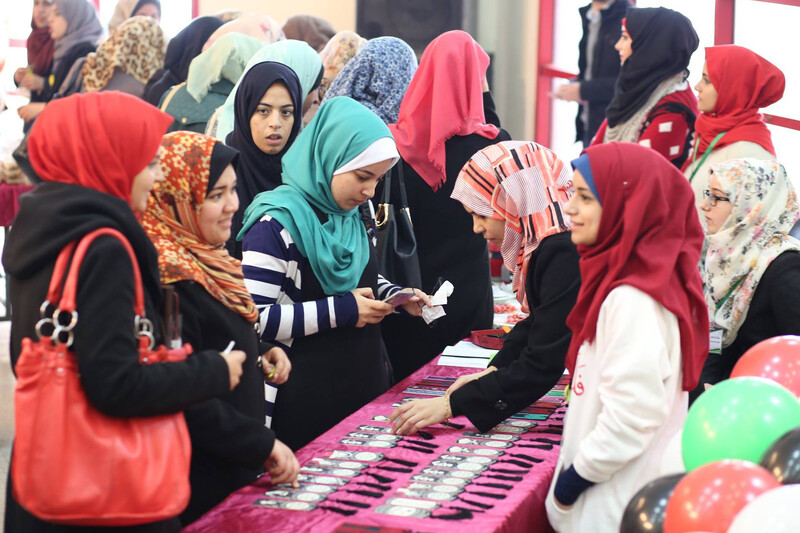 Salwa al-Jamal moved briskly between customers at the hall of the Red Crescent building in Gaza City. Her embroidery was proving popular and al-Jamal looked flushed and excited.
"I am very proud when people are interested in my products," she told The Electronic Intifada on a short break from attending to business. "They take a long time to finish, but it's worth it."
Under a recent scheme started by volunteers in Gaza, the 44-year-old widow has been afforded the opportunity to start her own business after long having had to rely on charity to raise her seven children following the death of her husband five years ago.
Her entrepreneurship, and that of 16 other women, has been nurtured and encouraged by Ihsan — literally "to be caring" — a 150-strong team of volunteers, which has taken it upon themselves to organize a host of activities around Gaza, including trade shows for women to show off their skills and sell their own products.
It took three months to prepare for and organize the 22-23 February fair in which al-Jamal participated. Ihsan provided not only the necessary materials for embroidery — from cloth and thread to needles and sewing machines — volunteers also held training workshops and were provided the space needed in which to work.
One of the volunteers was Samira Tuman.
"These women were driven by a desire to change their miserable circumstances," said Tuman. "I was amazed by how fast they learned and how hard they worked."
The ghost of poverty
Ihsan started its mission in 2011. Fatima Hijazi, one of the group's main organizers, said the guiding principle behind Ihsan was the old adage about how best to help those in need: "Do not give me fish," in Hijazi's version: "Teach me how to fish."
The group, which operates only in the Gaza Strip, reaches out to women in marginalized communities and tries to help them be independent. The idea is to have a "significant and long-lasting" impact on their lives, Hijazi told The Electronic Intifada.
One of the aims, Hijzai said, was to empower women and change perceptions of them from being solely recipients of aid to being productive participants in society.
"The team fights stereotypes. We provide examples of strong women who work hard to save their families from the ghost of poverty," she said.
She also highlighted the importance of volunteering in a society at risk of both complete economic breakdown and social disintegration because of the suffocating siege on the Gaza Strip imposed by Israel in 2007.
"Fewer people are able to keep their heads above water these days. We must help each other to survive," she added.
Ihsan is mainly self-funding, but it has recently started fundraising to implement more projects.
Ruwaida Loulou's husband is a taxi driver, but his takings are barely enough for the family of 11 to survive.
As proud as she was of the items she sold at the February fair, she was prouder still of her newfound confidence.
"The team has helped me, not materially, but by acquiring a skill," she told The Electronic Intifada. "This enables me to do my own work."
Selling the products helped her realize the value of that work and training.
"I never thought I could do this myself. But I have done it. I believed and persevered," she said.
Meaningful contribution
Muhammad Qwaider is another volunteer with Ihsan and was one of the organizers of the Gaza City fair. He told The Electronic Intifada that voluntary work will be an unavoidable and important element in the future in Gaza.
"We need to make a meaningful contribution in the social compact against destitution in Gaza," Qwaider said. "Palestinian youth should realize that they have to give back to their community by being committed to such shared activities that sustain the health and wellbeing of our society."
He believes that there needs to be a kind of collective response toward the deteriorating situation and is optimistic about what that could achieve. "If we encourage a sense of a shared responsibility between us, there will be positive and profound results," he said.
One of the new activities Ihsan arranges are for regular visits to child patients in Gaza's hospitals and organizing clowns to entertain. "We try to make children laugh while they undergo dialysis, for example," Hussein Mahdi, 21, another Ihsan volunteer, said.
The children were of course amused by the clown in the clinic, but it is only "brief relief," Mahdi conceded. Still, he added: "It really helps these children in important ways that mustn't be overlooked."
Ihsan volunteers undertake public health campaigns, warning people of the dangers of smoking, for instance. They also give presentations at schools to help children's citizenry skills.
The group has an emergency response unit as well. This past winter it ran a project called "Warm Winter," providing blankets and mattresses for families still not housed after the devastation wrought in Israel's 2014 assault.
Mahdi said he and his volunteer colleagues also helped evacuate those who were trapped inside their homes during the harsh winter storms that lashed Gaza over the past months.
"Our team is well-managed. We can respond quickly in most cases … No matter how busy we are, there is always something that can be done," he said.
Personal fulfillment
Through Ihsan, Zeinab al-Hawajri, 25, and Zeina al-Sisi, 27, implemented their own initiative. A year ago, using social media, they started to contact Palestinian solidarity campaigners who were willing to collect cash donations and send them to Gaza for those in need.
The two called their enterprise "Blogging Friends," and say they have succeeded in reaching about a hundred families in desperate need of financial assistance.
Late last year, donations raised this way helped pay for a kidney transplant for a woman who suffered renal failure, al-Hawajri said.
"That memory is deeply embedded inside me. I could see how happy her children were to see their mother back in good health," she said.
Such memories have also made clear to the two women that the voluntary work they undertake is not only about helping others. There is a sense of personal fulfillment and a boost in the self-confidence and social skills of volunteers, said al-Hawajri.
"The work has changed me," she said. "It taught me to think of others. It also taught me to be satisfied with what I have; I have seen people who wish for less."
Isra Saleh el-Namey is a journalist from Gaza.
Tags