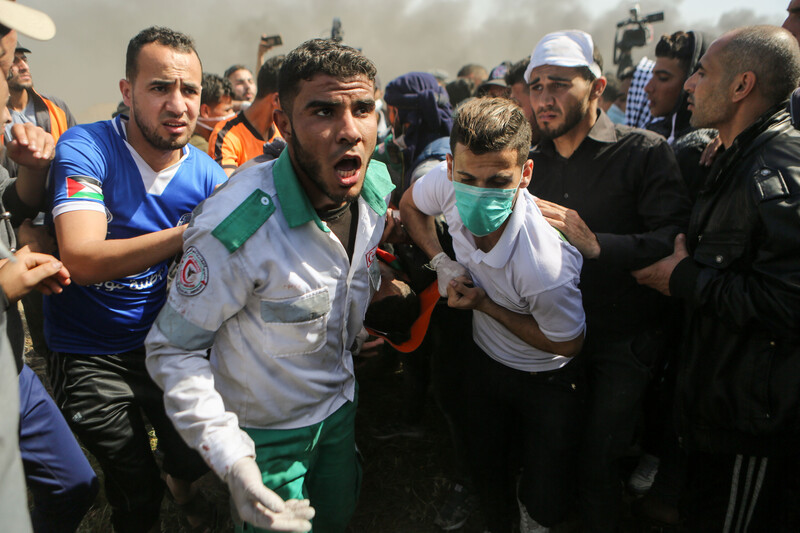 Since the beginning of the Great March of Return at the end of March, the Israeli military has left no doubt that it will not feel restrained in dealing with Gaza's demonstrations.
With rules of engagement that have left at least 125 demonstrators dead, more than 5,000 wounded by live fire, among them over 800 children, the message is clear: Protest and risk death and injury.
But even those not protesting are not safe. Israeli forces have killed two journalists and at least 90 have been injured. Three medics have also been killed.
Still they come: demonstrators, journalists and, of course, medics.
According to the Gaza Ministry of Health, there have been at least 370 instances of paramedics being injured during the demonstrations and nearly 70 ambulances have sustained damage.
"I believe in the saying, he who saves a life, saves all humanity," said 43-year-old Muhammad al-Hissi, a paramedic with two decades of experience.
Al-Hissi, now director of emergency medical services at the Palestine Red Crescent Society in Khan Younis, in the southern Gaza Strip, is an ever-present figure at the demonstrations of the Great March of Return. And his 20 years on the job also make him a veteran of the entire second intifada and all three Israeli wars on Gaza.
He has the scars to prove it.
A sense of duty
He was first injured, he told The Electronic Intifada, in an Israeli airstrike 2002 that left him needing several surgeries to remove shrapnel from his right hand.
In 2014, during Israel's 51-day offensive on Gaza, he was injured again in the same hand in another airstrike, and this time needed a metal implant that he still carries around. And during the latest protests he was hit in the chest by a tear gas canister leaving him out of action for five days.
Yet he is not discouraged.
"Our humanitarian work is greater than the Israeli occupation," al-Hissi told the Electronic Intifada.
A sense of duty, he said, carried him through the tear gas, the blood and rubble.
"It's hard to save people from buildings that have been shelled. The rubble keeps coming down over our heads. When that happens, I try to remember the injured, and I decide to pull myself together," al-Hissi said. "My job is to save people's lives."
In the line of fire
Al-Hissi said he has been shocked at the number of casualties and not just among protesters. He has reached out to international organizations including the International Committee of the Red Cross and the World Health Organization to help them pressure Israel not to target paramedics doing their jobs.
Among the many injured multiple times in the line of duty during the Great March of Return is Ibrahim Talalqa, 23. Talalqa volunteered in a civil defense medical services team for three years to become a certified paramedic.
He has been wounded three times in the past three months, most recently on 3 August when he was strafed by shrapnel while attending to an injured youth. The shrapnel, he said, came from an exploding bullet that detonated near his ambulance as it was approaching the injured person.
"In Gaza, paramedics leave home not knowing if they will ever come back to their families," Talalqa said. He does his best to ease his family's concerns, he added. "My mother worries about me, but she stands strong before me and supports my choice. When I get injured, I do not tell her until I am back home."
Talalqa remembers the 14 May protests as the worst – these also claimed the most casualties of any of the series of demonstrations to date. He was not wounded on this occasion, but it was close.
At one point, he had to crawl on his stomach to reach a youth who had been injured near the boundary. When he finally got there, he had to try to carry the young man, who had a chest injury, back to an ambulance. Yet he initially could not reach the ambulance because of the intense shooting. Talalqa ended up having to drop to the ground and wait with the wounded man until an ambulance could finally pick them both up.
Perhaps worse was when he saw a colleague shot in the leg as he was carrying an injured 12-year-old who was then again wounded with a shot in the back. Eventually the medical teams nearby succeeded in extricating both child and medic from the scene. Both survived.
Battle-hardened medics
Adel al-Masharawi is another veteran paramedic. The 41-year-old began in 2000 and says the situation has only become worse.
He has fainted four times during the recent protests as a result of inhaling tear gas and is convinced that the chemical composition of the gas has changed over the years. He worries that too much exposure will result in future diseases.
But, like the other medics, he is determined to carry on.
"We are part of the Palestinian struggle," he said. "It is our duty to work and save lives whatever their injuries and where they may be."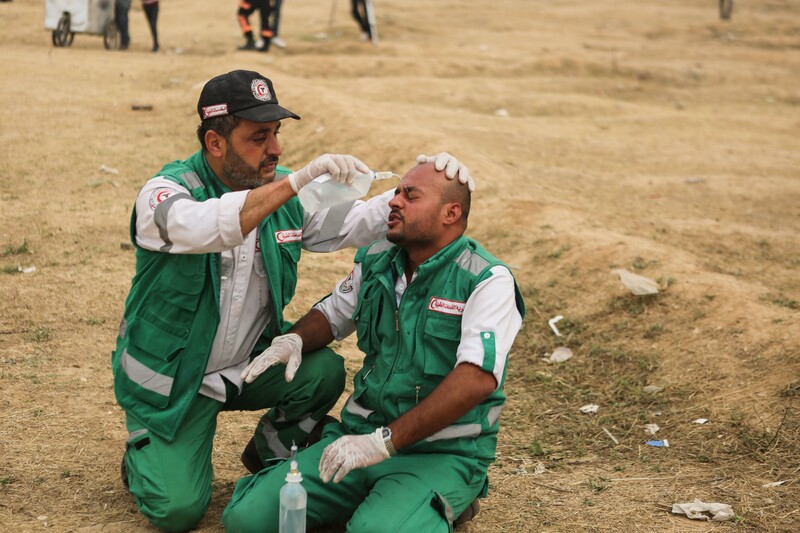 It may be a duty for these battle-hardened medics, but those who are rescued will always be grateful.
On 3 August, Bashar al-Muzaini, 18, found himself on the edge of the protests waving a flag and wearing the distinctive black-and-white Palestinian kuffiyeh.
He and friends were staying at a distance of 500 meters from the boundary, a distance they thought would be safe. But at one point, as a thick cloud of tear gas descended on the group, al-Muzaini found himself alone, nauseous and disoriented.
Eventually al-Masharawi found his way to the confused youth, helping him get away from the gas and providing him with medicine to take away the nausea.
Al-Muzaini later realized that he had been lucky to escape only with tear gas poisoning. The area had been the site of heavy shooting while he was lost in the fog. But when he tried to thank al-Masharawi he was almost rebuffed.
"When I went to thank the medic he told me this happened every day," al-Muzaini told The Electronic Intifada. "I wasn't the first, and I won't be the last that he will rescue like this."
Amjad Ayman Yaghi is a journalist based in Gaza.
Tags