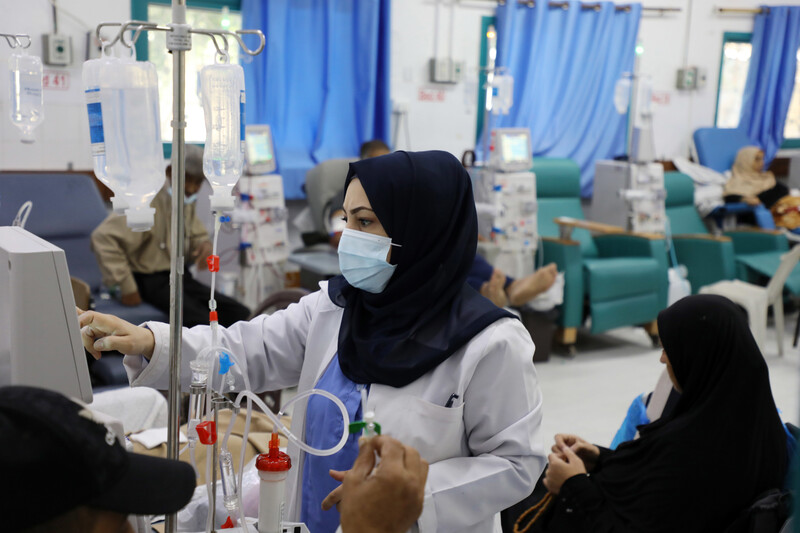 Mahdi Amer, 35, lost his father at the beginning of the new year.
Ibrahim Amer was 65. He had a heart attack.
But due to Israel's blockade of Gaza, the emergency equipment he needed and that could have saved him was simply not available in Gaza.
"My father suffered from a blockage in each of his four arteries, resulting in a sudden heart attack," Mahdi said. "Because there was no interventional catheterization device that could save my father, he was referred for treatment."
An attempt was made to have him transported to a West Bank hospital, but it came too late. With all the bureaucracy involved in getting an exit permit from the Israeli military and the time spent traveling, Ibrahim didn't make it in time.
He returned to Gaza in a burial shroud.
For over a year, according to Gaza's ministry of health, Israel has prevented medical diagnostic devices, critical equipment such as mobile and standard x-ray machines, as well as spare parts for such machines, from entering Gaza.
Along with a host of medicines and other medical equipment barred from entry, Israel's blockade has left Gaza's health sector dramatically undersupplied and in a constant state of crisis.
This in spite of clear international guidelines and rules under the Geneva Conventions and other international agreements that the right to healthcare must be preserved in times of war.
Israel's medical blockade of Gaza has been described as one that "gravely breaches" residents' rights to healthcare in Gaza and outside.
Aging equipment
Cancer patients are particularly vulnerable to the lack of access to x-ray machines.
That ability to track the spread of cancer is crucial to combating the disease, and, even if hard-to-obtain travel permits, travel costs are "exorbitant," said Subhiya Skaik, 55.
Despite all of this, Skaik is hopeful that "the health crisis will be resolved and we will have access to every possible course of treatment."
Some private health centers do have x-ray or Magnetic Resonance Imaging (MRI) machines – the one at Gaza's main al-Shifa hospital is often broken due to the inability to import spare parts – but the cost of using them is often prohibitive in Gaza, where the average daily wage is only $10.
Khaled al-Sayed, 30, had an accident that led to serious fractures in his feet and back.
"When I went to the hospital, their x-ray machine was out of order."
Al-Sayed was able to pay $60 for a scan at a private health center. But now he needs an MRI.
"The hospital told me that hundreds of patients are waiting for their turn, and my appointment is not for a month."
Medical professionals are helpless.
"All of our hospital units are suffering due to the limited access to medical devices," Muhammad Abu Salmiya, director of al-Shifa hospital said.
"These are life-saving equipment for our patients, many of whom ultimately die because we cannot treat them properly."
Abu Salmiya lamented the lack of interventional radiology equipment that he needs and the insufficient, worn-out equipment he is forced to work with.
"We use a very old device [for interventional radiology] that we urgently need to replace. Patients have to be transferred to West Bank hospitals. But there are several cases where they have died from not receiving medical intervention quickly enough."
There should be six x-ray machines at al-Shifa hospital, he continued. There are only two.
"We are often compelled to move a patient from the intensive care unit to a different floor, often while they are connected to oxygen, in order to take an x-ray. This is unhealthy."
Unnecessary and inhuman
Compounding frustrations, health professionals say there is no reason for Israel to prevent these devices and spare parts for their repair from entering Gaza.
Many are donations, Ibrahim Abbas, director of the medical imaging unit at the ministry of health in Gaza, pointed out, citing the example of 14 devices blocked from entry in October 2021, all donated by the Palestinian Economic Council for Development and Reconstruction (PECDAR).
These imaging devices still sit in storage, awaiting permission to enter, Abbas said.
Fadel al-Muzaini of the Palestinian Centre for Human Rights (PCHR) said Israel had to honor its obligations under international law.
"The Oslo agreements and the resulting transfer of the tasks of providing health services to the Palestinian Authority do not exempt the Israeli occupation from its obligations to facilitating health care in the Palestinian territories."
According to al-Muzaini, over 13,500 patients in Gaza are currently waiting to undergo surgery – major and minor – a number the health sector is simply too under-equipped to deal with.
PCHR works alongside other human rights organizations to provide legal and logistical support for official Palestinian agencies to facilitate the supply of medical devices. Sometimes these efforts succeed, but not enough to mitigate the life-threatening restrictions Israel imposes on the Gaza Strip.
"The primary responsibility for providing medical supplies to the residents of the Gaza Strip rests with the Israeli occupation authorities," al-Muzaini said.
Israel is a party to the International Covenant of Economic, Social and Cultural Rights, he pointed out.
"It is bound by Article 12 of the covenant, which guarantees the respect, protection and fulfillment of the rights of persons under its rule to enjoy the highest attainable standard of physical and mental healthcare."
Ruwaida Amer is a journalist based in Gaza.
Tags