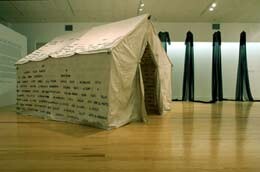 The rarely heard voices of Palestinian playwrights come to New York City on October 16-17 for a unique and important theatrical benefit, Acts for Palestine, to support a visual art exhibition entitled Made in Palestine. Tragedy, seeping into daily life, fuels the Palestinian playwright at home and in exile. Cultural poignancy, the beloved ancient soil of literary tradition, and revolutionary hope combine to create literary expressions that grip the viewer as much as the playwright.
Made in Palestine is an exhibition of the contemporary art of Palestine, featuring 23 Palestinian artists, curated by James Harithas of the Station Museum. The show has been rejected by over 90 museums since its initial opening in Houston because it is Palestinian and therefore labeled controversial. However, a group of dedicated individuals, Al Jisser Group, insist that New Yorkers must have the opportunity to see the exhibition and have been conducting an energetic grassroots fundraising campaign to make this exhibition a reality in New York City in Spring 2006.
Actors, directors, playwrights, and producers have joined forces to create Acts for Palestine. The Kazbah Project and Nibras Arab American Theater Collective are collaborating with Al-Jisser Group to present to audiences four one-act plays by Palestinian playwrights selected after an open call. They reflect the vibrant creativity of Palestinian theater, in Palestine and in exile. All four plays will be performed at each of the four performances of Acts for Palestine.
The plays, to be performed October 16 and 17 at the Blue Heron Theatre, as a collaboration by Al Jisser Group, Nibras Theatre Collective, and Kazbah Project are:
Between Our Lips by Nathalie Handal, Directed by Lameece Issaq

In this suspenseful play about love, occupation and the painful complexity of separations, Ayat, under house arrest for murder, is unexpectedly visited by Homer, a significant person in her past, who returns to see her moments before she is to be taken to jail.
Friday Morning by Razanne Carmey

At the age of 26, Nada had spent all her life being a dutiful daughter, a good sister and a loving wife. But suddenly she finds herself alone and in charge. All her men have been captured by Zionists and she has the terrible task of hiding the truth of the Nakba from her little son.
Macklubeh by Sami Mitwasi, Directed by Maha Chehlaoui

Although living in a country where people live surrounded by constant death, an old lady, alone in the world, somehow manages to survive to an old age. Then one day an angel arrives to inform her that death is coming to take her, today. Not ready to die, the old woman refuses to accept the angel's omen but then something happens and she changes her mind.
Pressing Beyond in Between by Soha Al-Jurf, Directed by Dalia Basiouny

A Palestinian-American playwright and performer's exploration of social, political, and personal boundaries. This autobiographical solo performance piece examines the challenges of defining personal identity within the context of gender, religion, and nationality.

There will be 6:00 and 8:00 p.m. showings each night. The Blue Heron Arts Center is located at 123 East 24th Street, New York City. General Admission $25, Students $15, Patrons $100.
Related links: