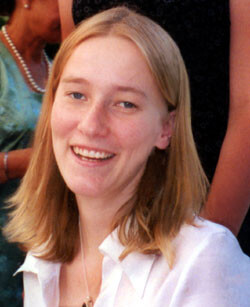 RACHEL'S
WORDS
MARCH 22nd, NEW YORK CITY
Riverside Church
490 Riverside Drive (at 120th Street)
8:00 pm
$20 Suggested donation
Tickets can be purchased on line at www.rachelswords.org
or with cash/check at the door
(No one turned away for lack of funds * Doors open at 7:30)
Co-hosts: Amy Goodman and James Zogby
Participating:
Anthony Arnove, Huwaida Arraf, Brian Avery, Nirit Ben-Ari, Leila Buck, Kia Corthron, Lehni Lamide Davies, Hedy Epstein, Suheir Hammad, Leonard Hubbard from"The Roots" with A. Marcy Francis, Emily Jacir, Brian Jones, Liz Magnes, Malachy McCourt, Betty Shamieh, Jonathan Tasini, Zafer Tawil,Tom Wallace, Ora Wise, and Maysoon Zayid.
Rachel's parents, Cindy and Craig Corrie, will also be speaking.
Appearing via video/statements will be Maya Angelou, Kathleen Chalfant, Eve Ensler, Vanessa Redgrave, Mariam Said, Najla Said, Patti Smith and Howard Zinn.
"My Name is Rachel Corrie" is a powerful one-woman show based entirely on the diaries and emails of Rachel Corrie. Rachel was a human rights activist and gifted writer. She was crushed to death by an Israeli Army bulldozer as she tried to protect the home of a Palestinian pharmacist from demolition in Rafah, Gaza Strip, on March 16th, 2003.
Rachel was 23.
The play was scheduled to open at the New York Theatre Workshop on March 22nd. It has been postponed indefinitely, sparking an escalating controversy. Rachel's words will still be heard on that day. Rachel wrote about issues that concern us all. Come hear an array of academics, activists, performers and playwrights read selected writings of Rachel Corrie, honor her through poems and songs, and discuss the context in which her words were written and the pervasive climate of fear in which they have been suppressed.
For updated information or to buy advance tickets, visit www.RachelsWords.org
Participant Biographies
HUWAIDA ARRAF
Co-Founder of the International Solidarity Movement
MAYA ANGELOU
Acclaimed poet, historian, author, and civil rights activist.
ANTHONY ARNOVE
Editor, with Howard Zinn, of Voices of a People's History of the United States.
BRIAN AVERY
Environmental and human rights activist. In 2003 he volunteered with the ISM in the West Bank city of Jenin and was shot in the face by the Israeli army.
NIRIT BEN-ARI
Israeli citizen, and former soldier in the Israeli military radio station.
She has been an activist with the ISM and with Jews Against the Occupation.
LEILA BUCK
Founding member of Mixed Company, a bi-cultural theater collective and of Nibras. She is also a writer and a teaching-artist.
KATHLEEN CHALFANT
Tony nominated actress.
KIA CORTHRON
Award-winning playwright.
HEDY EPSTEIN
81 year old Nazi Holocaust survivor and life-long human rights and peace activist. She has been to Palestine three times since December 2003.
LEHNI LAMIDE DAVIES
Nigerian performance artist, producer and creative facilitator.
EVE ENSLER
Performer, activist and award-winning author of The Vagina Monologues.
SHERIF FAM
Host of This Week in Palestine, a weekly radio program on WZBC in Boston
A. MARCY FRANCIS
Vocalist, Minister of Healing and artist in residence at University of Pennsylvania.
AMY GOODMAN
Host of Pacifica Radio's Democracy Now! program.
SUHEIR HAMMAD
Poet who has appeared in award winning anthologies and in zines stapled together by queer youth collectives.
LEONARD "HUB" HUBBARD
Band member of grammy award winning The Roots.
EMILY JACIR
Palestinian born, internationally acclaimed visual artist.
BRIAN JONES
Since 1999 has toured as Marx in Howard Zinn's one-man play Marx in Soho.
LIZ MAGNES
Celebrated Israeli American jazz pianist.
MALACHY McCOURT
Actor, author and writer. He has performed on Broadway and off-Broadway.
VANESSA REDGRAVE
Academy Award winning actress
MARIAM SAID
Widow of the late Dr. Edward Said.
NAJLA SAID
A founding member and the current artistic director of Nibras,
an Arab-American theatre collective.
BETTY SHAMIEH
Palestinian-American writer and actor. Her play Roar was the first play about Palestinians to appear off-Broadway, and was selected as a New York Times Critic's Pick for four consecutive weeks.
PATTI SMITH
American musician, singer, and poet.
JONATHAN TASINI
New York Democratic candidate for the United States Senate.
ZAFER TAWIL
New York based oud player born in Jerusalem.
TOM WALLACE
Media coordinator for the International Solidarity Movement following the killing of Rachel Corrie and Tom Hurndall as well as the shooting of Brian Avery.
ORA WISE
An American Jew born in Jerusalem and daughter of a rabbi. She is co-founder of the Palestine/Israel Education Project in NYC and a U.S-Palestine Youth Leadership Institute.
MAYSOON ZAYID
Actress and professional stand-up comedian.
HOWARD ZINN
Historian, playwright, and social activist.
DR. JAMES J. ZOGBY
Founder and president of the Arab American Institute (AAI).
Tom Wallace, Ann Petter, Jen Marlowe, Sally Eberhardt
Rachel's Words
www.rachelswords.org
info@rachelswords.org
Ph. 212.246.7528
C. 617.461.1041
C. 202.375.3492
Related Links