A young woman stands before a camera refusing to take the chair the director has set up. He asks why? "I have come to sing," she says. Irritated, the director orders her, "You must act, didn't they tell you we are looking for actors here?" With calm assertion she insists, "I do not know how to act. I have come to sing. Come on, you film and I will sing…"
This scene illustrates a main theme running through Rashid Masharawi's latest feature film Waiting. Since the Oslo peace process began, Palestinians have been cast in the role of an emerging nation on its way to statehood. When they have tried to speak about the entirely different reality they face—enduring exile, continued alienation from their land, and Israel's systematic assault on them and their national and community institutions—they have been silenced. They are asked to speak only if they are ready to read from a script written for them by those in power in the so-called international community.
In the plot of Waiting, the camera before which the young woman auditions can be understood as the eye of the watching world. The cameraman, Lumière (Youssef Baroud), his director Ahmad (Mahmoud al-Massad), and Bissan (Areen Omari), a journalist who worked for Palestinian television before it was bombed out of existence by Israel, have been sent on a mission. The European Union is funding the construction of a grandiose National Palestinian Theater in Gaza, with seats for thousands and underground parking for 500 vehicles. The opening is to be attended by dozens of world leaders. The only problem is there are no actors in the theater. The team have been dispatched to the refugee camps of Jordan, Syria and Lebanon to audition Palestinians.
Their auditions and encounters are often hilarious and sometimes poignant. Shot on location at Bakaa camp in Amman, at a refugee cultural center in Damascus and at Shatila camp in Lebanon, the filmmaker blurs the line between fiction and documentary. Refugees play themselves, and in doing so we see more of their humanity than we would if they were merely objects of a documentary.
Al-Massad, himself an accomplished filmmaker (his film Hassan the Clever was screened at CPFF 2003), plays Ahmad, a man who is hours away from leaving Palestine for good when he is persuaded to take on the assignment of finding actors. Reluctantly he agrees and quickly grows frustrated as those who come for auditions seemingly refuse to cooperate. While he orders them to act, they want to speak a different truth. Like the young woman who chose to sing, others want to send messages to a lost father or severed branches of their families, unreachable through any other means. A young mother admits that she is not an actress but will say anything to be allowed to go back to Palestine with the film crew, to find her husband so he can meet their daughter.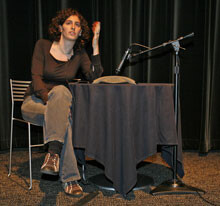 Anyone who has spent time in a refugee camp will recognize the scenes of Palestinians, young and old, sitting and waiting for some service or document from powers over which they have little control. As they now sit waiting for a chance to audition, Bissan's phone rings. It is the director of the national theater project, calling to say that once again the venture is delayed, but the international community promises that it will eventually go on. Rather than send the people home disappointed, Ahmad allows them to audition but refuses to give them any direction except to order the would-be actor to interpret the role of "a man who is waiting."

Waiting explores what it means to be Palestinian in a context where everyone is separated by such seemingly insurmountable barriers. The obstacles faced by the fictional characters in the film as they cross from Palestine into Jordan and from Jordan into Syria with unrecognized passports represent the true challenges faced by Masharawi, as he explained to the audience by speakerphone from Paris at the Chicago premiere on Saturday May 6. Masharawi was due to be present in person but could not apply for a U.S. visa without getting a new Palestinian Authority passport from Gaza. He could not go to Gaza because he could not guarantee that he would be allowed to leave when he wanted to. Waiting combines sharp political satire and comedy while maintaining its warmth, humanity and sincerity.

Waiting can be viewed only once more at the Chicago Palestine Film Festival, on Wednesday 10 at 6PM, at the Gene Siskel Film Center (164 N. State Street, Chicago). The film is not available on DVD or video.

Ali Abunimah is a co-founder of the Electronic Intifada, which has sponsored the Chicago Palestine Film Festival since its inception.

Related Links:
Tags