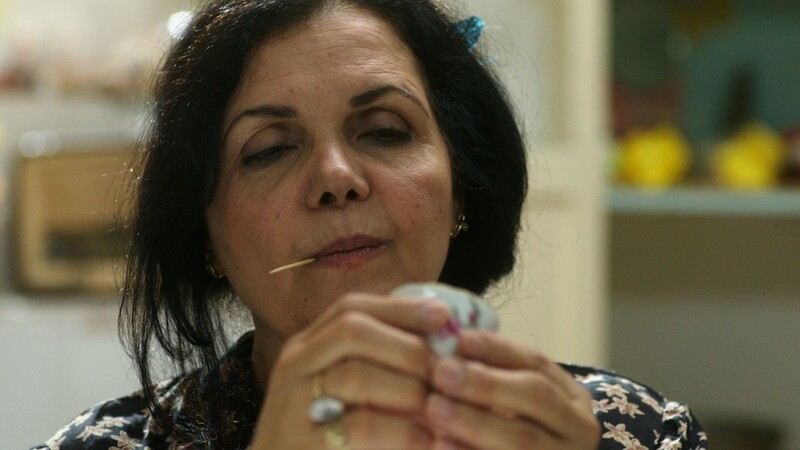 The world's longest-running Palestine film festival returns to Chicago's prestigious Gene Siskel Film Center tomorrow; the opening night screening of Hany Abu-Assad's Oscar-nominated Omar has already sold out (there's a second screening on Wednesday, 23 April — for details on screenings see palestinefilmfest.com).
Omar is being shown with Nicolas Damuni's creatively-shot and darkly humorous Maqloubeh, named for the famous traditional Palestinian "upside down" casserole. Damuni's short film shows a group of young men killing time during curfew by cooking the dish and disagreeing about its ingredients in their Ramallah apartment when Israeli soldiers raid the students' home. The Palestinian characters' unruffled reaction to this intrusion suggests that the Israeli occupation is a temporary, unwelcome guest in the Palestinian house, but that this too shall pass.
In addition to Maqloubeh, this year's festival features an array of great shorts by young artists, from Tarzan and Arab Nasser's Apartment 10/14 to Omar Robert Hamilton's cinematic poem Though I Know The River Is Dry.
Suha Araj, director of the delightful, sun-dappled short The Cup Reader, will participate in a discussion with the audience for the festival's closing night screening on Thursday, 1 May. The Cup Reader makes gentle fun of superstitious longing for love as an intergenerational group of women find community in the kitchen of Warde, a matchmaker who reads alarmingly specific fortunes in coffee grounds.
The Cup Reader is being screened with Rashid Masharawi's newest feature, Palestine Stereo, which follows two brothers in the occupied West Bank as they try to get their feet back on the ground after their lives are destroyed by an Israeli airstrike. Unfortunately, the heavy-handed Palestine Stereo features little of the wit of Masharawi's previous film Laila's Birthday, in which the patience of a Ramallah judge turned taxi driver is tested in a city not only under Israeli occupation but also mired in corruption. It's hard to disagree with Variety's critical review of Palestine Stereo, though this film may be referenced to see how Palestinian artists portray in their work the current political impasse between the Fatah-led Palestinian Authority government in Ramallah and the Hamas-led government in Gaza.
Frank discussion
The most Chicago-relevant selection of this year's festival is Amina Waheed's 25-minute documentary Corner Stores, which profiles a Palestinian immigrant, Falah Farhoudeh, who goes by Abu Muhammad. Abu Muhammad runs a convenience store in Englewood, one of Chicago's poorest neighborhoods, where the nearest supermarket is miles away.
Waheed treats with sensitivity the tension between impoverished African-American communities like that of Englewood, and the Arab small-business proprietors in their neighborhoods who are not always as caring for their customers as Abu Muhammad is of his.
As the Palestine movement increasingly works to strengthen relationships with oppressed communities in the US, Corner Stores is a most welcome contribution as this movement-building requires frank discussion about exploitative relationships between communities in US cities.
Given the relevance of Corner Stores to broadening the movement for justice in Palestine and understanding economic struggles in the US, it is regrettable that it is being screened with the neoliberal fantasy Under the Same Sun, which is little more than European Union and UK-funded "economic peace" propaganda which whitewashes the grim reality on the ground in Palestine.
Why the Chicago Palestine Film Festival would feature an artless and boring film made to undermine the principled Palestinian boycott, divestment and sanctions movement is beyond me, and its dishonesty has no place next to Waheed's earnest film. Waheed will be in attendance for audience discussion following the screening on 20 April and Under the Same Sun producer Susan Koscis will be in attendance for discussion following the 24 April screening.
Checkpoint concert
It is commendable that the festival this year includes a venue outside downtown Chicago which is closer to the metropolis' Palestinian community, which has migrated from the city into the suburbs.
Dimitri Chimenti's Just Play will be screened at Moraine Valley Community College in Palos Hills on Sunday, 27 April, along with Apartment 10/14. Chimenti's documentary is not the first to profile Palestinian violist Ramzi Aburedwan and his al-Kamandjati music project, but it is an engaging documentary that shows a large ensemble of musicians ranging in age and skill performing at Israel's Qalandiya checkpoint which strangles Palestinian movement between Ramallah and Jerusalem.
The performance is an act of resistance, not an effort to prove Palestinians' humanity to their oppressors. If he was in the place of one of the Israeli soldiers watching the spectacle at the checkpoint, an American involved with the Kamandjati project says, "I would feel really horrible about myself that I'm the one that's left out of the world here."
Meanwhile, Tim Schwab turns the cameras on the filmmakers in his feature-length documentary Cinema Palestine, in which twelve Palestinian directors discuss their first encounter with cinema, their varied answers reflecting the diversity of the Palestinian experience, and their relationship to the concept of Palestinian cinema.
Cinema Palestine is decidedly straightforward and lets the filmmakers and their work speak for itself, peppering the interviews with clips from the directors' films. The result is a tribute to Palestine's rich cinematic history, from the militant Palestine Liberation Organization's film unit productions from the 1960s and '70s to the bitterly sarcastic works being produced by Palestinian citizens of Israel today.
Cinema Palestine is being screened with Though I Know the River is Dry on 26 and 29 April, with Schwab in attendance for discussion after the Saturday, 26 April screening.
Inspired by artists
The strongest two works being shown at this year's festival are being screened together for one afternoon only on Saturday, 26 April. Both Jessica Habie's debut feature Mars at Sunrise and Nora Alsharif's Ismail are inspired by the lives of Palestinian artists but are far from documentary.
Alsharif's 28-minute short transports her audience to the wake of the 1948 ethnic cleansing as a young refugee named Ismail hustles by selling maamoul cookies at a train station with his younger brother. On the walk back to the refugee camp, Ismail's reverential description of how Michelangelo painted the Sistine Chapel ceiling is interrupted as a Bedouin warns the pair that they have wandered into a minefield.
Taken from the real-life experience of the late Palestinian painter Ismail Shammout, the audience feels each pang of Ismail's dread and the stomach-churning tension as he attempts to lead his little brother to safety. The screening will be followed by a discussion with Nora Alsharif and her father, screenwriter Hatem Alsharif, via Skype.
Meanwhile, the oppressive relationship between Khaled, a Palestinian artist, and his Israeli interrogator is the subject of Habie's surreal and sometimes psychedelic Mars at Sunrise.
Written by Habie, the film is inspired by the life of Hani Zurob, who, like Khaled, was arrested, interrogated and held in solitary confinement in an attempt to get him to collaborate with the Israeli military. Habie's abstract, psychological work overlooks no detail; intricately-staged scenes recorded in a single shot with a stationary camera give the film the drama of theater, while a stylish soundtrack featuring original compositions by Balkan Beat Box's Tamir Muskat and Itamar Ziegler complements the unsettling visual aesthetic.
With only a very basic story line for a plot, Mars at Sunrise is unrestrained filmmaking that hasn't been seen before, at least not in films about Palestine, and deftly avoids the pitfall of equivocating Khaled's trauma with the anxieties of his torturer as their deteriorating senses of reality bleed into one another while the days of solitary confinement stretch on.
Watch the trailer for Mars at Sunrise below:
Tags