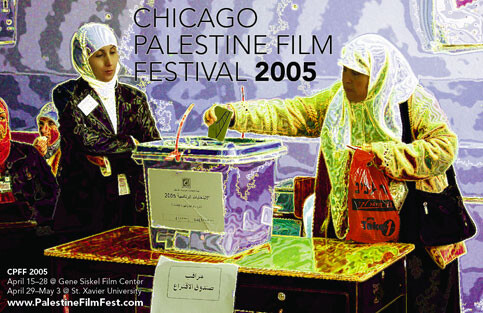 The Chicago Palestine Film Festival is pleased to announce its official selections for its 2005 screenings. This year's festival will occur from April 15 to May 2 at the Gene Siskel Film Center and St. Xavier Valley Community College.
Now in its fourth consecutive year, the Chicago Palestine Film Festival is an independent, not-for-profit, non-sectarian project based in Chicago that exhibits and promotes films by Palestinian directors and films about Palestine. CPFF is dedicated to presenting a film festival that is open, critical, and reflective of the culture, experience and vision of the filmmakers.
Film Title
Directors
Duration
Year
Country
Venue
2000 Terrorists
Hanro Smitsman and Peter Speetjens
0:50
2004
The Netherlands

GSFC

And Life Goes On
Reem Bader
0:08
2004
Palestine

GSFC

Another Road Home
Danae Elon
1:19
2004

USA

St. Xavier
Arafat, My Brother
Rashid Masharawi
1:15
2005
France

GSFC

Curfew
Rashid Masharawi
1:15
1993
Palestine
St. Xavier
Door to the Sun
Yusry Nasrallah
4:38
2004
Egypt

GSFC

Fix
Mohanad Yaqubi
0:08
2004
Palestine
St. Xavier
God on our Side
Michal Pfeffer and Uri Kranot
0:07
2005
The Netherlands

GSFC

Going for a Ride
Nahed Awad
0:15
2003
Palestine

GSFC

Haifa
Rashid Masharawi
1:36
1995
Palestine

GSFC

The Land of '48
Barrack Rima
0:57
2003
Belgium
St. Xavier
My Dear Olive Tree
Osama Qashoo
0:18
2004
Palestine
St. Xavier
A Palestinian Chronicle
Miguel Littin
1:30
2001
Chile

GSFC

Private
Saverio Costanzo
1:30
2003
Italy

GSFC

Rainbow
Abdel Salam Shehada
0:40
2004
Palestine
St. Xavier
Round-About Chatila
Maher Abi Samra
0:52
2004
France
St. Xavier
Sense of Need
Shady Srour
1:30
2004

USA

/Palestine

GSFC

Soraida, Woman of Palestine
Tahani Rached
2:00
2004
Canada
St. Xavier
The Eternal Dance
Hiam Abbas
0:26
2003
France
St. Xavier
The Last Moon
Miguel Littin
0:30
2004
Chile

GSFC

until when…
Dahna Aburahme
1:16
2004
Palestine/

USA

St. Xavier
Wall
Simone Bitton
1:38
2004
France/Israel

GSFC

Women in Struggle
Buthaina Canaan Khoury
0:56
2004
Palestine

GSFC
From April 15 to 28, screenings are at the Gene Siskel Film Center of the School of the Art Institute, Chicago's premier venue for independent and world cinema, located at 164 N. State St.
Tickets to each screening are $9/general admission and $5/Film Center members and may be purchased at the Film Center Box Office, which opens at 5 p.m. on weekdays and at 2 p.m. on weekends. General public tickets are also available through Ticketmaster, 312-575-8000, www.ticketmaster.com, and all Ticketmaster outlets.
For more information, call the Film Center at 312-846-2800 (24-hour movie hotline) or 312-846-2600 (general information, 9 a.m.-5 p.m., Monday-Friday), or log on www.siskelfilmcenter.org.
The Interparking SELF-PARK at 20 E. Randolph St., located between Wabash and State, offers Film Center patrons a special rate of $13 with no time limit. Patrons are required to show their ticket stub to receive the discount.
From April 29 to May 2, screenings are at St. Xavier University, 3700 West 103rd Street, Chicago, IL 60655 (773) 298-3000. These screenings are cost free, but donations will be requested.
Related Links