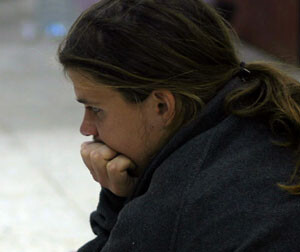 On 5 April 2003, Israeli troops shot International Solidarity Movement (

ISM

) activist Brian Avery in Jenin.

Avery, a 24-year-old American citizen from Albuquerque, New Mexico, experienced serious wounds to his face after Israeli troops shot at him with heavy machine gun fire from an armoured personnel carrier (APC).

Following the event, wire service organisations transmitted photo captions and text reports that failed to note key details, including:

that there were no clashes on the street where the shooting took place, nor indeed were there many people on the streets at all. As such, there was no reason for any weapons firing and there was no secondary target that the activists could be said to have been standing in front of or nearby, where they might have been hit in "crossfire".
that the

ISM

members were clearly marked as observers and were standing still with their hands in the air from the moment they heard the

APC

(a fact related to

EI

during communication with different officials in the

ISM

) until the moment that Israeli troops opened fire.
that the two Israeli

APC

s present, including the one from which the shooting originated, did not offer any assistance after the incident, and in fact drove past the wounded activist without stopping.

The failure to report all three of these facts left the impression that this could have been a "crossfire" accident, a conclusion which the facts known even at this early stage do not support.

Michael Shaik, the International Solidarity Movement's Media Coordinator in Beit Sahour, wrote about the incident in an April 5th update from ISM:

"At the sight of the armoured vehicles both activists stood still and raised their hands above their heads. When the first armoured personnel carrier was 50 metres from them it fired a burst of machine gun fire (an estimated 15 rounds) at the ground in front of them so that they were sprayed by a shower of broken bullets and stones. Tobias, Brian's companion, leapt aside. He had fled about three steps when he looked back to see Brian lying face down on the road in a pool of blood."
In 6 April 2003 e-mail interview with the author, after Shaik had spoken further with the Jenin activists, he noted that:

"It was about 10 minutes from when they heard the bursts of machine gun fire when they were up in the [apartment] unit which serves as

ISM

HQ

, to when Brian was shot. From the moment they saw the

APC

s coming around the corner to when Brian was shot was about 15 seconds. They raised their hands from the moments they heard the

APC

s coming (before they saw them). So they had their hands up for 30 to 60 seconds."
An Associated Press article published on the Guardian's website quoted eyewitness Tobias Karlsson, an ISM activist from Sweden, who insisted that the shooting was unprovoked and that there was no reason for the Israelis to be shooting:

"[Tobias] Karlsson said he, Avery and a Palestinian medical worker not with the group were approached slowly by the troops and stood with their hands up […] There was no communication with the soldiers, who Karlsson says fired unprovoked. Karlsson did not see gunmen in the area, and said few Palestinians were on the streets Saturday because of a curfew Israeli troops were enforcing."

(Source: U.S. Peace Activist Shot in West Bank, Associated Press, Sunday April 6, 2003 1:40 AM)
Wire service coverage
While the Associated Press account touched on the main points, Reuters' text and photo captions framed the injury as originating from a "ricochet" which, while technically correct in terms of the trajectory of the bullets that hit Avery, does not address the obvious lack of justifiction for any gunfire in the situation and implies that the incident was an accidental shooting.
An early caption on a Reuters-transmitted wire photo (see right) of Brian Avery being treated in Jenin Hospital (from 7:

59PM

ET

) stated that Avery "was wounded in the face by an apparent ricochet bullet from an Israeli armoured vehicle".

The sense communicated by this choice of words — that the event was an accident — is compounded by the patently bogus claim by "Israeli military sources" that concludes the caption and asserts that "the armoured vehicle was exchanging fire with a Palestinian gunman".

Captions on later transmissions (8:19 ET and 8:20PM ET) stated, even more benignly, that Avery "was wounded in the face while in the streets of the West Bank city of Jenin" (emphasis added) as if he had merely tripped over the sidewalk while out shopping rather than communicate what actually happened — that Israeli troops shot him in the face with heavy machine gun fire.

Both captions sourced the key information that incriminated the Israeli troops to "Palestinian witnesses", despite international eyewitnesses from the International Solidarity Movement also being present.

Reporting for Reuters in an article titled "Israeli Forces Kill Palestinian; U.S. Activist Hurt", Dan Williams writes:

"Witnesses said Avery was hit by an apparent ricochet bullet from an Israeli armored vehicle while in the streets of the West Bank city of Jenin during a curfew. Israeli military sources said the armored vehicle was exchanging fire with a Palestinian gunman. The sources said Avery was in a critical condition and had been put into intensive care at an Israeli hospital."
Even stranger, the narrative goes on to insert a 'background paragraph' which asserted that ISM activists:

"act as 'human shields' in the West Bank and Gaza Strip";
which, while true if we are talking about ISM activists confronting bulldozers in front of Palestinian homes under threat of demolition, or populating Palestinian civilian areas in danger of Israeli shelling, or accompanying ambulances in danger from Israeli gunfire — always with clear advance warning to Israeli forces and notification of the local consular representatives of the activists' home countries — suggests to readers in this context that ISM activists typically try to physically stand in front of Palestinians while Israeli troops are shooting at them. They do not.
Carrying on this theme, the Reuters article incorrectly reports the name of the International Solidarity Movement as:

"the International Solidarity Movement to Protect the Palestinian People" (emphasis added).

(Source: Israeli Forces Kill Palestinian; U.S. Activist Hurt, by Dan Williams, Reuters, 5 April 2003.)
The Reuters article (as opposed to the Reuters' photo captions) went on to note that Avery and his fellow activist were wearing "vests identifying ourselves as internationals" and that "Karlsson said he heard shots before the incident but could see no Palestinians in the area where Avery was hit."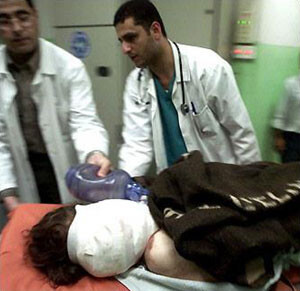 Williams' report does not note that the shots — two bursts of gunfire — were heard "before" Avery and his companion left the apartment that serves as the

ISM

HQ

in Jenin as opposed to immediately "before" the incident when they were on the streets. In fact, they heard no sounds of gunfire or "clashes" up to the point that Brian was shot.

Williams' article chooses not dwell on the significance of the latter fact, which debunks the notion of an accidental ricochet happening while the army was aiming at another target. The eyewitnesses are clear on the fact that there was no shooting or clashes — or even many Palestinians on the streets — at the time of the incident.

Similar to the early Reuters captions, Agence France Presse (AFP) photo captions make the claim that Avery was shot "during clashes between Palestinians and Israeli troops." Various ISM eyewitness categorically state that no such events were in process. AFP also misreported Avery's first name as "Barry", instead of Brian.

Conclusions
Shootings of Palestinian civilians are regularly reported as "accidental", the result of "crossfire", and Israeli spokespersons occasionally even express regret for these killings. However, experience with similarly patterned events on the ground and the frequency at which they have been occurring during the Second Intifada, force any empirical observer to conclude that killings are a typical feature of the Israeli army's operations. The current Intifada death toll — 2,220 — and injury statistics — 22,308 —[1], and the circumstances of these acts of violence, as reported by medical authorities, reflect a rate of killing and injury far too high to be credibly explained as "accidental".

Furthermore, the continuing, steady rate of killings and injuries suggests a criminal lack of willingness to do anything about it. Writing in the April 6th edition of the Sunday Herald (UK) Robert Tait notes that "In all, 17 Palestinians have been killed since the beginning of the Iraq war, including six children and an elderly man." (War provides cover for a fresh Israeli crackdown, Robert Tait, Sunday Herald, 6 April 2003).

For those of us who have lived as eyewitnesses in the West Bank or Gaza Strip, it is not news that Israeli troops regularly shoot at people without there being any genuine clashes or any legitimate threat to the soldier that would necessitate self defence. This fact is well documented by numerous human rights groups on the ground. It is also one of the expected consequences of maintaining a military occupation of a civilian population for over one-third of a century — the dehumanisation of the occupied people by the occupying army.

During the Intifada, we have observed that internationals have been increasingly targeted by the Israeli army. Most recently, on 16 March 2003, American ISM activist Rachel Corrie was crushed by an Israeli bulldozer in Rafah, Gaza, while attempting to protect the home of a Palestinian medical doctor from being demolished. Israel claimed that the bulldozer had limited visibility from the cabin.

Eyewitnesses stated that the bulldozer crew was aware of Corrie as she and other activists had been blocking its path repeatedly for a period of two hours, were well marked, and that Corrie had been at eye level with the cabin at the time of the incident. Most shockingly they reported that, following the incident, none of the Israeli troops nearby offered any assistance to the crushed activists. Neither did the Israeli army offer any help to Brian Avery. On these points, all eyewitnesses agree.

Similar to the Brian Avery shooting, on 22 November 2002 ISM activist and Irish national Caoimhe Butterly was shot in the leg in Jenin. Again, it was Palestinians who took her to the hospital.

This targeting is not limited to peace activists. On the same day as Butterly was shot, Israeli troops shot and killed British national Iain Hook, the Jenin project manager of the United Nations Relief and Works Agency. Israel claimed that one of its soldiers, whose automatic rifle would of course be equipped with telescopic sights, 'mistook' Hook's mobile phone for 'a gun'.

German doctor Harald Fischer and Italian cameraman Rafaeli Ciriello were both also killed by Israeli gunfire during the Intifada. Several others internationals have been injured by Israeli fire.

When will we realise that there can't be this many "accidents"?

Nigel Parry, 5 April 2003.

Nigel Parry is one of the founders of the Electronic Intifada. Michael Brown contributed to the editing of this article. Last updated: 23 December 2003.

Footnotes
1. Total number of Palestinian deaths and injuries in West Bank & Gaza from 29 September 2000 to 4 April 2003. Source: Palestinian Red Crescent Society.

Related Links
Photo story: Israeli bulldozer driver murders American peace activist, Nigel Parry and Arjan El Fassed, The Electronic Intifada, 16 March 2003.
On violence and the Intifada, by Ali Abunimah, The Electronic Intifada, 22 January 2003.
Increased targeting of International Solidarity Movement, Michael Shaik, International Solidarity Movement, 16 March 2003.