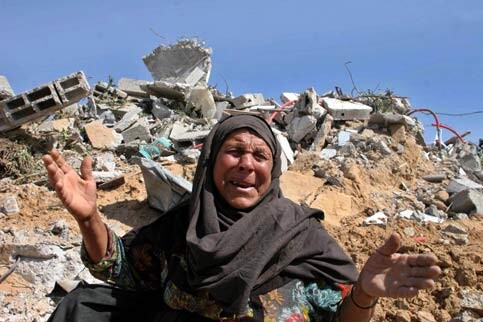 As the Israeli war on Lebanon continues to dominate world headlines, Israel's nearly one-sided war against Gaza seems to be taking place in a relative media blind spot. United Nations humanitarian agencies estimated on August 3rd that 1,050 Israeli artillery shells were fired into Gaza in the preceding week

[1

], and:
…since 28 June, 175 Palestinians have been killed, including approximately 40 children and eight women, and over 620 injured in the Gaza Strip. One

IDF

soldier has been killed and 25 Israelis have been injured, including 11 Israelis injured by homemade rockets fired from the Gaza Strip. Palestinians have fired on average between 8-9 homemade rockets per day towards Israel (319 in total) and the Israeli military has fired on average 200-250 artillery shells per day into the Gaza Strip and conducted at least 220 aerial bombings.[2]
The Palestinian Center for Human Rights, based in Gaza, reported on August 5th that:
In the pre-dawn hours of Friday, 4 August 2006,

IOF

planes bombed two civilian houses in Gaza, destroying them completely. In both incidents, the house owners received calls to their mobile telephones from Israeli intelligence telling them to evacuate the house, which will be bombarded. The warning preceded the bombardment by no more than 45 minutes.[3]
It is obvious that these demolitions by missile are a form of collective punishment. Even if one accepted Israel's 'security' rationale for such acts, clearly phone warnings undermine the notion that the airstrikes are fulfilling any effective military objective against Palestinian militants.

Israeli human rights organization B'Tselem reported on August 5th that:
In July, the Israeli military killed 163 Palestinians in the Gaza Strip, 78 of whom (48 percent) were not taking part in the hostilities when they were killed. Thirty-six of the fatalities were minors, and 20 were women.[4]
On August 7th, the Palestinian Center for Human Rights published a report on Israeli reprisals against civilians in Gaza between June 25th and the end of July, which shines a searing light on the extent of violence against civilians and the wilful damage to Gaza's civilian infrastructure.[5]

The individual stories are painful. On August 8th, Mohammed Omar wrote of the story of a 13-year-old from Gaza, Tar'er, and how he woke up in a hospital bed to discover that he had no legs.[6]

Hospitals are overwhelmed with casualties and are running out of medical supplies. UK-based Medical Emergency Relief International reported on August 8th that after one recent attack in Gaza City, 75% of the patients admitted needed amputations. Due to the destruction of Gaza's power plant, hospitals are receiving only 4 hours of grid electricity a day, and backup generators are not able to cope with the demands of the crisis situation. Doctors are being forced to make choices between running the operating theater or the x-ray machine.[7]

The bird's eye view of the humanitarian situation in Gaza is similarly bleak. The UNDP estimates $15.5 million dollars in damage to Gaza's civilian infrastructure excluding the damage caused to the power plant. Sewage plants are overwhelmed as a result of destruction of the infrastructure, and 3,400 Palestinians have fled Israeli attacks to seek shelter in UN facilities.[8]

While Israel's war on Lebanon is getting the media focus that it deserves, Gazan civilians remain in equally grave danger, not least because of the larger conflict eclipsing their plight to the north.

Nigel Parry is a cofounder of the Electronic Intifada.

Related Links


BY

TOPIC

: Israel invades Gaza (27 June 2006)

Footnotes

1. "UN reports increase in Israeli shells fired into Gaza", UN News (3 August 2006) http://electronicintifada.net/v2/article5388.shtml

2. "UN Agencies: Deeply alarmed by continuing violence in Gaza", UN humanitarian agencies (3 August 2006) http://electronicintifada.net/v2/article5393.shtml

3. "More children killed in Rafah", PCHR (5 August 2006) http://electronicintifada.net/v2/article5416.shtml

4. "Almost half the fatalities in Gaza in July were civilians", B'Tselem (5 August 2006) http://electronicintifada.net/v2/article5419.shtml

5. "Reprisals against Civilians: Israeli violations in Gaza, 25 June-31 July", PCHR (7 August 2006) http://electronicintifada.net/v2/article5457.shtml

6. "Israel's rain of missiles on Gaza and Tae'er's legs", Mohammed Omer, Live from Palestine (8 August 2006) http://electronicintifada.net/v2/article5444.shtml

7. "Hospitals in Gaza overwhelmed and running out of supplies", Merlin (8 August 2006) http://electronicintifada.net/v2/article5455.shtml

8. " 'Sharp decline' in the humanitarian situation in Gaza after six weeks of siege", OCHA (7 August 2006) http://electronicintifada.net/v2/article5448.shtml