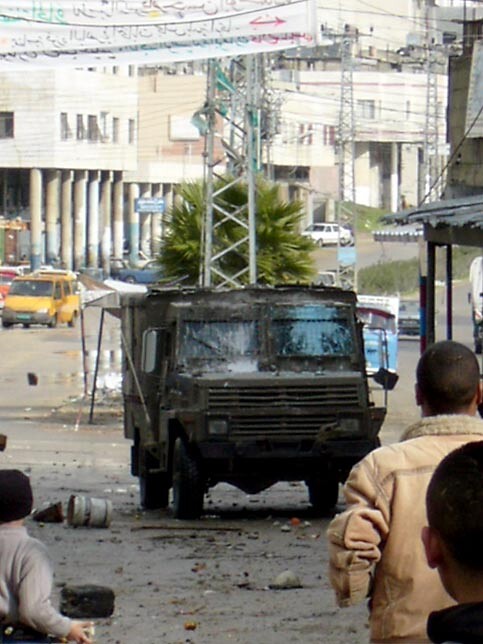 Nablus, 15 January 2005 — Lately the Israeli army has been showing up regularly at night, but after some quiet days following the elections, military activity is becoming "normal" again.

This morning two jeeps destroyed a few market stands at the main entrance of Balata camp and provoked the kids in the street, who responded with stones. The jeeps kept driving into the camp for about two hours, but they finally left after the bigger jeep's front window was hit by white and blue paint, leaving the driver unable to see anything through it.

At the scene, an old man from the municipality was collecting garbage from right in front of one of the jeeps. One jeep drove into some vegetable shops causing all the bananas to fall on the ground. A father came and grabbed his young son, telling him that he was not supposed to be there and to go home. During these confrontations nobody was injured or killed.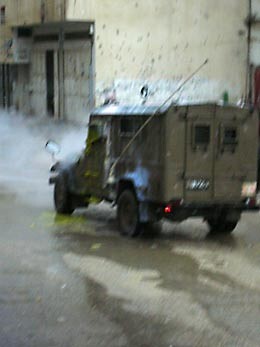 In the afternoon the Israeli Occupation Forces came back. They announced curfew in the area around the

UNRWA

girls' school then went to the other side of the camp near the graveyard. The usual exchanges between soldiers and kids followed.

Some internationals walked several children and women past the jeep and tried to stand in the line of fire to prevent the occupation forces from shooting. After a while, a young boy was hit by several rubber bullets at close range.

Medical volunteers, locals and internationals carried him to the ambulance. His injuries were not too serious and no other casualties occurred. Later, one of the jeeps was hit in the engine by resistance fire, causing the army to withdraw soon after to Huwara army base.

Ray Smith is a psuedonym.