I was sitting behind my desk in my family's supermarket in Khan Younis on 14 May when my cousin Ali approached.
There was going to be another gathering in al-Faraheen for that day's Great March of Return protest, he said. Would I join him?
"No, I prefer the one in Khuzaa where we usually go," I said.
Ali insisted to go to al-Faraheen and decided he would do so with his friend Saed. He stayed with me until I closed the shop and we went our separate ways. I called my friend Ahmad to go to Khuzaa.
At the protest, we found the usual: tear gas canisters falling thickly, leaving us barely able to breathe or talk; ambulances and paramedics fanning out everywhere; and the sound of live bullets whizzing past.
The sound of a bullet elicits contradictory feelings. All of us know that it will hit someone. But if we hear it, we are safe, just like when we hear shelling it means it has exploded but not on us.
Critically wounded
Then my phone began to ring. I saw my brother's name on the screen. Before I had a chance to say anything, he urged me to come to the European Hospital, "Now! Ali was shot."
I started running without thinking. Ahmad followed and we rushed over to the hospital in a taxi. There we made our way through the crowds, the screams, the blood on the clothes and beds, the men and women weeping.
"Ali Firwana?" I gasped to the woman behind the reception desk.
"Second floor in surgery," she replied.
The whole family, Ali's friends and everyone, were there waiting, fearful and worried. Time seemed to speed up. Everything moved fast. The paramedics came through with wounded people on stretchers, bustling from room to room. A doctor would appear at regular intervals urging people to give blood. "We need blood! Those who can donate blood, follow me please!"
We had already donated but they never stopped asking.
Finally, a doctor came out of the operating room. "Ali's condition is critical. Be patient and pray for him."
After several hours, they transferred him to the intensive care unit. He was taken to the ICU where we were not allowed to join him.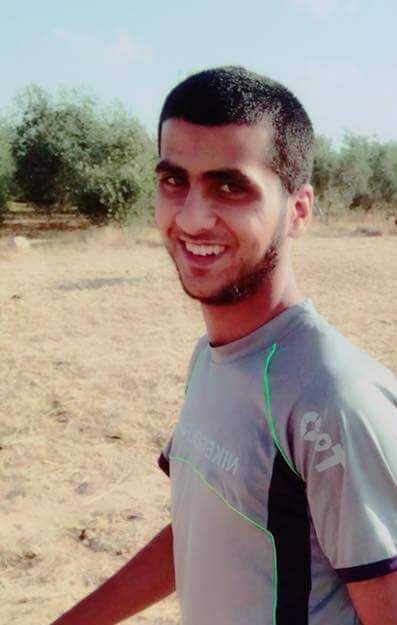 Paralysis
Ali stayed in a coma for about a month. When he woke up, he was in shock, gazing at the feeding and breathing tubes stuck in his body, unable to speak. He did not believe at first that his coma had lasted a full month. He told us he had only been asleep for a day.
It was several days later, when the diagnosis of paralysis was confirmed, that we had to tell Ali that he would no longer be able to move his legs.
I cannot imagine what my reaction would have been if this had happened to me. Certainly, I would lose hope. Yet Ali was hopeful and brave. He encouraged me to continue participating in the protests. When a classmate who came to visit him at the hospital asked if he would go back, he answered, without hesitation. "Absolutely!"
For Ali and myself, the Great March of Return was a dream. Here we were, Palestinians, together, all calling for the right of refugees to return to their homes and lands from where they were expelled by Zionist forces in 1948. All of us, together, were demanding the lifting of Israel's blockade on Gaza, now in its 11th year. We were united against the US embassy move to Jerusalem.
I was most motivated by the need for the rest of the world to see the protests from a Gazan perspective. There aren't enough activists here who can tell our story in English to people abroad and reveal how Israel's terror and inhumanity impact our lives.
The Great March of Return has inspired thousands of Palestinians in Gaza to protest for our rights. But it has come at a great cost. More than 125 have been killed during the demonstrations, and more than 5,000 have been injured by live fire.
Hundreds face long-term disability, dozens have had limbs amputated, and as of 3 July, at least 10 protestors were left paralyzed as a result of their injury.
"I am dying"
According to the hospital neurologist, an exploding bullet had injured Ali's spinal cord, caused the loss of two vertebrae and damage to his liver, diaphragm and lungs.
He was eventually moved to a Palestine Red Crescent Society rehabilitation center. Each Friday, when the clinic workers have a day off, we bring him home. I hear him crying, shouting and screaming in pain at night.
"Take me back to the hospital. I cannot take this pain. I am dying. Take me back please!"
I feel helpless. I do not know how to ease his pain. My heart tears with each scream.
Taking advantage of a moment of quiet, I once asked him what happened the moment he was shot.
"There was heavy gunfire," he said. "We lay down on the ground to protect ourselves. The soldiers were looking at us and their weapons were aimed toward us. And there was a deceitful sniper who waved at us, telling us to leave the place safely.
"I made a decision I will regret for the rest of my life: I trusted him. When I stood up, the pain was like a bolt of lightning that burned the depths of my body. I felt that every part of my body was literally on fire.
"At that moment I was not afraid of death. It is my mother I was thinking of throughout all of this! My mother! Just my mother and nothing but my mother."
Hope against hope
Ali is his mother's only child; her husband abandoned her when she was pregnant. He was supposed to graduate from the Gaza Community/Training College with a specialization in motor mechanics this semester. That deceitful sniper had sabotaged his plans to dedicate his life to supporting his mother.
The day I asked Ali about being shot, we had gone to the house where he lived with his mother. My uncle opened their fridge to find nothing but a piece of cheese and frozen bread.
I was shocked to realize that they live in extreme poverty. They had never asked for help. We are poor too, but I feel the blame is on us for not asking about their situation.
Ali is now receiving medical treatment in Egypt. His mother and uncles are with him. They received help from a local charity as well as the government in Gaza.
Ali requires further surgery. He is still hoping to move his legs again. He is still hoping to defy the treacherous bullet fired by a heartless sniper, and a world that answers Israel's crimes with shocking silence.
Abdalrahim Alfarra is a Palestinian activist from Gaza.
Tags