Veteran anti-racist, former mayor of London and Labour giant Ken Livingstone resigned in May from the party to which he had devoted his adult life.
But the very same day, another high-profile leftist purged from Labour put the party on notice he would be taking his case to the high court.
Marc Wadsworth's case highlights how the party's disciplinary apparatus is being used to purge members falsely accused of anti-Semitism, many of them supporters of Palestinian rights.
Wadsworth announced at a meeting in Bristol that his lawyer had written to General Secretary Jennie Formby giving Labour two weeks to re-admit him or expect a legal challenge to his expulsion.
The letter came as Wadsworth was on a national speaking tour calling for his reinstatement.
After the expulsion of Wadsworth in April, it became clear to many activists that Livingstone had little chance of receiving a fair hearing.
So in May, after two years of suspension over supposed anti-Semitism, Livingstone said the controversy over his continuing membership had become a "distraction" to getting the party led by Jeremy Corbyn back into government.
Livingstone said that had he fought expulsion, his case would have dragged on "for months or even years, distracting attention from Jeremy's policies."
Corbyn himself said it was a sad moment but it was the "right thing to do".
Media circus
Livingstone's statement reiterated that he did "not accept the allegation that I have brought the Labour Party into disrepute – nor that I am in any way guilty of anti-Semitism."

But he went further in apologizing than he had ever done before, saying he recognized "that the way I made a historical argument has caused offense and upset in the Jewish community. I am truly sorry for that."

In April 2016, Livingstone had been asked in a BBC radio interview if a Labour lawmaker's online posting about Hitler's actions being "legal" had been anti-Semitic.

In reply, he raised the 1933 Haavara agreement between the Nazi government and the Zionist Federation of Germany, saying it amounted to Hitler "supporting Zionism" by transferring Jews to Palestine.

In contrast to Livingstone's contentious, but broadly accurate historical comments, the event that got Marc Wadsworth expelled was far more clear cut – it was based on a totally fabricated version of his comments, eagerly adopted by a frenzied media circus.

In June 2016, right-wing Labour lawmaker and former Israel lobby spin doctor Ruth Smeeth falsely claimed Wadsworth had accused her at a public event of a "media conspiracy" – a fabricated quotation.

Almost two years later, she deleted the press release containing these claims from her website – but refused to correct it, and continued to repeat her false claims in media interviews. She later reposted the press release, misleadingly backdating it as if it had never been deleted.

Due to the strength of Wadsworth's case on the facts, many activists expected the Labour Party disciplinary hearing to exonerate him.

But it didn't. Why? And who was behind the ruling?
Kangaroo court
The Labour Party body with the power to expel or otherwise discipline members is the National Constitutional Committee, or NCC.
It is this body that has recently been expelling members accused of anti-Semitism, as the culmination of the last two and a half years of manufactured "Labour anti-Semitism crisis."
In recent meetings with Israel lobby groups, Labour leaders have said their "expectation" is that all outstanding allegations of anti-Semitism against members will be dealt with by July.
This exaggerated and sometimes completely fabricated campaign to falsely portray Labour as "institutionally anti-Semitic" has been the most successful smear against Corbyn – the party's most left-wing leader in decades, and a Palestine solidarity veteran.
Despite its power, reliable information on the NCC is hard to come by.
Unlike the ruling national executive, the party's website does not even list the names of NCC members.
Although the Chakrabarti report into allegations of anti-Semitism in the Labour Party described it as Labour's "senior democratic body," the group is elected by delegates to the annual conference. By contrast, every party member is given a vote for members of the National Executive Committee who represent local party branches.
But through conversations with Labour activists present during Wadsworth's expulsion hearing in April, The Electronic Intifada can name three of its members: Maggie Cosin, Douglas Fairbairn and Kate Osborne.
The latter two are union activists delegated to the NCC, and information on them is hard to come by. Cosin, however, is a veteran right-winger.
Maggie Cosin, "witchfinder general"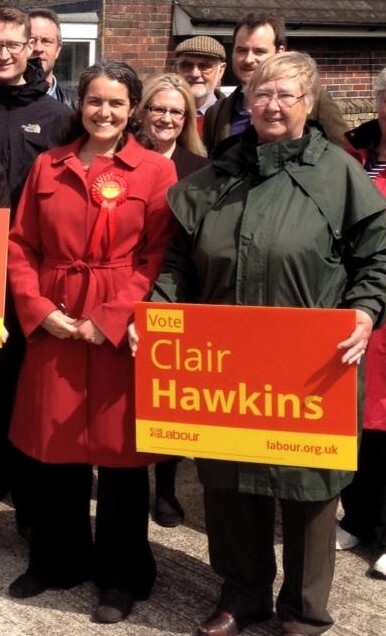 Endorsed by hard-right factions Progress and Labour First, Cosin is the chair of the NCC.

Now a local councilor in Kent, and previously in Camden, Cosin is a seasoned backroom dealer of the Labour right.

She is a leading force in Labour First, and was once described by influential Labour leftist Jon Lansman as "a latter-day witchfinder general" on the NCC.

As the chair of the panel, Cosin should have been responsible for questioning Smeeth, who gave evidence at Wadsworth's expulsion hearing.

But The Electronic Intifada has learned that Cosin spoke at the same annual Labour First conference as Ruth Smeeth in 2016.

This calls into question whether Cosin should have recused herself from ruling on Wadsworth's case.

Another right-wing faction that has endorsed Cosin is the Jewish Labour Movement.

Although it claims to be the only legitimate representative of Jews in Labour, the JLM functions as a front organization for the Israeli embassy.

It has strongly worked to fuel the "anti-Semitism crisis" and help purge the left and supporters of Palestinian rights.

Another leading force in Labour First is Luke Akehurst – who also works as the director of the lobby group We Believe in Israel.

Cosin's Facebook "likes" include the page for Akehurst's election campaign for Labour's national executive, as well as Progress, JLM vice chair Mike Katz, Labour Friends of Israel chair Joan Ryan and a group called "Calling time on Labour's Antisemitism problem."

Cosin did not reply to a request for comment.

Last year it was reported that the election of activists from pro-Corbyn faction Momentum to the NCC would mean that Cosin would likely be removed as chair at the 2018 conference in September.

But with the right still in a majority, and with Momentum's tightly controlled national organization refusing to take any action to resist the purge, it remains to be seen if that will happen.

Jon Lansman – the group's leader and a member of Labour's ruling executive – has been accused by some left-wing Labour activists of fueling the witch hunt.
Douglas Fairbairn
Little information on Douglas Fairbairn is publicly available.
Labour members present at Wadsworth's expulsion hearing said he is a delegate to the NCC from the small right-wing trade union Community.
Community was once that rare beast – a union opposed to Palestine solidarity. For years its leadership fought against BDS, the boycott, divestment and sanctions movement.
But in 2011, members inflicted a defeat on the leadership by voting down a motion calling for "full engagement" with Israel.
Fairbairn is said to be a close aide to Cosin on the NCC.
Kate Osborne
Kate Osborne is an NCC delegate for Unite, the UK's largest union, which has been avowedly pro-Corbyn.

Its leader Len McCluskey has questioned the campaign to portray Labour as an anti-Semitic party, most recently dismissing it as largely a "smear."

Wadsworth told The Electronic Intifada that Osborne had asked "tough questions" of Ruth Smeeth at his expulsion hearing.

There is no public record of how the three members of the NCC panel voted, but Osborne's single vote would not have been enough to save Wadsworth.
No recourse except the courts
Wadsworth told The Electronic Intifada that "the anti-Jeremy Corbyn right-wing of the Labour Party" had "dominated my expulsion panel."
He also said he was dismayed that other "left-wing NCC members were either unable or unwilling to be on the panel and thereby oppose the continuing purge against supporters of Jeremy Corbyn and Palestine solidarity party activists."
"It's a disgrace that Labour members have no right to appeal NCC decisions and their only recourse is to fight a costly, time-consuming and distressing legal action, which, in the interest of the party and its members, I want to avoid," Wadsworth added. "If I'm successful it will help other people in the same situation and provide an indication the purge is finally over."
Wadsworth has been crowdfunding to cover costs for both his national tour and his court case.
Meanwhile, left-wing group Jewish Voice for Labour has drafted a model motion for Labour activists to pass in their local parties calling for Wadsworth to be reinstated.
Wadsworth said six local party branches had passed motions supporting him.
With Livingstone and Wadsworth out of the party for now, the attention of the right and the Israel lobby will now turn to the last standing "high profile" case of supposed anti-Semitism – Jackie Walker.
The Black and Jewish anti-Zionist told The Electronic Intifada in mid-May, "I'm not resigning."
She said her suspension for disagreeing with the Jewish Labour Movement's definition of anti-Semitism in September 2016 was totally unjust, and that the party would have to dirty its hands if it wanted her out.
The anti-Semitism smear may have died down since May's local elections ended, but it has not gone away, and seems certain to be resurrected time and again.
Tags