Updates were appended to this article on 18 April 2018 and 15 June 2022.
The former Israel lobbyist and high-profile Labour lawmaker Ruth Smeeth has deleted a statement from her website which alleged anti-Semitism in Labour.
In one of the most high profile instances of the supposed "anti-Semitism crisis" in the UK's main opposition party, Smeeth in June 2016 claimed she had been "attacked by a Momentum activist and Jeremy Corbyn supporter who used traditional anti-Semitic slurs to attack me for being part of a 'media conspiracy.'"
Activist Marc Wadsworth had in fact neither said nor implied anything about Jews. Neither did he use the word "conspiracy."
Smeeth did not reply to a request for comment. You can read the deleted statement in full below.
Wadsworth told The Electronic Intifada: "I am glad the extremely defamatory statement has finally been removed from Ruth Smeeth's website as I requested way back in 2016."
But he said he was "disappointed that I have had to wait such a long time for this to happen and have still not received an apology for being smeared as an anti-Semite."
He said that for a high-profile Labour lawmaker to make such comments "caused damage to my reputation and untold distress not just to me but also to my family and friends."
Evidence in online archives shows the statement was deleted around 24 February of this year.
Sitting among assembled members of the press, Smeeth had dramatically walked out of the launch of a high profile report into allegations of anti-Semitism in the Labour Party, and was allegedly reduced to tears.
Human rights lawyer Shami Chakrabarti's report had found that Labour was "not overrun by anti-Semitism."
After several months of bad headlines about the alleged Labour anti-Semitism crisis, the report was an attempt to draw a line under the affair.
Smeeth's intervention ensured that did not happen.
"Break and destroy"
Although the now deleted statement did not name him, it was a clear reference to Wadsworth, the Black anti-racist and Labour Party member who spoke during the question and answer session of the report launch.
Despite the facts of the case, captured on video, Wadsworth remains suspended as a Labour Party member after almost two years.
He faces a disciplinary hearing later this month and has been crowdfunding to hire legal support.
Among those who have demanded Wadsworth be disciplined – which could include expulsion from Labour – are the Jewish Labour Movement, a group which is very close to the Israeli embassy.
Speaking at a Jewish Labour Movement event last year, Smeeth called for isolating the "leaders" of alleged anti-Semitic abuse, who she said "we need to break and destroy."
She also repeated her discredited claims about Wadsworth to a local newspaper last month, saying she was "still waiting for my own complaint from 2016 to be dealt with."
But Wadsworth's supporters include King's College London professor Paul Gilroy and editor-at-large of The Guardian Gary Younge.
In a letter to The Guardian published last week correcting the paper's coverage, Wadsworth wrote that he is "not an example of anti-Semitism within the Labour Party" and that "I have had to take several news media organizations to task and get them to correct inaccuracies about this."
He continued: "this incorrect claim about me plays into a Jewish media conspiracy theory that I utterly reject and have never espoused."
Israel lobby
Smeeth is a former Israel lobby spin doctor who, after entering the UK's parliament in 2015, continued to be funded by two leading figures from her former employer, BICOM – the Britain Israel Communications and Research Centre.
The latest official register of financial interests for members of Parliament shows that Smeeth continues to be funded by the Israel lobby.
Last year, she registered an in-kind donation worth more than $7,000 from Trevor Chinn, a member of BICOM's executive committee.
A 2009 diplomatic cable published by Wikileaks revealed that Smeeth was a source the US embassy considered it should "strictly protect."
Speaking to The Daily Telegraph in 2011, Smeeth admitted to being at a meeting with the US embassy but said: "I have no recollection of saying what has been attributed to me. I would not consider myself to be a source for the US government."
Update, 18 April:
Since the publication of this article, Ruth Smeeth has reposted this statement to a new page on her website, backdating it to 30 June 2016.
There is no evidence in online archives that this new page existed before 16 April 2018.
The original, deleted, page was posted to her site by her spokesperson Glen Watson, while the new page is posted in her own name.
The new page has a different URL (web address) from the old, deleted page.
Two books by pro-Israel authors published last year both reference the statement in footnotes – both cite the original URL of the deleted page.
On Wikipedia, both the current version (as of this writing) and the very first version of the Ruth Smeeth page to reference the statement use the URL of the deleted page in referring to it.
Smeeth has been emailed seeking comment on exactly when and why she added the statement back to her site after the deletion of the original.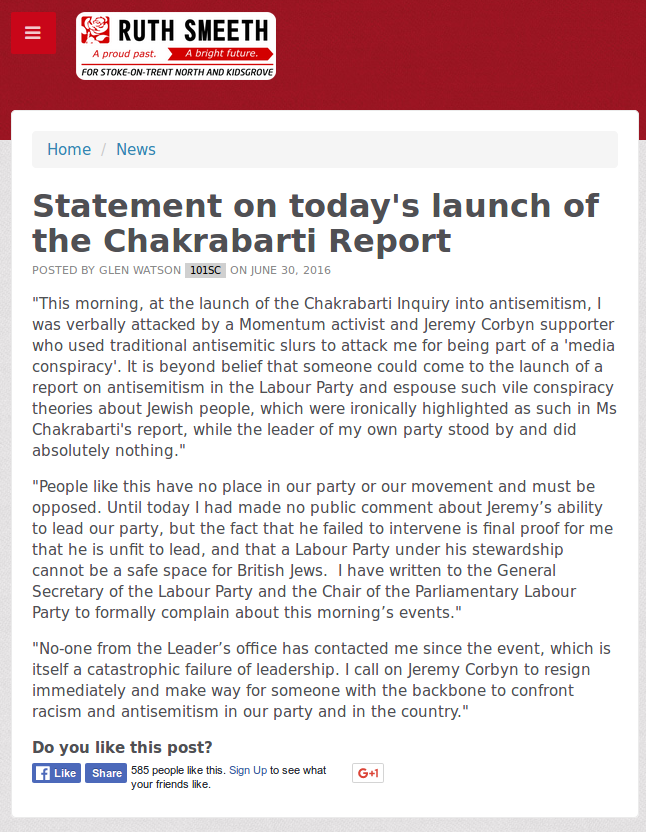 Update, 15 June 2022:
The second posting of Smeeth's misleading press statement has also now been deleted from her site. Despite losing her seat in 2019's general election, as of this update Smeeth's website is still operational.
A Google search of her site shows that no new page with the same title has been reposted. Internet archives indicate that the reposted page was deleted at some point between 29 April 2018 and 5 December 2018.
Tags