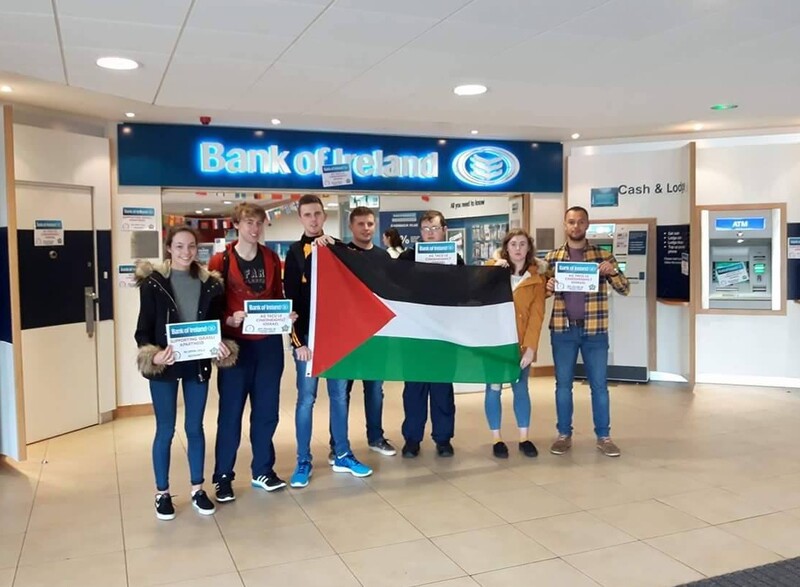 The Bank of Ireland has intimated in a new letter that its closure of the Ireland Palestine Solidarity Campaign's accounts was the result of outside pressure.

Sinn Féin politician Enda Fanning, to whom the letter was addressed, told The Electronic Intifada that he was "disgusted."

Fanning, a Dublin county councillor, added that the response shows that the bank's action was "a political decision."

IPSC announced earlier this month that the bank had closed its accounts, explaining only that the organization no longer met its "risk appetite."

The group said the bank's decision was "an attack on Palestinian rights and BDS," the boycott, divestment and sanctions movement.

Fanning wrote to the bank earlier this month asking why the accounts had been closed.

"I write as somebody who has previously donated to the IPSC," Fanning stated in a letter seen by The Electronic Intifada. "Please advise of the reasons for the closure. It would appear to be highly contentious and unfair and has all the signs of a political decision."

Fanning posted the bank's full reply on Twitter on Tuesday.

The bank's chief executive Richie Boucher wrote that the account closure "adheres to all applicable legislative and regulatory requirements in all countries in which it operates … [including] the European Union, [UK's] HM Treasury, the United Nations and the US Department of the Treasury's Office of Foreign Assets Control."

Boucher wrote that he was "not in a position" to comment on the specific case, but that "descriptors of certain customer types, occupations, industry sectors and geographic locations" were what informed these decisions.

Fanning told The Electronic Intifada that "the bank's response has clear political overtones – it is couched in regulatory terminology but in reality the politics of this decision jumps from their every word."

IPSC "is a fully legal civil society organization," Fanning said. "The current president of Ireland, Michael D. Higgins, is a former patron of the IPSC and has spoken at IPSC events."

Sinn Féin's youth wing has staged protests against the account closures at Bank of Ireland branches in the Republic.

IPSC is appealing for supporters to complain to the Bank of Ireland, consider closing accounts in protest and to donate to their work.
Tags