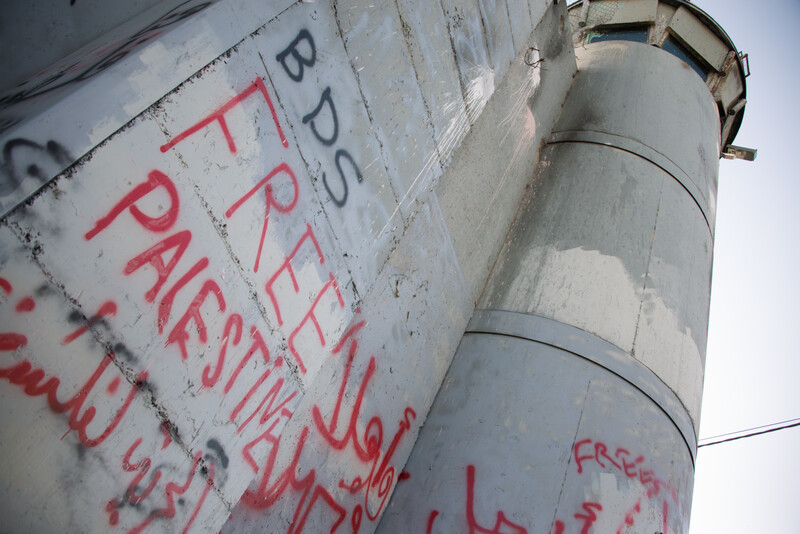 An Israeli citizen is claiming asylum in Canada, citing his government's escalating repression of political activism, particularly the boycott, divestment and sanctions (BDS) movement.
Gilad Paz told The Electronic Intifada that he landed at Montreal airport on 11 August, after traveling from Tel Aviv, and immediately asked for political asylum.
He said he told the Canadian asylum officer that he is a BDS and human rights activist.
Paz, 34, is an attorney who specializes in civil cases and employment law. He has also been a member of Amnesty International's Israel section and the leftist Zionist party Meretz for several years.
He said he did his obligatory military service at a desk job in the Israeli air force and that he never had a combat role.
Paz, who was born in Israel, is pessimistic about the country's future without a fundamental change. "I don't see a future for this country. Maybe with the two-state solution, but I do not see any horizon for that right now," he said. "It's a dream that is never going to come true."
Alternatively, he said, there could be a one-state solution with equal rights for all: "Maybe this is the best solution. Maybe it is the only moral solution."
But nothing is going to happen if people can't push and advocate for change, and he sees that right under growing threat.
"Evil intentions"
Paz says his BDS advocacy has taken place online, especially on Facebook, and he acknowledges that he has yet to face any personal consequences for speaking out.
Long-time activists in Israel familiar with BDS circles there told The Electronic Intifada they did not know Paz in person.
While Israel has jailed many Palestinians over mere Facebook posts, it has not used this kind of repression against Israeli Jews.
"There is nothing that was done yet, but I am assuming that after the speeches of Erdan it will become a reality very soon," Paz said.
He was referring to recent speeches by public security minister Gilad Erdan, the Israeli official in charge of combating the BDS movement domestically and internationally.
Earlier this month, Erdan and interior minister Aryeh Deri formed a task force to prevent the entry of foreign activists Israel claims are affiliated with organizations that support BDS and expel those who have already entered territories under Israeli control.
"This is a necessary step, given the evil intentions of the delegitimization activists working to spread lies and distortions about the reality in our region," Erdan said.
Paz told The Electronic Intifada he had been thinking seriously about seeking asylum since a speech Erdan gave in June at the Herzliya conference, a high-profile annual gathering of Israel's political and military elites.
"The message has to be that it's not worth being a BDS activist," Erdan said. "Anybody who works to delegitimize Israel, to bring an end to the Zionist enterprise, they should know that there will be a price."
"I made the decision after the speech of Gilad Erdan; I concluded that I am not going to have any choice," Paz said. "I am assuming that this speech and the [transparency law] was aimed to give a clue to people that we do not have any more place in Israel."
Denying entry
The crackdown against Palestinian and international activists is already intensifying.
Earlier this month, members of a delegation of five US citizens were interrogated about their political activities and denied entry by Israel.
And last week, Charlotte Kates, coordinator for the prisoner solidarity group Samidoun, was denied entry as she attempted to join a group of European parliamentarians and lawyers traveling to Palestine in support of hunger striker Bilal Kayed.
Kates, a US citizen, said she was interrogated about her support for BDS and her online activities. She said she was denied entry after refusing to provide lists of names of contacts and activists.
Perhaps the highest-profile assault on freedom of expression so far has been Israel's effective travel ban on Omar Barghouti, the Palestinian human rights defender and co-founder of the BDS movement.
Israel imposed the ban in April, soon after public threats by Israeli ministers.
Attacks and threats
At the time, Amnesty International strongly condemned these threats, warning that "an escalation of acts of intimidation by the government and attacks and threats by settlers and other non-state actors have created an increasingly dangerous environment" for human rights defenders in Israel and the occupied West Bank and Gaza Strip.
The group expressed particular concern for the "safety and liberty of Palestinian human rights defender Omar Barghouti, and other boycott, divestment and sanctions (BDS) activists, following calls alluding to threats, including of physical harm and deprivation of basic rights, made by Israeli ministers."
Paz also cited the so-called transparency law as part of the reason he now feels unsafe in Israel. The new law will require more than two dozen Israeli human rights groups to prominently declare that they receive more than half their funding from foreign governments.
"The law, written in a way to exempt many organizations that support government policies and settlement activities, including those that receive foreign private donations, sets back freedom of association in Israel," Human Rights Watch has said.
UN Secretary-General Ban Ki-moon said he was "deeply troubled" by the law.
Even the European Union, which rarely criticizes Israel, said that the requirements "imposed by the new law go beyond the legitimate need for transparency and seem aimed at constraining the activities of these civil society organizations working in Israel."
September hearing
In 2013, Canada's then Conservative government added Israel, excluding the West Bank and Gaza Strip, to a list of designated "safe countries" where the presumption is that "it is less likely for a person to be persecuted compared to other areas."
In 2015, a Canadian federal court threw out government rules that limited appeals by aslyum seekers from these supposedly safe countries, calling them discriminatory.
From 2004-2013, Canada gave permanent residence to a total of 684 refugees and their dependents from Israel, roughly the same number as from the "State of Palestine," Honduras, Angola and Egypt.
The acceptance rate for applicants from Israel has varied from year to year. Statistics, however, cannot predict what will happen to any particular person since all cases are supposed to be decided on individual merit.
Gilad Paz is preparing for his asylum hearing he says is scheduled for 29 September. His claim would have to succeed despite the fact that he has a thin resumé as an activist, notwithstanding Israel's clear moves against human rights defenders.
Asked what he would do if his claim is rejected, he said, "In this case I will have to appeal or take the risk and come back to Israel and see what will happen."
"I'm very, very afraid what is going to happen because the Israeli government knows I claimed asylum," Paz added.
Tags