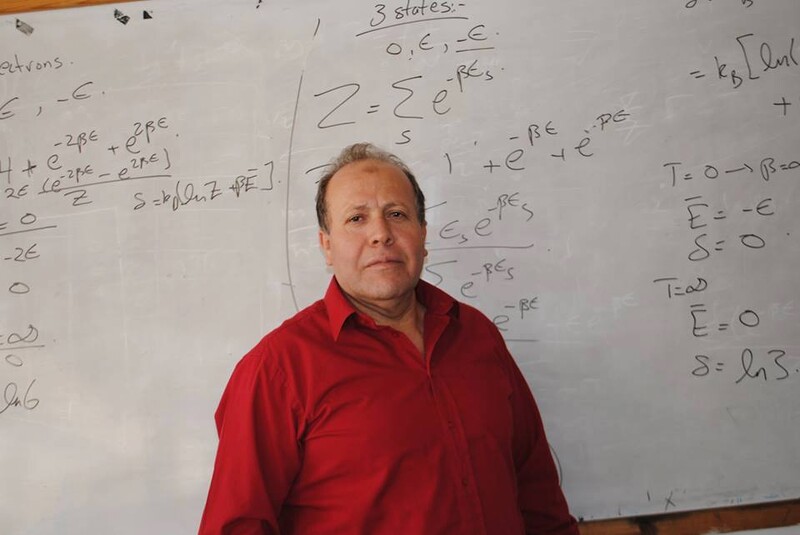 In a rare move, an Israeli military court granted jailed Palestinian astrophysicist Imad Barghouthi's demand to be released from administrative detention.
This week, an Israeli court also ordered the release of long-term hunger striker Sami Janazreh.
Barghouthi, a 54-year-old professor at Al-Quds University, has spent over a month in an Israeli prison without charge or trial, garnering condemnation from scholars around the world.
Now scheduled to be released on Sunday, Barghouthi was originally ordered held for two months for allegedly "inciting against Israeli occupation" on his Facebook page.
This is the second time Israel has arrested Barghouthi after he criticized Israel online.
In December 2014, Barghouthi was detained after he criticized Israel's occupation on Facebook and on television.
During the appeal, lawyer Jawad Boulous submitted a petition signed by academics from all over the world urging the professor's release.
"Breakthrough"
Another letter delivered to the Israeli prime minister's office was signed by more than 350 international scholars, many at the top of mathematics and science fields.
Among the prominent signatories are David Mumford, winner of the 1974 Fields Medal, often called the Nobel Prize of mathematics; leading physicist Freeman Dyson of the Institute for Advanced Study in Princeton and Chandler Davis, Professor Emeritus of Mathematics at the University of Toronto.
Other academic signers include Noam Chomsky, Judith Butler and Angela Davis.
The letter, initiated by David Klein, a mathematics professor at California State University Northridge and a member of the organizing collective of the US Campaign for the Academic and Cultural Boycott of Israel, described the arrest of Barghouthi as "part of a broader pattern of disruption and suppression of Palestinian educational systems."
"I do think this letter is a breakthrough," Klein told The Electronic Intifada, noting the traditionally favorable view of Israel and Zionism within the scientific community.
Klein, who has been involved in Palestine solidarity work for decades, lamented that some prominent members of the fields are still missing from the list of signatories, but was pleased that had not deterred others from condemning Israel's detention of Barghouthi.
"When the top of the field is pro-Zionist that can send a signal of intimidation throughout the rest of the field. So I'm proud to say that junior faculty, visiting post-doctoral students and assistant professors had the courage to sign this letter," Klein said.
"I think it's beginning to crack the status quo."
Increasing use of arbitrary detention
Barghouthi's victory in a military court remains an exception as other Palestinians held under administrative detention turn to hunger strikes to try to secure their release.
The number of administrative detainees continues its rise that began last October, when confrontations between Palestinians and Israeli forces escalated.
Prisoner rights group Addameer estimates that 750 Palestinians are currently detained indefinitely without charge or trial.
Palestinians placed in administrative detention are held on the basis of secret evidence that they are unable to challenge in any due process.
Palestinian prisoner Adib Mafarjah launched his hunger strike on 3 April after his administrative detention order had been repeatedly renewed since he was first detained on 10 December 2014.
He began his hunger strike alongside Fuad Assi, a fellow resident of Beit Liqya near Ramallah in the occupied West Bank.
After 55 days on hunger strike, Assi ended his strike after Israel agreed not to extend his detention after four months.
Assi will also be allowed to call his wife and family, according to the Palestinian Committee for Prisoners Affairs.
Janazreh to be freed
This week, an Israeli military court ordered the release of 43-year-old Sami Janazreh, who had refused food for 70 days.
Janazreh, who was first arrested on 15 November 2015, had suspended his striker earlier this month after prosecutors for the Israeli military prepared to indict him for "incitement" against Israel on Facebook.
However, the military court this week rejected the charges, ordering Janazreh's release for next Monday.
Meanwhile, at least three other Palestinian prisoners held in administrative detention have begun refusing food.
Montasser Eid, Emad Abu Rezeq and now 19-year-old Malik Qadi are the latest Palestinian prisoners to announce hunger strikes.
Tags