An Israeli died from his wounds on Wednesday after he was shot when soldiers and an armed civilian opened fire on a Palestinian who allegedly attempted to stab the man.
The alleged Palestinian assailant, identified as Mamdouh Amro, a teacher from the Hebron-area village of Dura, was wounded during the incident at the entrance to the Gush Etzion settlement bloc – the site of several other attacks in recent months.
The slain Israeli man was identified as Eliav Gelman, 31, an off-duty army reserve officer who lived with his wife and two sons in a Hebron-area settlement.
Gelman is not the first Israeli to have been fatally wounded when armed civilians and uniformed forces opened fire during an alleged attack during months of sharply increased deadly confrontations that began in October last year.
Ofer Ben-Ari, a 46-year-old father of two, died after he was shot by Border Police who fired on two Palestinians in the Old City of Jerusalem in late December. Another Israeli was fatally stabbed during the incident.
The two alleged Palestinian attackers, Issa Assaf and Anan Abu Habsa, were shot dead at the scene in what may amount to an extrajudicial execution. Video of the scene showed Border Police and bystanders kicking and beating the men.
And in October, a mob of Israeli soldiers, prison officers and police beat and shot to death an Eritrean refugee who they mistook for the gunman who had opened fire moments earlier at the central bus station in Bir al-Saba (Beer Sheva) in southern Israel.
The gunman, a 19-year-old Palestinian citizen of Israel named Muhannad al-Okbi, killed a soldier and wounded several others, mostly Israeli security personnel. He was ultimately shot and killed by Israeli forces.
Video of the incident shows the crowd attacking Haftom Zarhum, who had traveled to the city to apply for a permit to stay in the country, while onlookers chanted for his death.
More than 170 Palestinians have been killed since October as a result of Israel's unofficial shoot-to-kill policy and vigilantism encouraged by its leaders.
Approximately 30 Israelis, two US citizens and a Palestinian have been killed during attacks waged by Palestinian assailants during that time period.
Teenager killed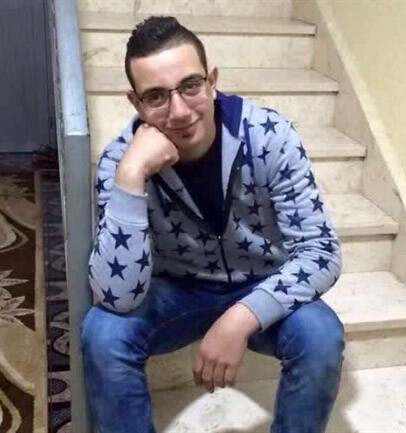 Qusay Abu al-Rub, 15, is the latest Palestinian child to have lost his life to an Israeli bullet.
Soldiers fired on the boy after he allegedly attempted to stab one of them at the Beita checkpoint near Nablus in the northern West Bank on Sunday. No Israelis were injured during the incident.
An eyewitness told the Ma'an News Agency that soldiers fired more than 10 rounds at the boy as he was walking towards them, carrying a knife.
Palestinian medics were reportedly prevented from accessing the wounded boy.
Abu al-Rub, from Qabatiya in the northern West Bank, is the 10th youth from the town to be slain since October. Three were killed in Jerusalem earlier this month during an armed attack in which a Border Police officer was fatally wounded.
Dozens of Palestinians have been shot dead in the streets during what Israel says were attacks, including children as young as 13.
Human rights groups have condemned Israel's reflexive use of lethal force when alleged attackers posed no immediate threat and could have been apprehended instead.
After Sunday's incident, Qabatiya was put under military closure for the second time this month. The closure was reportedly lifted on Tuesday evening.
The Israeli government asserts that the nearly 300 stabbing and attempted stabbings, shootings and car ramming attacks it says have been occured since last autumn are "the direct result of incitement by radical Islamist and terrorist elements, calling on Palestinian youth to murder Jews," as its foreign ministry has declared.
The attacks and alleged attacks have largely been waged by young Palestinians with no affiliation to armed groups – nearly half of them aged 20 or younger, according to Israel's domestic intelligence agency.
Israel's wild claims
Israel's education minister, Naftali Bennett, made the unsupported claim on Sunday that Palestinian parents do not prevent their children from waging attacks because they will collect a stipend from the Palestinian Authority if their son or daughter is slain.
The Tel Aviv newspaper Haaretz reported that Bennett's remarks were made during a cabinet meeting during which the Israeli army's chief of staff gave a briefing about how to prevent attacks by young Palestinians.
It is a longstanding and dehumanizing accusation made by apologists for Israeli state violence that Palestinian parents send their children to be killed, going to back to the statement attributed to the late former Prime Minister Golda Meir that "We can forgive the Arabs for killing our children, but we can never forgive them for forcing us to kill their children."
Multiple indictments of Palestinians captured after attacks, however, state that youths were motivated by imagery of actual Israeli violence against Palestinians seen on the news and social media.
Many incidents in which Palestinians were shot dead have been recorded on video, such as the apparent execution of Muhammad Abu Khalaf in Jerusalem last week.
The young man was hit by dozens of bullets fired by Border Police while he lay on the ground after allegedly stabbing and lightly wounding an officer.
Military prosecutors claim that a Palestinian teen indicted this week for allegedly murdering an Israeli woman in a West Bank settlement "watched Facebook videos and other content presenting Israeli soldiers as murderers who defile young Palestinian women" on the day of the attack, as reported by Haaretz.
The indictment states that the defendant left his house with a kitchen knife "with the intention of killing Jews."
Israeli military prosecutors and political leaders attempt to attribute Palestinian violence to anti-Jewish incitement. But its own intelligence leadership has acknowledged that Palestinians detained after alleged attacks said they "wanted to attack symbols of the Israeli occupation, but also to take revenge" for the killings of other Palestinians, often friends or relatives.
Bereft of any strategy to improve young Palestinians' attitudes towards its violent military occupation, Israel has attempted to scapegoat everything from the Palestinian Authority, Islamic extremism, media incitement and international journalists.
Israel this week even removed a billboard memorial paying tribute to a young woman executed at a Hebron checkpoint in September.
Video of the slaying of Hadil Hashlamoun, 18, shows the young woman bleeding to death on the sidewalk without receiving first aid as Israeli settlers and soldiers stand around, some of them smiling and laughing.
Israel claimed that Hashlamoun had tried to stab a soldier, but photos and eyewitnesses contradicted the army's narrative. Amnesty International described the incident as an extrajudicial execution.
Collective punishment
Since October, the army has refrained from launching a major military offensive like the one that followed the June 2014 disappearance of three young Israelis hitchhiking in the West Bank, and who were later found slain.
But it has meted out collective punishment measures, increasing the number of checkpoints in the West Bank and swelling the number of Palestinians in its prisons and jails beyond capacity.
Israel has also destroyed homes belonging to families of Palestinians slain during or arrested after alleged attacks.
Overnight Monday, Israeli forces demolished two homes in the Hebron area belonging to the families of Muhammad Hroub and Raed Muhammad Jabara al-Masalma.

"Israeli forces detained Hroub after he shot and killed two Israelis near the illegal settlement bloc of Gush Etzion south of Bethlehem in November. A young Palestinian bystander was also shot dead in the attack," according to the Ma'an News Agency.

"Al-Masalma was also detained in November after he stabbed to death two Israelis in Tel Aviv," Ma'an added.

The Israeli army filmed its forces destroying the two homes:

Punitive home demolitions are a form of collective punishment, illegal under international law, that Israel reserves exclusively for Palestinians and has never used against the families of Jews who injure or kill Palestinians.

Israel has also withheld for prolonged periods of time the bodies of dozens of slain alleged attackers for the stated purpose of avoiding large funerals that turn into protests.

After an off-duty soldier who held US citizenship was stabbed and killed in a West Bank settlement last week, Israel's military chief ordered combat soldiers to carry their personal weapons while on leave.

"The number of soldiers allowed to go home with their weapons was drastically reduced in 2006, following a dramatic rise in suicides involving the use of military weapons," according to Haaretz. "A subsequent study by the army's mental health division found that the order had reduced the incidence of suicides by 40 percent."
Tags