Three young Palestinians allegedly attacked a group of Israeli Border Police outside Jerusalem's Old City on Wednesday, killing one and seriously wounding another before they were shot dead.
The group were armed with guns, knives and improvised explosives, according to Israeli reports.
Police told the Reuters news agency that at least one of the attackers opened fire with an automatic rifle.
The slain Israeli officer was identified as Hadar Cohen, 19, who, like the other officer injured on Wednesday, had not completed basic training. The two women were on their first operational deployment when they were attacked, according to the Tel Aviv newspaper Haaretz.
Police told the paper that the patrol noticed two of three young Palestinians "sitting on a bench near Damascus Gate and asked them to identify themselves."
One of the officers told Haaretz that the two appeared frightened.
"One terrorist handed over his ID card, while the other drew his gun and fired at the policewomen," Haaretz reported.
"The Border Police shot and killed the two assailants. At this point the third gunman approached and opened fire at the detail, which shot and killed him as well," the paper added.
A deputy police commander told the paper that "The assumption is that the Border Police combatants weren't the assailants' target," and a much larger-scale attack was planned.
Palestinian attackers came from one village
The three slain Palestinians were identified as Ahmad Rabih Ismail Zakarneh, Muhammad Ahmad Hilmi Kamil and Ahmad Najah Ibrahim Abu al-Rab, all from the town of Qabatiya near the northern occupied West Bank city of Jenin.
The Palestinian health ministry stated that the three ranged between the ages of 20 and 21.
Israel severely restricts Palestinian movement and it is not yet known how the trio were able to enter Jerusalem, which is off-limits to the vast majority of Palestinians carrying West Bank IDs.
During an emergency assembly after the Jerusalem incident, Israeli officials decided to examine further measures such as imposing movement restrictions separating the northern and southern West Bank and "the revocation of work permits in Israel for people in circles close to attackers."
Israeli forces surrounded Qabatiya village on Wednesday night, declaring it a closed military zone, and rounded up residents, including members of the slain youths' families. The army said it was preparing to destroy the homes belonging to the youths' families and that it had revoked the work permits for three of their relatives.
Confrontations broke out, and a 15-year-old boy was reportedly run over by an army jeep in the village on Thursday.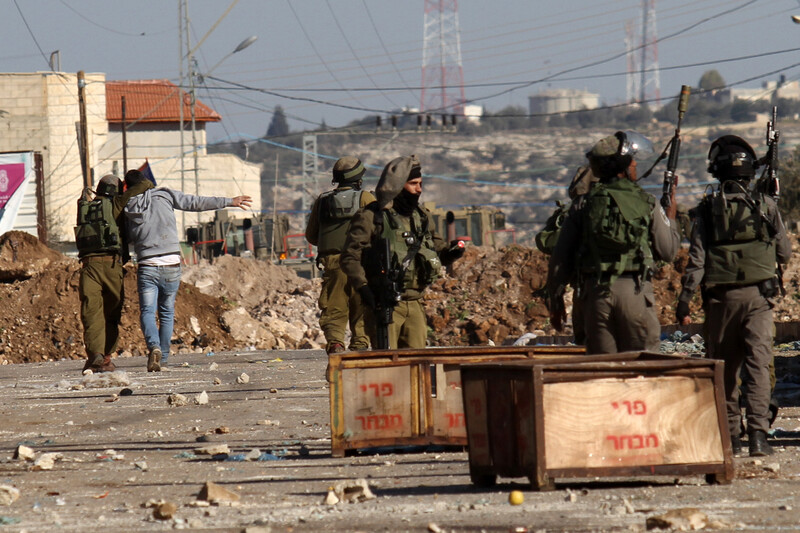 The armed Jerusalem attack is the second incident this week to mark a new development after four months of attacks waged by individual Palestinians, mainly at Israeli settlements and checkpoints in the West Bank, most of them using knives or cars.
On Sunday, a member of the Palestinian Authority security forces shot and wounded three soldiers at a checkpoint before he was shot dead.
Israel's army has relied on the cooperation of the PA forces to suppress Palestinian resistance, and has credited them with preventing attacks and confiscating weapons.
Approximately 30 Israelis have been killed by Palestinians since mid-September, according to Israel's Magen David Adom ambulance service.
More than 160 Palestinians have been killed during that same period, most of them during attacks and alleged attacks against Israeli soldiers, police and settlers.
Friend slain months earlier
Nine youths from Qabatiya village have been killed since the beginning of October.
One of them was a good friend of the three killed on Wednesday, a relative of one of the youths told The New York Times.
Ahmad Awad Abu al-Rab, 17, was shot dead by Israeli soldiers at Jalameh checkpoint near Jenin during what Israel says was an attempted stabbing attack on 2 November last year. Another boy the same age, Mahmoud Kamil, was wounded and arrested during the incident.
The Palestinian Centre for Human Rights called the shooting of the boys a crime of excessive force.
The teens apparently never made contact with the soldiers before they were shot with live fire.
The Quds news outlet published a photo of Muhammad Kamil participating in a demonstration calling on Israel to return the body Ahmad Awad Abu al-Rab: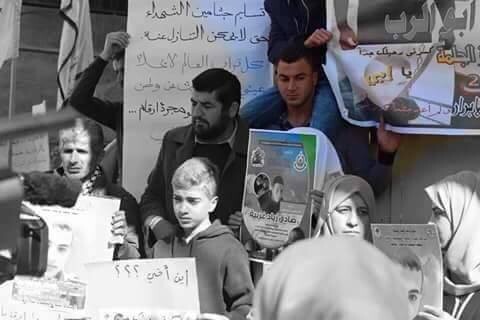 Muhammad Kamil called for mercy for Ahmad Awad Abu al-Rab in a Facebook post a few days before the Jerusalem attack: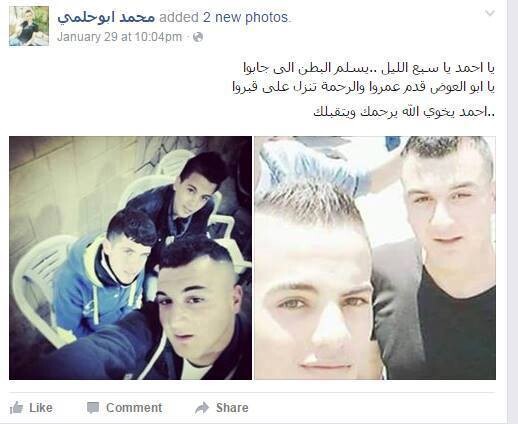 Quds also published a screenshot of a Facebook post in which Ahmad Zakarneh laments the loss of Ahmad Awad Abu al-Rab: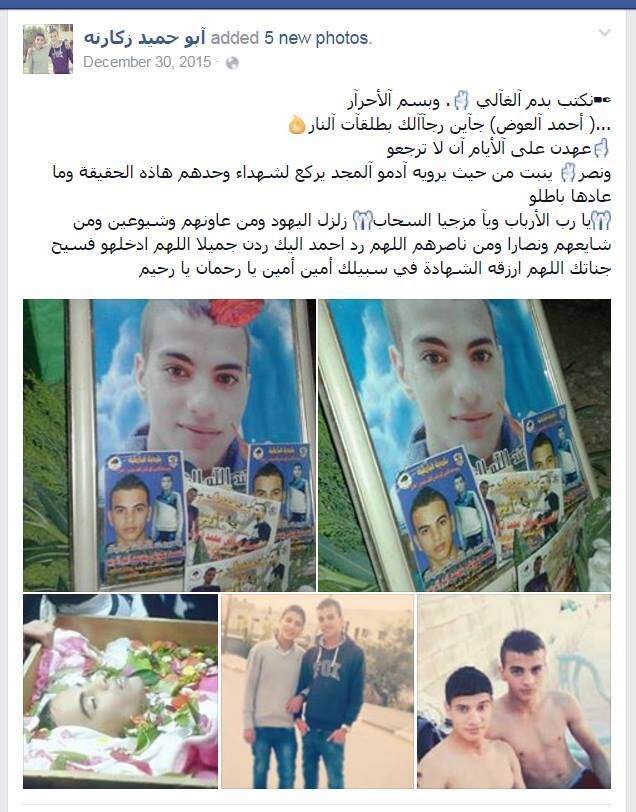 The two appear together in Zakarneh's profile photo: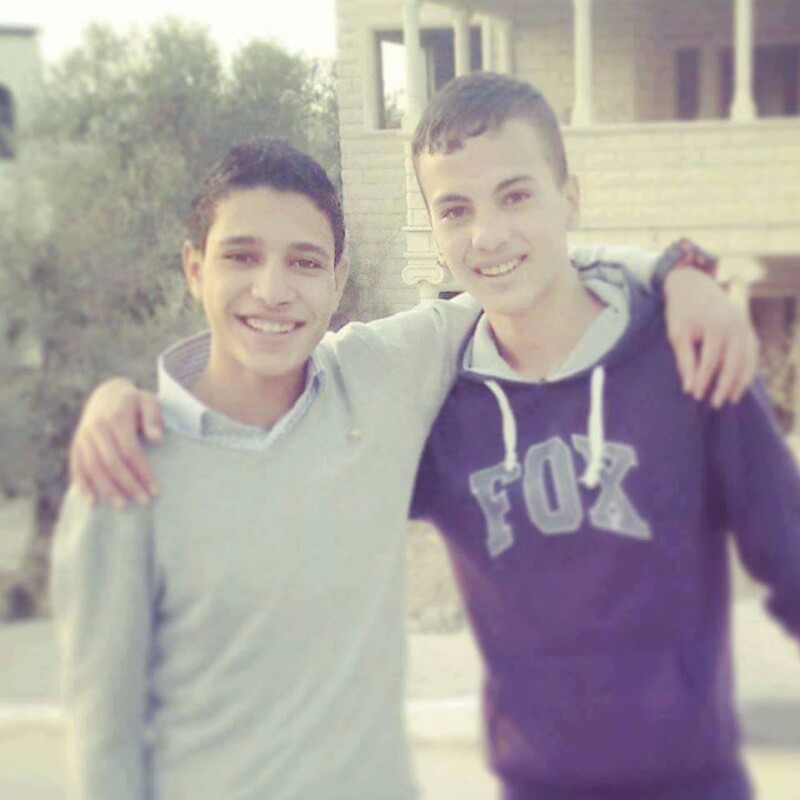 The first youth from Qabatiya to be killed in recent months was Ahmad Kamil, 17, who was shot dead at Jalameh checkpoint on 24 October. The army said that the boy had tried to stab a soldier, but witnesses told the Ma'an News Agency that there was no such attempt.
Edited security footage released by Israel appears to show the youth running towards the checkpoint, holding an object in his hand that could be a knife, but at no point does it show him attacking anyone.
Israeli social media accounts posted images of what appeared to be Kamil's completely naked body lying dead and covered in blood. Comments under the photos celebrated his killing.
Less than a week after the slaying of Ahmad Kamil, Qassem Sabaaneh, 20, also from Qabatiya, was shot and killed at another checkpoint in the northern West Bank. The Israeli army said that Sabaaneh and another youth, who was seriously wounded during the incident, had tried to stab an Israeli Border Police officer. There were no Israeli injuries reported.
The following day, 18-year-old Mahmoud Nazzal was slain at the Jalameh checkpoint.
The Palestinian Centre for Human Rights stated that Nazzal was seen running toward the checkpoint but that "he was not holding any sharp tool with him."
"The Israeli guards stationed at the watchtower shouted at him to stop, but he started saying 'Allah Akbar,'" the rights group said. "One of the guards fired around eight live bullets at him, so he fell to the ground."
The Israelis then "pulled his body for around 100 meters to the crossing gate and left him on the ground."
They prevented Palestinian medics from treating him, but after two hours handed his body to the Palestinian Authority.
Two other youths from Qabatiya, Muhammad Sabaaneh, 17, and Nour al-Din Sabaaneh, 23, were killed during an alleged attack in the northern West Bank village of Huwwara on 27 December.
An Israeli army spokesperson said that the pair had stabbed a soldier in the face. Another soldier was wounded by Israeli fire directed at the Palestinians.
The Palestinian Centre for Human Rights stated that soldiers prevented a Palestinian ambulance from reaching the youths.
"Unstoppable cycle of anger and revenge"
Qabatiya is not the only West Bank village to claim a disproportionate number of slain youths during this phase of increased deadly confrontation.
Sair, near Hebron, has buried 13 young residents in recent months.
"Almost half of the deaths have occurred at a single location – the Beit Einoun junction, where a settler bypass leads to the illegal Israeli settlement of Kiryat Arba," The Guardian reported.
"The deaths have taken place one after the other, a number during attempted attacks, in a seemingly unstoppable cycle of anger and revenge, which can be traced back to a single event – the killing of 27-year-old Abdallah Shalalda," the paper added, referring the the apparent extrajudicial killing of a man during an undercover arrest raid on a Hebron hospital.
Israeli army chiefs who recently "interviewed" Palestinians detained on suspicion of waging attacks claimed that chief motivations included revenge for the deaths of others, "often relatives or acquaintances from the same neighborhood."
Israel's army and its domestic spy agency, the Shin Bet, have proven unable to prevent such alleged attacks by Palestinians acting independently of the command of armed resistance groups.
The Israeli army's chief of staff has said that there were no intelligence warnings before any of the approximately 100 stabbing and car ramming attacks the military claims have been waged since October.
History of resistance, slayings
The village of Qabatiya has a long history of resistance and deadly confrontation with the Israeli military.
More than 50 residents have been slain since 2001, including two small children, who were killed by Israeli tank fire along with their mother, Fatmeh Ibrahim Zakarneh, while the woman was working her land in May 2002.
Several residents were slain during Israeli assassination operations, such as the 2005 killing of Islamic Jihad fighter Yasser Kamil, uncle of Ahmad Kamil, the youth shot dead at Jalameh checkpoint.
One villager, Zahra Bilal Yousef Abu al-Rab, testified to a human rights group that she witnessed a soldier shoot at the head of Ismail Hanaysha from a distance of five meters, while the young man lay on the ground, unarmed, in May 2006. Hanaysha was slain while attempting to come to the aid of his brother, a fighter who was also shot and killed.
More recently, 18-year-old Bassem Safi Sadiq Abu al-Rab was shot and killed at Jalameh checkpoint in late July 2014 during confrontations by youths protesting Israel's massive military assault on Gaza at the time.
Israel's short-term memory
Events in Jerusalem on Wednesday are connected to a history of resistance and oppression that goes back way before October 2015.
But the memory of Israel's military and political class appears to not extend even that far.
The deadly confrontation which spiked in October was, at first, largely a reaction to Israel's unchecked assaults and incursions in Jerusalem's al-Aqsa mosque compound.
What gained less attention in Jerusalem on Wednesday was the presence of a group of approximately 70 right-wing Israelis who "toured" the mosque compound under Israeli Border Police escort while Palestinians were denied entry to the holy site.
Such tours during Jewish holidays in September generated Palestinian protest.
Israeli military chiefs have already resigned themselves to the idea that this new phase of violence will continue throughout 2016.
So long as Israel's belligerent occupation and settler-colonial project remains in place, then such predictions should be taken as self-fulfilling prophecies.
Tags