Israeli forces shot dead Fadi Hasan al-Froukh on Sunday, claiming that the 27-year-old had tried to stab one its soldiers guarding the entrance to Sair village, near Hebron in the occupied West Bank.
Al-Froukh was one of eight Palestinians, including two children, killed by Israeli occupation forces between Thursday, 29 October and Wednesday, 4 November, the Palestinian Centre for Human Rights (PCHR) reported on Thursday.
Two more Palestinians were killed on Thursday.
Firas Muhammad Miqdad, an 18-year-old fisherman, was shot dead by Egyptian forces off the coast of Gaza, and 25-year-old Malik al-Sharif was killed by Israeli forces after an alleged stabbing attack on soldiers in Gush Etzion settlement near Bethlehem.
On Wednesday, Israeli forces deployed near the entrance of Halhoul village north of Hebron shot dead 22-year-old Ibrahim Skafi after he ran into Israeli troops in the car he was driving, injuring two of them.
At least 70 Palestinians have been killed by Israeli fire since 1 October, approximately half of them shot dead after alleged attacks which killed 9 Israelis.
But videos of many of the incidents show that Palestinians were killed when they posed no harm. Human rights groups have slammed Israeli forces for executing Palestinians as part of a shoot-to-kill policy.
Israeli forces injured 129 Palestinian civilians, including 25 children, in the West Bank and Gaza Strip, many with live ammunition, between 29 October and 4 November.
The army also carried out nearly 100 raids into Palestinian communities in the West Bank, including 14 in Jerusalem, during that same period. More than 100 Palestinians were arrested, including 35 children, and Israeli forces raided and shut down the Minbar al-Hurriya radio station in Hebron.
A house and three apartments belonging to several Palestinian families were destroyed on Monday as part of what PCHR termed Israel's efforts "to create Jewish majority in occupied East Jerusalem."
An Israeli settler ran over a Palestinian on the road between Qalqilya and Nablus in the northern West Bank on Sunday. PCHR reported that Alaa Hasan Ibrahim al-Khatib, 25, from Jayyous village, sustained arm fractures and a cut on his head.
Amnesty International last week called on Israel to protect Palestinians from frequent settler attacks, but Israeli colonists continue to enjoy blanket impunity and protection from the army.
Killing in Sair
There was no evidence that Fadi al-Froukh attempted to stab anyone before he was shot dead near Sair village on Sunday, PCHR said.

Fadi al-Froukh did not pose a grave threat, PCHR adds, and "the Israeli soldiers could have arrested him as he was physically disabled."

Ma'an News Agency's reporter Daa Yayha reported from Sair that al-Froukh, the eldest of four sons and the father of a 20-day-old baby girl, was hit with approximately 10 bullets.

An eyewitness told Ma'an that al-Froukh had jumped down from an elevated olive grove behind a relative's home and onto the field where he was shot.

The eyewitness said that while al-Froukh would have known there were soldiers stationed in vehicles in the area, he was surprised by the ones near the field. The eyewitness said the soldiers opened fire on him directly.

He added that al-Froukh was left on the ground for almost an hour without treatment, until one of the Israeli soldiers examined him and found him dead. He was later taken away by the Israelis.

This video shows Israeli soldiers examining al-Froukh's body. The soldiers can be heard shouting "son of a whore":

One soldier speaking in Hebrew says al-Froukh "came suddenly" but there is no description of an attempted attack. A voice also says "I thought it was a soldier."

Al-Froukh is the third person from Sair village to be killed in recent weeks. On 26 October, Israeli forces killed 17-year-old Iyad Jaradat and 22-year-old Raed Jaradat.

Shortly before he was killed, al-Froukh had taken part in the funeral of Raed Jaradat and there had been confrontations between occupation forces and youths in the area.
Teenager executed
PCHR investigated the 2 November killing of 16-year-old Ahmad Abu al-Rab and the wounding of another teenager, Mahmoud Kamil, 17, near al-Jalameh military checkpoint in the north of the occupied West Bank.
Both boys are from Qabatiya village near Jenin.
That morning, PCHR says, the teens were at a gas station about 50 meters from the checkpoint, where Israeli soldiers apparently viewed them as suspicious.
The soldiers got out of their jeeps, stopped the boys and pointed their weapons at them.
"The Israeli soldiers ordered the two children to take off their clothes," PCHR states. "When Abu al-Rab pulled out a knife, the Israeli soldiers opened fire at him and killed him immediately and then fired at the lower part of Kamil's body."
Kamil was wounded and arrested. PCHR called the shootings a crime of excessive force.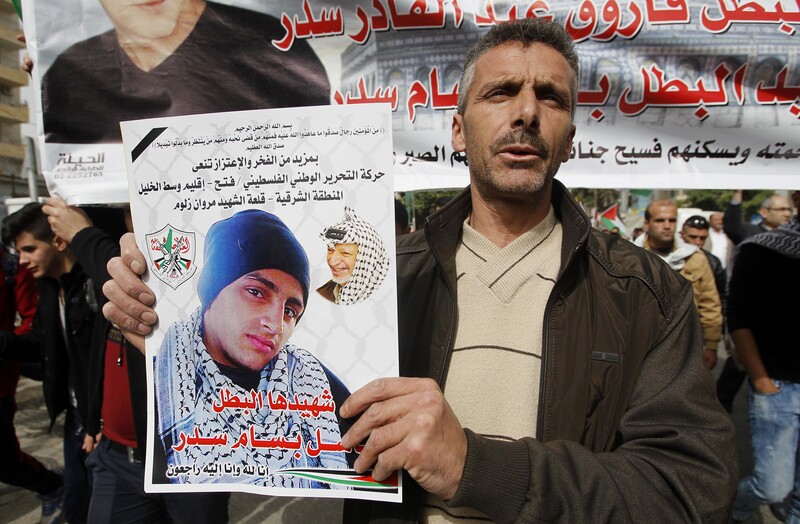 The killing of Abu al-Rab fits the pattern of summary executions incited by Israeli leaders and condemned by human rights organizations.
On 24 October, video captured the extrajudicial execution of 16-year-old Ahmad Kamil at the al-Jalameh checkpoint, and a week later Israeli forces killed 17-year-old Mahmoud Nazzal there.
PCHR says that Nazzal was seen running toward the checkpoint but that "he was not holding any sharp tool with him."
"The Israeli guards stationed at the watchtower shouted at him to stop, but he started saying 'Allah Akbar,'" PCHR said. "One of the guards fired around eight live bullets at him, so he fell to the ground."
The Israelis then "pulled his body for around 100 meters to the crossing gate and left him on the ground."
They prevented Palestinian medics from treating him, but after two hours handed his body to the Palestinian Authority.
"Erosion"
The Israeli human rights group B'Tselem this week condemned the sharp rise in the use of live ammunition by Israeli occupation forces against Palestinian civilians.
The group says that since the start of October, five Palestinians were killed by shots fired by Israeli forces during demonstrations in the West Bank, excluding East Jerusalem, and hundreds have been injured.
According to B'Tselem, the alarmingly high injury statistics "suggest that live ammunition is being used even in circumstances where no one is in mortal danger."
Israel recently authorized the widespread use of 22-caliber sniper rifles against demonstrators. These American-made guns have been used to kill a number of Palestinians.
B'Tselem now says "there has been a gradual erosion of the restrictions imposed on the use of 22-caliber ammunition" by occupation forces during demonstrations.
"At many flashpoints for demonstrations, snipers now regularly fire 0.22 bullets at Palestinians, even in circumstances that are not life-threatening and are a far cry from those in which the law permits the use of live fire," according to the group.
Dena Shunra provided Hebrew translation.
Tags