Update:
Since this post was first published, two more Palestinians were killed by Israeli forces as protests erupt across the occupied West Bank, bringing the death toll to at least nine since Thursday.
Sixteen-year-old Nasri Mahmoud Taqataqa was shot dead by Israeli forces during a protest in Beit Fajjar village near Bethlehem and Bassem Safi Sadeq Abu Rob, of Qabatiya village (age unreported at time of publication) was shot during confrontations with Israeli soldiers at Jalameh checkpoint north of the city of Jenin, the Ma'an News Agency reported.
Thousands marched in rallies across the West Bank on Friday; 10,000 marched from the northern West Bank city of Jenin to Jalameh checkpoint north of the city, thousands marched from Tulkarem city to Netanya checkpoint, 3,000 marched in Bethlehem and thousands took part in a rally in Nablus, according to Ma'an.
The agency added:
Tens of thousands have taken part in protests held across the West Bank in the last two weeks as an Israeli assault on Gaza killed more than 850 people.

The attack has led to rising public anger against Israel as well as the Palestinian Authority, which many feel has not done enough to stop the killing.
Original post:
As Palestinians in Gaza buried the dozens killed during the eighteenth consecutive day of Israel's relentless military assault by air, land and sea, Israeli fire killed at least seven during protests in the occupied West Bank.
At least ten Palestinians have been killed by the Israeli army and by Israeli civilians in the West Bank since the beginning of the Gaza assault on 7 July as Palestinians in the West Bank and present-day Israel rise up in solidarity with Gaza, where at least 843 Palestinians have been killed since the beginning of the onslaught.
Approximately thirty Palestinians have been killed by Israeli fire in the West Bank so far this year, about three times as many killed during the same period last year, according to data from the United Nations Office for the Coordination of Humanitarian Affairs.
Mass march on Qalandiya checkpoint
Teenager Mohammad al-Araj was buried in Qalandiya refugee camp near the West Bank city of Ramallah today after being shot with live fire by the Israeli military during a march from al-Amari camp to the Qalandiya military checkpoint which severs Ramallah from Jerusalem.
The youth was slain on his seventeenth birthday, according to Al-Jazeera. Qalandiya refugee camp residents told Al-Jazeera that "the boy was a well-mannered teenager, who had been hoping to study hotel and restaurant management."
More than 20,000 Palestinians participated in the march on Qalandiya checkpoint last night, according to the Bethlehem-based Ma'an News Agency, making it one of the largest protests in the West Bank in years. One other protester was declared clinically dead after being shot and more than one hundred were injured by live fire, Ma'an reported.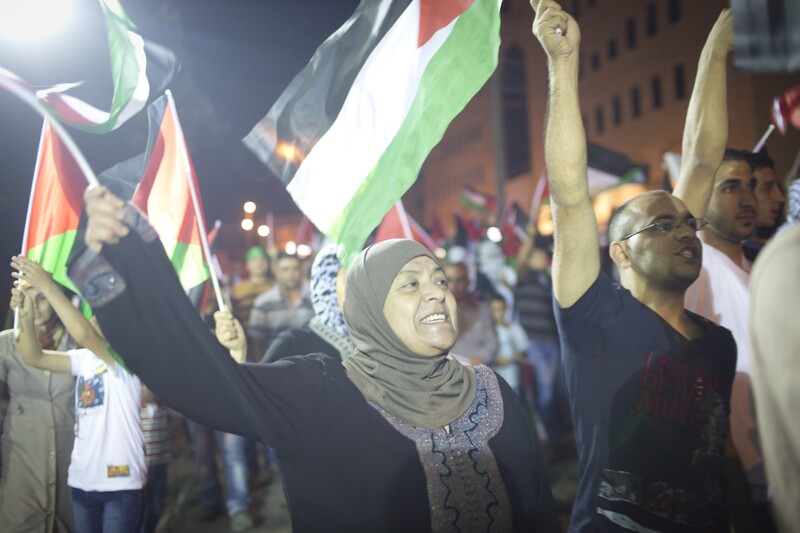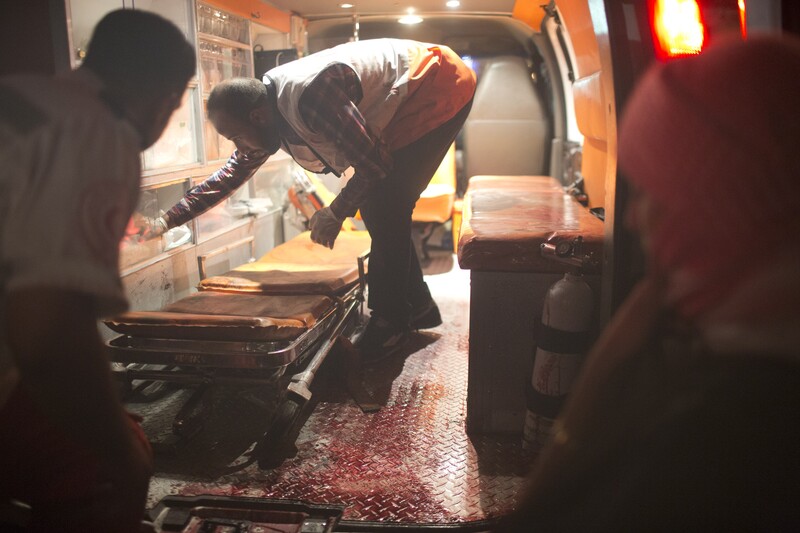 The Associated Press published raw footage of confrontations between protesters and the army at Qalandiya checkpoint last night:
Three slain in Beit Ommar
Three Palestinians were killed today after being shot by Israeli forces during a protest in Beit Ommar village near Hebron. Israeli forces fired on residents throughout the day, according to updates posted to Twitter by the Palestine Solidarity Project's Bekah Wolf, who is currently in the village.
Ma'an reports:
Organizers from the Palestine Solidarity Project said that approximately 900 people attended the protest and that Israeli forces opened fire with live ammunition.
Hashem Abu Maria, 47, was shot in the chest and died soon after. Organizers said that Abu Maria worked with Defence for Children International-Palestine and was shot approximately 30 minutes into the demonstration.

Sultan al-Zaaqiq, 30, was also slain by Israeli forces during the clashes.

Additionally, Abd al-Hamid Breigheth, 35, was shot in the chest by Israeli forces and died of his wounds.

Organizers said that the three will be buried today in the cemetery in Beit Ommar, which is also by the Israeli military watchtower.
The human rights group Defence for Children International-Palestine stated the following on Twitter today:
Aroub refugee camp
In nearby Aroub refugee camp in the Hebron area, Israeli forces killed 28-year-old Eid Abd al-Kadir Fadhelat just before sunset today, Ma'an reported.
Ma'an added:
Red Crescent coordinator Mohammad Khamis Badawi said that Fadhelat was shot with several bullets in the chest and shoulder, and was taken to a hospital in Hebron but died before reaching the emergency room.

Badawi added that four others were injured with live bullets, and 22 with rubber-coated bullets in clashes that broke out after a demonstration in solidarity with Gaza.

An Israeli military spokeswoman said that several Palestinians "hurled rocks at soldiers" in the area and that one "attacked" a soldier and "attempted to snatch his weapon." The soldier subsequently shot and killed him.
Twitter user @NasserBI posted the following image of Fadhelat:  
Two killed at Huwwara
Ma'an News Agency reported that two Palestinians were killed in Huwwara village near Nablus today "after both Israeli settlers and soldiers opened fire on demonstrators."
Khaled Azmi Khaled Yousef, eighteen years old, was killed "when an Israeli settler drove by and opened fire at a protest march," hitting Yousef in the chest, Ma'an reported.
Ma'an adds:
Israeli forces who subsequently arrived on the scene got involved in the clashes, killing another Palestinian named Tayeb Abu Shehada, 22.
Nijm identified the other three injured as Tariq Issam, Muhammad Nasasrah, and Jihad Odeh.

Twenty Palestinians suffered from excessive tear gas inhalation, [Ma'an's reporter at the scene] added.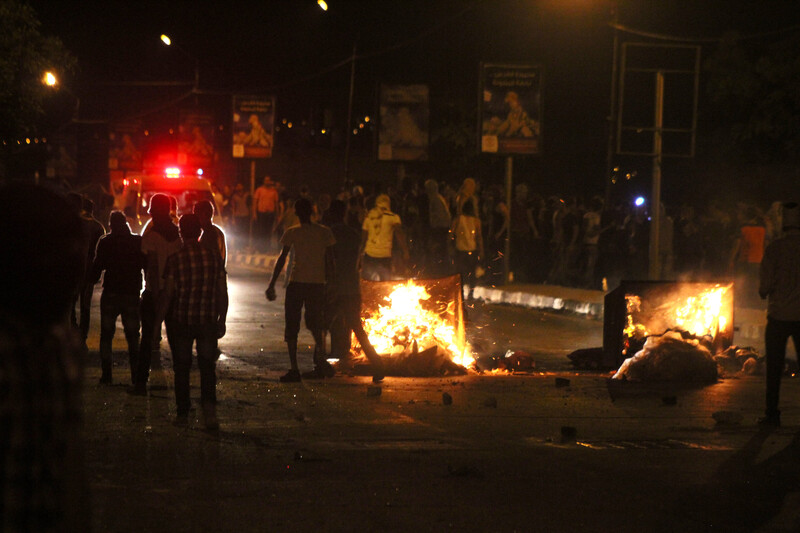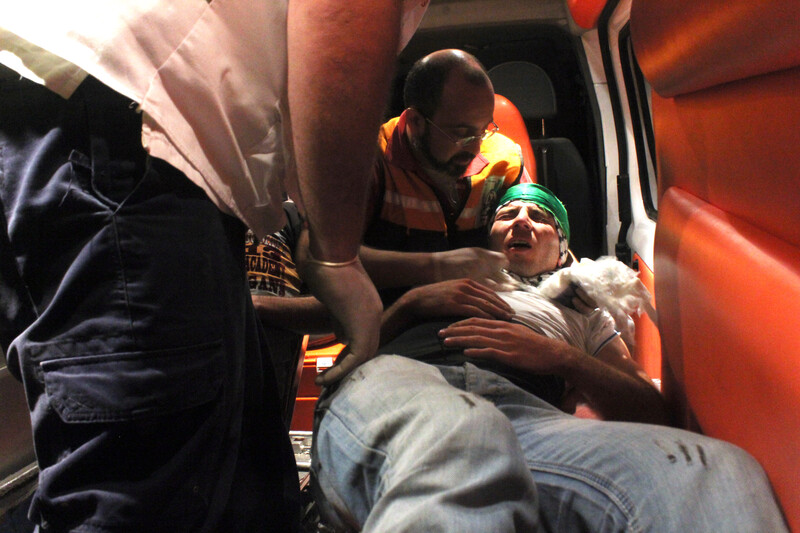 More injuries were reported throughout the West Bank.
Ma'an reports that five Palestinians were injured by live fire at a protest in front of Beit El settlement near Ramallah and seventeen-year-old Fadi Fadhel al-Khatib "was shot by Israeli forces with a live bullet in the stomach in clashes in Bilin" village near Ramallah.
Other injuries were reported in Qasra and Sabastiya villages near Nablus, Qarawat Bani Husan near Salfit and in Tulkarem.
Jerusalem under siege
Israeli police have barred Palestinian men under the age of fifty from entering the al-Aqsa mosque compound in Jerusalem's Old City, Ma'an reported today. The holy site would typically be filled with worshippers on the last Friday of the month of Ramadan.
A youth was seriously injured earlier today after being hit in the head by a rubber-coated steel bullet near al-Aqsa, Ma'an reported.
Thursday evening marked Leilat al-Qadr, the anniversary of the night that Muslims believe the first verses of the Quran were revealed to the prophet Muhammad.
Ma'an adds:
Demonstrators marched from East Jerusalem toward the Old City late Thursday, but were met by Israeli police officers, who fired rubber-coated bullets, stun grenades, tear gas, skunk water, and pepper spray.
Store owners in the area closed their shops after Israeli forces hit them with skunk water, a foul-smelling liquid often used to disperse protesters.

Palestinians were able to breach the police barriers at entrances to Al-Aqsa, and hundreds entered the compound.

At least 40 Palestinians were injured by Israeli forces during the clashes across Jerusalem.

Israeli police detained 40 Palestinians overnight, police spokesman Micky Rosenfeld tweeted.
Instagram user Zalameh, who goes by @BDS4Justice on Twitter, posted the following video of Israeli forces assaulting worshippers in Jerusalem last night:
Zalameh also tweeted the following observations:
Tags