The apparent execution of a Palestinian in occupied East Jerusalem was caught on video by Al Jazeera on Friday.

Israel says that the young man was carrying out a stabbing attack on Israeli Border Police officers when he was killed at the Damascus Gate to Jerusalem's Old City.

But video of the incident released by Al Jazeera indicates that the young man did not pose an immediate threat to anyone's life when massive lethal force was used against him.

The video shows a Border Police officer shooting at the man, who falls to the ground. Then several other heavily armed officers shoot dozens of bullets into the body of the man as he lies on the ground and as passersby hurry away from the scene:

The video is a shocking display of Israel's routine and reflexive use of lethal force, which has resulted in the slaying of approximately 170 Palestinians, including dozens of children, since a new phase of violence began in October last year.

Al Jazeera media workers who were at the scene to film a field report told the Ma'an News Agency that "six Israeli officers on site surrounded the Palestinian and 'fired almost 50 bullets' after he had already been shot twice and fallen to the ground."

An Israeli police spokesperson told Ma'an that the Israeli forces opened fire on the young man after he drew a knife on them. Two officers were lightly wounded after being stabbed in the upper body and taken to hospital.

Palestinian media reported that a Palestinian bystander was wounded by shrapnel in her foot and was taken to hospital for treatment.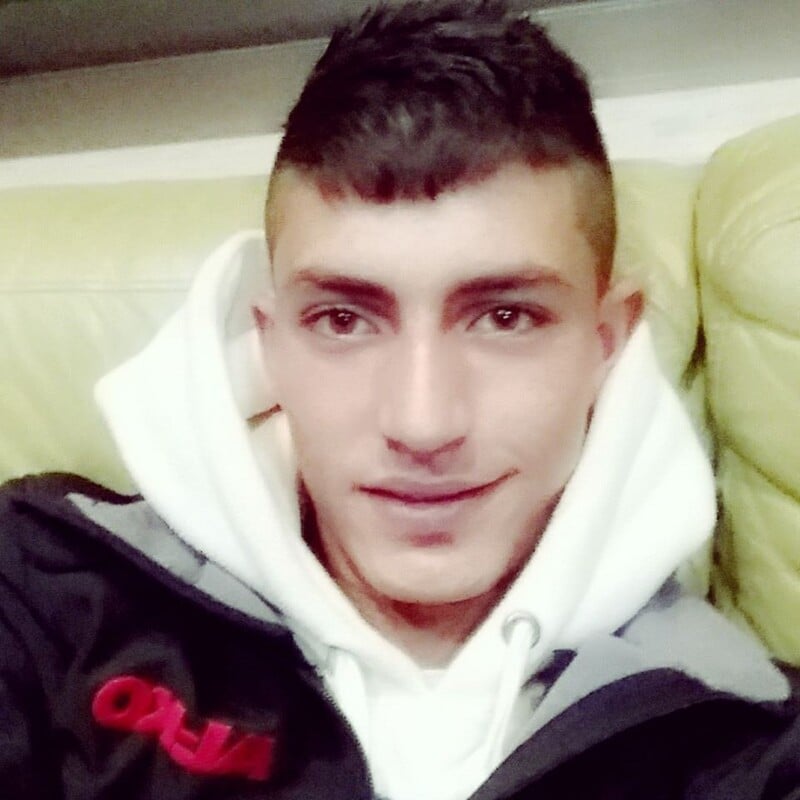 Israeli media circulated a photo of the ID belonging to the man killed during the incident, identifying him as 20-year-old Muhammad Abu Khalaf from the Jerusalem-area town of Kufr Aqab.

The Quds news network stated that at least 10 Palestinians have been slain at Damascus Gate since October, and that 11 alleged attacks have been waged at the main entrance to the ancient walled city.

Two Palestinians were shot and killed there on Sunday after an alleged armed attack on Border Police and three other youths were slain there two weeks earlier during a similar incident.

Israeli forces killed two more Palestinians on Friday.

Khaled Yousif Taqatqa, 21, was shot during confrontations between protesters and the Israeli military in the village of Beit Fajjar near the West Bank city of Bethlehem.

The Palestine Red Crescent Society told the Ma'an News Agency that medics were prevented from treating the young man at the scene and that he died of his injuries at a hospital in Jerusalem.

An image of Taqatqa circulated on social media after his death:

And in the West Bank village of Silwad, near Ramallah, Israeli forces shot dead a Palestinian man who allegedly attempted to ram them with his car.

No Israelis were injured during the incident.

The slain man was identified by Palestinian media as Abed Raed Hamad, 22, a student at Birzeit University focusing on journalism and media.

Photos of the incident show the man's car crushed into a military jeep:

An image of Hamad circulated on social media after the incident: Israeli forces killed two other Palestinians in Silwad last December, both of whom were allegedly waging car-ramming attacks when they were shot dead.

But investigations by journalists and a human rights group suggest that one of those killed, Mahdia Hammad, was not attempting any attack and was trying to get home to feed her baby when soldiers opened fire at her.

Meanwhile in Washington on Friday, the State Department condemned a stabbing attack in a West Bank settlement on Thursday in which a US citizen was fatally wounded.

The Tel Aviv newspaper Haaretz reported that Tuvya Weisman, who lived with his wife and infant daughter in Maaleh Michmash settlement, was a soldier in Israel's Nahal Brigade and was off duty when he was stabbed and another Israeli moderately wounded.

An image of Weisman in his uniform circulated after the incident:

The two Palestinian attackers, Omar Rimawi and Ayham Subih, both 14, were shot by a bystander and are reported to be in serious but stable condition in separate hospitals in Jerusalem.

An image circulated on social media shows Rimawi on the right and Subih on the left:

An image of the scene appears to show the two on the ground and bleeding: Israeli media published a video of Israeli soldiers apparently raiding and documenting the boys' homes to prepare to demolish them.

The pair are the youngest to have killed an Israeli since October, according to Ma'an, referring to data compiled by Israeli intelligence.

Nearly half of the more than 200 attacks the Shin Bet says have been waged since October were "committed by assailants aged 20 or under."

The alleged attacks, mostly involving knives or car-ramming, have largely taken place at Israel's settlements and military checkpoints in the West Bank – symbols of the occupation.

Approximately 30 Israelis and two US citizens have been slain during such attacks.
Tags