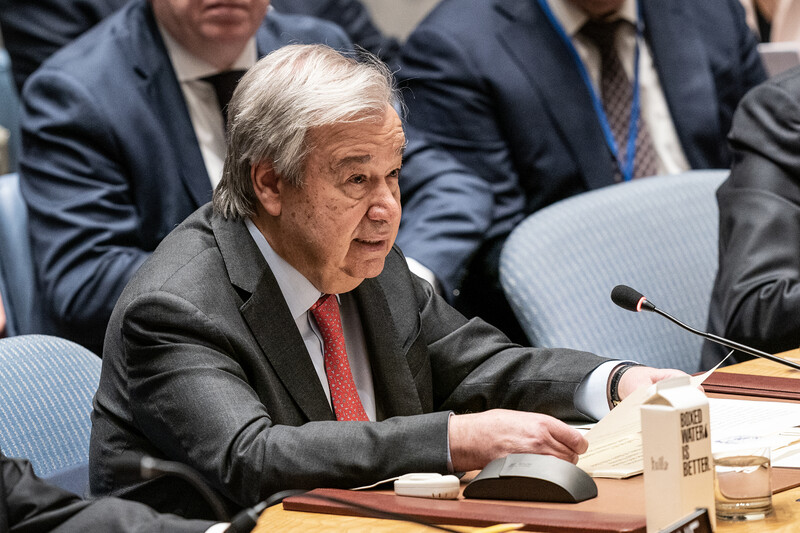 Dozens of groups from around the globe are calling on António Guterres, the UN secretary-general, to reject a flawed definition of anti-Semitism that conflates criticism of Israel and its state ideology Zionism with anti-Jewish bigotry.
Meanwhile, under the guise of combating anti-Semitism, proxy groups for the Israeli government have escalated a smear campaign targeting Francesca Albanese, a UN human rights expert, by calling for her firing from the unpaid post.
The more than 100 groups calling on Guterres and his under-secretary to reject the controversial International Holocaust Remembrance Alliance (IHRA) definition of anti-Semitism include Palestinian and Israeli human rights organizations, Human Rights Watch, Amnesty International and the American Civil Liberties Union.
The groups applaud the UN's "commitment to combating anti-Semitism in line with international human rights standards."
But they warn that "a number of member state governments and organizations aligned with some of those governments" – apparently in reference to Israel and its allies – have been urging the world body to adopt the IHRA definition.
Those governments have been joined by Ahmed Shaheed, a close ally of Israel lobby groups who published a report smearing advocates of Palestinian rights as anti-Semitic during his tenure as UN special rapporteur on freedom of religion or belief.
"Adoption of the definition by governments and institutions is often framed as an essential step in efforts to combat anti-Semitism," the groups state in their letter to Guterres.
"In practice, however, the IHRA definition has often been used to wrongly label criticism of Israel as anti-Semitic, and thus chill and sometimes suppress, non-violent protest, activism and speech critical of Israel and/or Zionism, including in the US and Europe."
The groups note that the former UN special reporter on racism, E. Tendayi Achiume, warned of the IHRA definition's "susceptibility to being politically instrumentalized and the harm done to human rights resulting from such instrumentalization."
Achiume cautioned against using the "highly controversial and divisive" definition as a "guiding instrument for and at the United Nations and its constituent entities."
The threat to free speech posed by the definition, which was approved by the International Holocaust Remembrance Alliance in 2016, lies in the 11 examples for how it should be applied.
As Rowan Gaudet of Independent Jewish Voices Canada observed in 2020, "many of these examples expand anti-Semitism to discussions of Israel, such as denying the Jewish people the right to self-determination."
"Any statements considered to be delegitimizing Israel, such as calling it a racist endeavor, are therefore deemed anti-Semitic by default," Gaudet added.
Well-worn tactic
Israel and its proxies and advocates have long relied on smearing advocates of Palestinian rights as anti-Jewish in order to stifle debate over and discussion of the state's actions.
According to Palestine Legal, a US civil liberties group, Israel lobby organizations have sought the adoption of the IHRA definition to "add legitimacy to this tactic."
As noted in the letter to Guterres, the IHRA definition's "racist endeavor" example "opens the door "to labeling as anti-Semitic criticisms that Israeli government policies and practices violate the International Convention on the Elimination of Racial Discrimination."
It could also be used to undermine "the findings of major Israeli, Palestinian and global human rights organizations that Israeli authorities are committing the crime against humanity of apartheid against Palestinians," the groups add.
Francesca Albanese, the UN special rapporteur for human rights in the occupied West Bank and Gaza, has come under fire from Israel lobby groups for her work highlighting Israeli abuses against Palestinians.
International Legal Forum, a group based in Israel, is spearheading a smear campaign calling for Albanese's dismissal.
Albanese stoked the ire of Israel and its supporters by stating that "Israel has a right to defend itself, but can't claim it when it comes to the people it oppresses/whose lands it colonizes."
Smear campaign at UN
In an editorial calling for Albanese's sacking, the right-wing Jerusalem Post accused the UN expert of "dehumanizing people by referring to them as 'settlers' " in order to justify attacks.
The call for her firing is the latest episode of an ongoing smear campaign against Albanese, which began before she took up her post.
It is also part of a wider effort to undermine calls to hold Israel accountable at the UN, whose top human rights body established an examination of Israel's oppression of the Palestinian people as a whole.
In January, the UN General Assembly voted in favor of requesting an advisory opinion from the International Court of Justice on the legality of Israel's occupation of the West Bank – including East Jerusalem – and Gaza.
Israel and its advocates attempt to deflect attention from the state's blatant and wholesale violations of Palestinian rights by policing the language used to describe it and attacking those who speak out.
This well-worn tactic isn't lost on Albanese, who said that her focus remains "on my human rights work and the people under occupation, besieged and repressed."
Tags