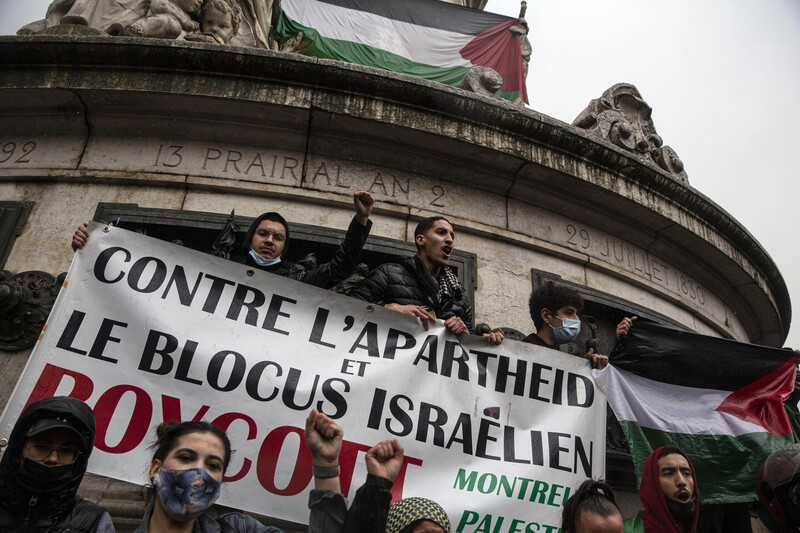 On Thursday, the UN Human Rights Council passed a resolution establishing a permanent commission of inquiry into Israel's violations of Palestinian rights in all the territory under its control.
The resolution was adopted during a special session of the human rights body held in response to escalated Israeli repression and rights abuses throughout historic Palestine.
The 24-9 vote with 14 abstentions came on the heels of 11 days of intensive Israeli bombing in Gaza that resulted in the deaths of more than 240 Palestinians, the majority of them civilians.
Ahead of the vote, Michelle Bachelet, the UN high commissioner for human rights, said that Israel's indiscriminate and disproportionate attacks against civilians "may constitute war crimes."
Bachelet also decried rocket fire by Palestinian armed groups in Gaza, saying that they "fail to distinguish between military and civilian objects," and so their use "constitutes a clear violation of international humanitarian law."
Twelve people in Israel were killed by rocket fire or while running to shelters during the escalation, including three foreign workers, two children and one soldier.
The commission is tasked with investigating crimes allegedly committed during the escalation, including in the West Bank, where Israeli forces shot and killed protesters, and in Israel, where Palestinian citizens faced a state crackdown and mob violence.
Historic win
The commission of inquiry established Thursday is the highest level of examination that may be approved by the UN's top human rights body.

For years groups have urged states "to address the root causes of Israel's settler colonialism and apartheid imposed over the Palestinian people as a whole," Al-Haq, a human rights organization based in the West Bank, said ahead of the vote.

Pakistan initiated the special session and resolution on behalf of the 47 member states of the Organization of Islamic Cooperation. China and Russia were among the countries voting in favor of the resolution, with the UK, Austria, Germany and the Czech Republic among those voting against it. Not a single EU state voted in favor of the measure.

The commission of inquiry is opposed by Israel's chief benefactor, the US, which resigned from the Human Rights Council during Donald Trump's presidency in protest over "chronic bias against Israel" but is set to rejoin.

Despite Israel's claims that it is unfairly singled out at the UN, in reality, it enjoys an exception from accountability.

Human Rights Watch told the UN Human Rights Council on Thursday that Western states have "supported every accountability mechanism created by this council in recent years – on Syria, Yemen, Burundi, Myanmar, Belarus, Venezuela."

Only regarding Israel and its abuses against Palestinians have these states "failed consistently to advance accountability."

Multiple commissions of inquiry into Israel's past military offensives in Gaza, and its use of lethal force against Great March of Return protests, have recommended accountability measures, were ignored by UN member states.

The resolution adopted on Thursday includes a late revision calling on states to refrain from transferring weapons when "there is a clear risk that such arms might be used in the commission or facilitation of serious violations or abuses."
Ending impunity
Palestinian human rights advocates and their supporters say that ending impunity is key to preventing another deadly escalation.
The Palestinian Boycott, Divestment and Sanctions National Committee (BNC) stated in a recent paper that the UN's decades-long failure to investigate Israeli apartheid has contributed to the culture of impunity that allows Israel to violate Palestinian rights without restraint.
"This impunity is predominantly due to the diplomatic, economic and military protection provided by powerful states in the Global North, particularly former colonial powers and states that, like Israel, were founded on the ethnic cleansing of indigenous nations," the BNC said.
The UN has shielded Israel from accountability by treating Israel's presence in the West Bank and Gaza as "a temporary 'belligerent occupation' subject to IHL [international humanitarian law]," the BNC noted.
This allows Israel to be regarded as a peaceful state and lawful "occupying power" that is "ready to negotiate and implement in good faith a political solution which will terminate its presence and control."
António Guterres, the UN secretary-general, espoused that position last week when he called for a "revitalized" peace process towards a negotiated two-state solution while failing to recommend any specific accountability measures.
Guterres has repeatedly undermined efforts to hold Israel accountable within the UN system, including by withdrawing a landmark report commissioned and published by the Economic and Social Commission for Western Asia finding Israel guilty of apartheid.
The UN secretary-general has also left Israel off of an official list of the world's worst abusers of children's rights, eliciting condemnation by human rights groups.
Uphill battle for justice
Guterres and his Middle East peace envoys have not publicly supported the International Criminal Court investigation of war crimes in the West Bank and Gaza. Instead, they have rewarded Israel by promoting its normalized relations with neighboring authoritarian states.

By pushing the negotiated two-state paradigm, Guterres and his envoys and Israel's other powerful allies wilfully ignore the state's primary organizing principle: the removal of native Palestinians so they may be replaced by Jewish settlers.

The West Bank and Gaza Strip have been under Israeli military rule for 54 years – "the longest occupation in the modern world," as a group of UN independent human rights experts recently observed.

The negotiated two-state framework has only allowed Israel to consolidate its control and expand its settlements on Palestinian land.

Between Guterres' hostility to accountability and the US veto at the Security Council, Palestinians face an uphill battle for justice at the UN.

The BNC argues that Israeli apartheid will not be addressed unless states "that have emerged from the struggle against racist colonial domination" lead the way as they did with the anti-apartheid struggle in South Africa.

Human Rights Watch, which recently issued a paradigm-shifting study examining Israel's regime of apartheid and persecution against Palestinians as a whole, has also called on the UN to reprise its role in challenging apartheid in South Africa.

The New York-based group has supported a UN commission of inquiry "to investigate systematic discrimination and repression on group identity" in the West Bank, Gaza Strip and Israel.

"We're also calling for the appointment of a global UN envoy for the crimes of persecution and apartheid with a mandate to push for the end of these crimes wherever they occur," the group's United Nations director said.
Tags