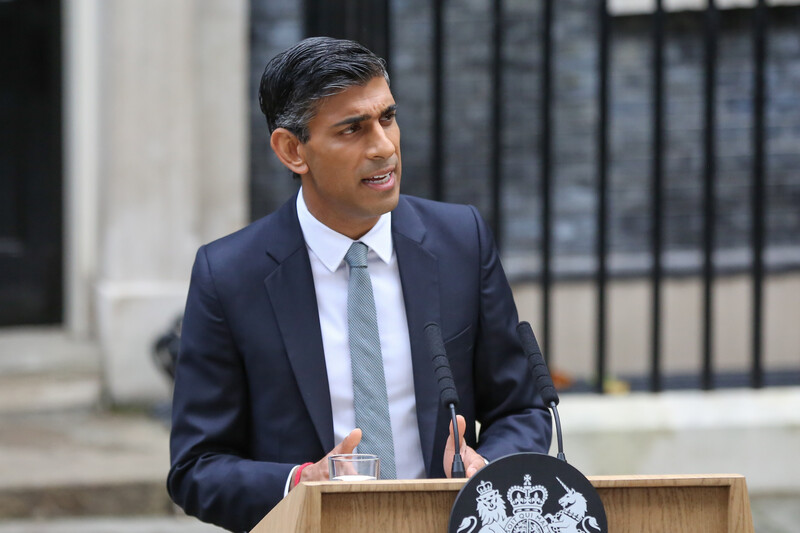 Well that was quick. Having styled herself as the second coming of Margaret Thatcher, who was not for turning, Liz "Cheddar" Truss spun dramatically on her heels and got the hell out after not even two months.
Of course by then she had already driven the United Kingdom to the point of bankruptcy, sunk Sterling, spooked markets pre-Halloween, and added hundreds of dollars to people's monthly mortgage repayments.
Truss was also a "good friend" of Israel and had vowed to review the location of the UK's embassy in Israel. She never got around to fulfilling that pledge, but looked set to override any number of foreign office objections to do so.
But Truss is out and October's Prime Minister is Rishi Sunak, the first non-white person, the first practicing Hindu, the youngest and also the richest person to ever become UK prime minister.
Sunak – Dishy Rishi to some – is a relative newcomer to politics. A former banker, he entered the Treasury – Britain's finance ministry – as chief secretary under "Honest" Boris Johnson's premiership just four years after first entering parliament in 2015.
A year later he was Chancellor.
This meteoric rise has been untainted by any foreign policy experience or exposure. He has not served in any foreign office position, nor has he, since assuming the premiership, announced any major foreign policy decisions or intentions beyond pledging to continue to support Ukraine's government and improving ties with the EU.
But he did pledge, along with Truss, to review the location of the UK's embassy to Israel during the leadership election campaign that he lost in the summer.
Hedging
It was clear that he was responding to Truss' zealousness on the matter. It was clear too, that he was trying to gain favor with the large number of pro-Israel members in his own party, not least the influential Conservative Friends of Israel grouping – influential enough that both candidates in the summer felt moved to write letters explaining their positions on Israel.

What is less clear is how serious he is about a matter on which he has confessed his ignorance. When pushed in a meeting with members of the Conservative Friends of Israel, his response belied his status as a political neophyte.

Jerusalem, he said, is "undisputably the historic capital" and there is a "strong case" to recognize that. "It's something I'd like to do."

However, he added, "there must be some sensitivities involved, because if it was that easy, it would have been done by now."

Now, Sunak may be a relative newcomer to politics, but it is inconceivable that he is ignorant about the "sensitivities" around Jerusalem.

More likely this was his version of kicking the issue into committee.

After all, Truss was widely excoriated for the proposed review, even from grandees within the Conservative Party itself.

The proposed review was also set to be dragged in front of a judicial review.

And with the country on the brink of financial disaster, Sunak has plenty on his plate. He has already canceled his attendance at the COP27 climate change summit in Cairo.

Mindful of rocking a leaking boat, the man who is tasked with bringing some semblance of sanity back to British politics is unlikely to soon make the kind of major shift in foreign policy moving the embassy would represent.

It would certainly be ill-advised for someone whose value lies in his "dullness dividend."

This is not to suggest Sunak is anything but pro-Israel. In an interview with the Jewish Chronicle in August he made the startling claim that Israel is a "vibrant multi-ethnic democracy with a free press and the rule of law."

Clearly he is, as he has made clear, at least somewhat ignorant about a country that discriminates in law against Palestinians, whose media is subject to military censorship and whose military is engaged in a brutal, expansionist occupation.

Nevertheless, Sunak is likely to shun any dramatic moves and looks set to stick to the current pro-Israel UK position while paying lip-service to two-state orthodoxy.
Tags