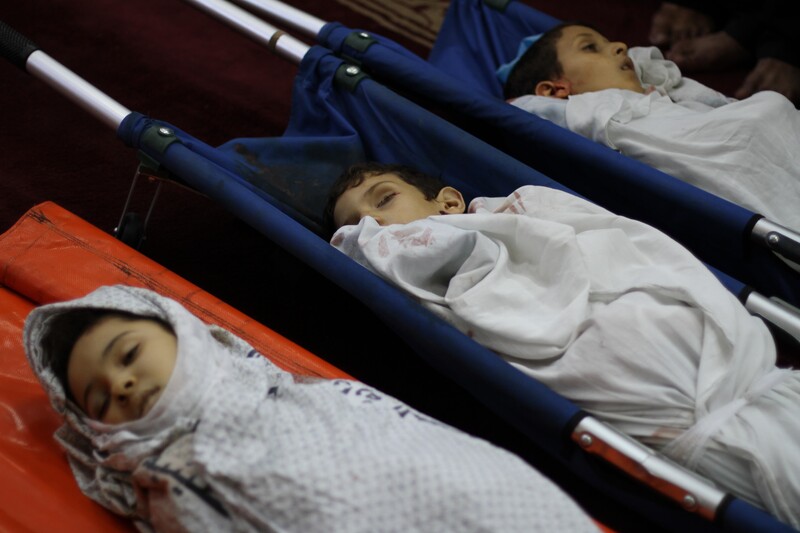 Four children were killed when Israel resumed its heavy bombardment of the occupied Gaza Strip after the expiry on Thursday afternoon of a five-hour "humanitarian ceasefire" requested by the United Nations.
Another child died of injuries sustained in earlier Israeli attacks.
By Thursday evening in Gaza, at least fourteen Palestinians had been killed in Israeli attacks before and after the brief ceasefire, bringing the total to 237 fatalities since Israel's round-the-clock assault began on 7 July, according to the health ministry in Gaza.
The number of children killed has risen to 53, including four young boys from the Baker family slaughtered by Israeli shelling in front of international media as they played on a beach on Wednesday.
Defence for Children International Palestine, which documents the deaths of children, said the toll from Israel's current campaign "is now at its highest since Israel's December 2008 military incursion, Operation Cast Lead, which resulted in the deaths of 352 children."
More than 1,770 people have been injured, straining Gaza's health services which face severe shortages of medications and supplies.
Almost eighty percent of the dead are civilians, and almost half of the injured are women and children, according to the UN Office for the Coordination of Humanitarian Affairs (OCHA).
Three children from single family killed
Three children from a single family were killed when an Israeli air strike hit their home in the Sabra section of Gaza City on Thursday evening.

The children were named as Fulla Tariq Shuhaibar, Jihad Issam Shuhaibar and Wasim Issam Shuhaibar, all young children whose ages were not specified.

A video uploaded to YouTube shows the dead children lying in a medical facility while a distraught medical official denounces their killings as a "crime."

"Every day there is a massacre," the official says.

In a separate incident, Rahaf Khalil Jbour, aged four, was killed in an Israeli air attack on her neighborhood of al-Manara in Khan Younis.

Also on Thursday, Yasin al-Humeidi, aged four, died of injuries he suffered in an earlier air attack on Gaza City.

Among those killed on Thursday were 71-year-old Zaynab al-Abadla of Khan Younis and 67-year-old Muhammad Abdulrahman Hassouna of Rafah.
Destruction of homes continues
Israel has also continued its systematic destruction of civilian homes.
By the end of 16 July, Israel had destroyed or severely damaged 1,660 residential buildings, making 9,900 people homeless, OCHA reported.
Another 22,600 are seeking shelter in UN-run schools, having fled from Israeli shelling or threats of attack, principally in the northern and eastern sectors of the Gaza Strip.
Nine hundred thousand people – half the population of Gaza – are "without water supply due to inability to repair or operate infrastructure," OCHA said.
Human Rights Watch said this week that Israeli air attacks it investigated "have been targeting apparent civilian structures and killing civilians in violation of the laws of war."
The group called on Israel to "end unlawful attacks that do not target military objectives and may be intended as collective punishment or broadly to destroy civilian property."
Ceasefire?
Intense ceasefire negotiations are ongoing in Cairo, and earlier today there were premature reports that a ceasefire had been reached.

However the clearest sign that there was no agreement could be seen in the tweets of journalists and residents of Gaza who testified that the Israeli campaign of terror continues.

In a worrying development late Thursday in Gaza, The Electronic Intifada contributor Joe Catron reported that a heavy attack had begun on or near al-Wafa hospital, which had previously been threatened by Israel.

Catron had previously been at the hospital himself, along with other international activists, from where he spoke to The Electronic Intifada on Tuesday.
Tags